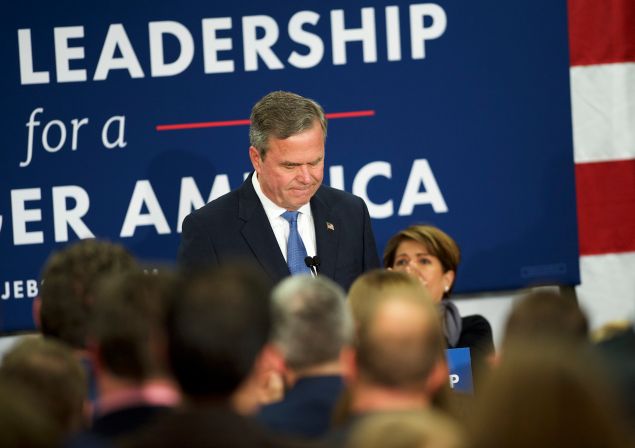 Former Florida Gov. Jeb Bush has finally dropped out of the presidential race, thus marking a sad end to a pathetic campaign.
Mr. Bush entered the race as the front runner and presumed Establishment nominee, but quickly lost that status when businessman Donald Trump entered the scene. Mr. Trump's bombastic approach to campaigning contradicted Mr. Bush's "adult in the room" style, and the former governor could never gain traction with voters looking for someone with charisma.
Mr. Bush tried to show he was affable, but his attempts came off as desperate. There was the time a man told Mr. Bush that he "might swing my vote," and the former governor ran up to him and hugged him. There was the time Mr. Bush gave Mr. Trump an awkward "low-five" after a debate joke, but ended up looking like what happens when one person goes in for a handshake and the other attempts a fist bump. There was the time he had to ask an audience to "please clap" after an applause line went unnoticed by those listening. And there was his attempt to seem humorous by raising his hand when asked if there were any Democrats in the room.
He held on for months longer than he should have.
Most of those examples happened recently, as Mr. Bush's campaign was crumbling. I wrote an early death knell for Mr. Bush back in October. At the time, Mr. Bush was in the middle of a crowded room of GOP candidates, due to his lack of charisma and Establishment feel compared to more youthful and captivating candidates like Sens. Ted Cruz of Texas and Marco Rubio of Florida.
That lack of allure led to a case study in how money in politics doesn't guarantee a win if the candidate is underwhelming. Outside groups raised more than $100 million for Mr. Bush, yet he couldn't even come close to winning an early primary. The closest he came was fourth in New Hampshire, when he actually received more votes than Mr. Rubio (who was coming off a disastrous debate performance).
Following that sort-of-okay performance in New Hampshire, Mr. Bush's high-profile family descended on South Carolina to rally conservatives for the other brother. Former President George W. Bush, former First Lady Barbara Bush and other relatives all tried to prop up the son who was as accomplished as any of the other family members prior to their big elections but lacked the Bush charm.
It didn't work. Mr. Bush came in a distant fourth place in South Carolina, bringing in just 7.8 percent of the vote (behind Mr. Cruz's 22.3 percent). Shortly after the results were in, Mr. Bush suspended his campaign.
He held on for months longer than he should have. Back in October, his campaign was cutting payroll costs by 40 percent, downsizing its Miami headquarters and cutting travel and other expenses. A candidate like him, holding on past the point of reality, hurt those in the Republican Party looking to unseat Mr. Trump as the frontrunner. Mr. Bush's share of the vote in Iowa could have pushed Mr. Trump to third (admittedly, some of Mr. Bush's supporters may end up going to Mr. Trump).
In New Hampshire and South Carolina, Mr. Bush's supporters wouldn't have unseated Mr. Trump, but they could have helped add delegates to candidates who were going to remain in the race.
Mr. Bush's supporters may split between the other candidates. Most will probably go to Mr. Rubio or Ohio Gov. John Kasich. Speaking of Mr. Kasich, it's high time he follows Mr. Bush's lead and steps out of the ring – there's no path forward for him at this point (the same goes for former neurosurgeon Ben Carson). It is indeed a three-person race between Mr. Trump, Mr. Cruz and Mr. Rubio, and the voters need to decide which of those three they want to be president and, just as importantly, which one of those three can defeat the Democrat nominee.
Disclosure: Donald Trump is the father-in-law of Jared Kushner, the publisher of Observer Media.