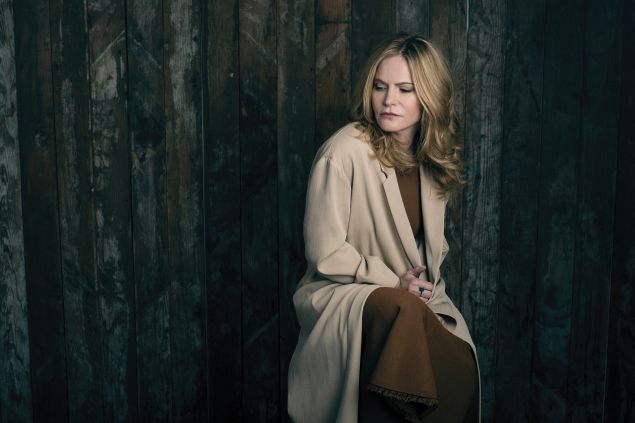 Jennifer Jason Leigh is gobsmacked. She's back after a long walk in the desert of marriage and motherhood, and she hasn't missed a beat. Until she appeared this season in Quentin Tarantino's The Hateful Eight, and as the only female voice in Charlie Kaufman's Anomalisa, she was gone.
For 10 years from 1989 to 1999, JJL—the daughter of late TV megastar of the '60s, Vic Morrow (Combat, and a long resume on TV including Roots and Captains and King, and sadly, famously, The Twilight Zone movie) and screenwriter Barbara Turner—had a golden career. Her resume was what every young actress now dreams of—from sexy to comedy, to comely to serious in movies directed by Robert Altman (twice), Joel and Ethan Coen, Barbet Schroeder, Alan Rudolph, Agnieszka Holland, David Cronenberg, Anjelica Huston, Sam Mendes, and Taylor Hackford. She capped it off in 2001 by co-directing a highly regarded indie, The Anniversary Party, with Alan Cumming.
And then? And then she's in her mid-30s, when an actress' career really goes into high gear. And what does Jennifer Jason Leigh do? She kind of walks away.
Jennifer Jason Leigh has a very alluring squint, and you almost think she's about to cry.
Or so we think. On the day of the annual English for the British Academy of Film and Television Academy, a.k.a. BAFTA, Ms. Leigh and I slip out of the Four Seasons banquet room and into a table in the crowded bar. She orders tea and peers at me through cat-like eyes. Jennifer Jason Leigh has a very alluring squint, and you almost think she's about to cry. It gives her a vulnerability even when she's kicking in The Hateful Eight. You remember her from Amy Heckerling's now-classic Fast Times at Ridgemont High in 1982 as virginal Stacy on the brink of womanhood, but she'd already been working for six or seven years, from the age of 14. She says of the movie's unyielding popularity among a new generation: "It really captured—even though it's very funny—a time in adolescence that is unchanging. It taps into it an honest way."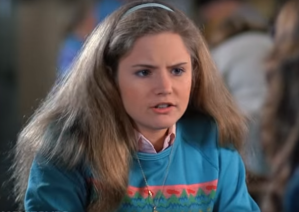 She is now 54, and she sure doesn't look it. Maybe everyone in Hollywood should take a 14- or 15-year break. (It worked for Jane Fonda; there may be something to this.) Her return, largely in the Tarantino film, is one of the most welcome comebacks in a long time. It's not like Travolta in Pulp Fiction, because he'd let himself become a kitsch cliché. Ms. Leigh simply turned off the juice of fame at her peak. And then walked right back in like time had stood still.
Not only did she return—she scored an Oscar nomination for Best Supporting Actress in The Hateful Eight. Just. Like. That. The marriage is over. The kid is 5.  The career that was meant to be resumes.
"I've never really been a careerist," she says. "I've never been able to step back and look at anything in that way. I though this is just what happens. I did take my work very seriously. I loved immersing myself in a character. I loved getting the opportunity to do that. I didn't realize how extraordinary it was, how lucky I was, because I was young."
Her first role, at 14, was an episode of Baretta, directed by her stepfather. Reza Badiyi had worked for Robert Altman on TV shows in the '60s, then became a well-known director on his own. Growing up in Hollywood, at the center of it, was like a movie itself.
"I loved being on the set with my stepfather," she says. "I loved the magic of movies. I went on the set of The Mod Squad—I mean, can you imagine? Just walking into a living room and then walking behind the living room and it's just flat. There's nothing I love more than being on a sound stage."
That world, she thought, prepared her for movie stardom.
"I came into it in this organic and effortless way, which is not natural. I thought because I grew up in this town it made perfect sense to me. Like, I made this movie Fast Times and it was a huge hit. So then you think every movie you make will be a huge hit. And then nothing was a huge hit again for a long time."
Well, not exactly. From Fast Times, Ms. Leigh was launched, and she didn't stop working. She was already top-lining films, starring in movies like Bill Condon's 1987 directorial debut, Sister, Sister, and co-starring with the young guys of the moment like C. Thomas Howell, and her longtime boyfriend, Eric Stoltz. But real lightning didn't strike until back-to-back performances in Last Exit to Brooklyn (1989) and Miami Blues (1990).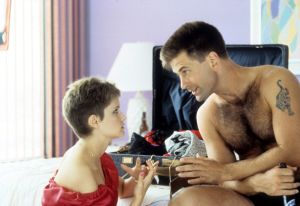 For the next decade, she could have been voted Most Likely to Have Succeeded. What followed was kind of a blaze of glory: in Last Exit to Brooklyn, Backdraft, Rush, Single White Female, Short Cuts, The Hudsucker Proxy, Mrs. Parker and the Vicious Circle, Kansas City, Bastard Out of Carolina, Existenz. Each had its highs, with Ms. Leigh playing fast-talking broads, drunk broads and troubled broads. That she doesn't have an Oscar nomination from that period speaks to the lack of campaigning, not the work. Her Katharine Hepburn-Rosalind Russell in Hudsucker remains delicious. But playing Dorothy Parker was the pinnacle of the era.
"Robert Altman got me Mrs. Parker. We were at a party for Short Cuts. He brought me over and said, 'Alan Rudolph, I'd like you to meet Mrs. Parker.' (Laughs) That's how Alan found out. He goes, 'Oh, I had no idea, very nice to meet you. We should sit down and talk!' "
"It was a very good time for me. I was incredibly fortunate. When you're young and that happens you take it for granted. There were things I passed on that I wish I hadn't. The truth is, things do go away."
Her roll, so to speak, would have kept going except for a chance encounter in 1998. While shooting David Cronenberg's Existenz, Ms. Leigh came to New York and caught a performance of Cabaret with Alan Cumming and Natasha Richardson, directed by Sam Mendes, with Rob Marshall as choreographer. She was hooked.
"I went backstage. I had some friends in it. They were saying, 'Natasha's leaving at the end of the month. Why don't you do this?' I was finishing Existenz, and I flew in to audition." She loved it. Two years later, she was back on Broadway in Proof, following Mary-Louise Parker. Settled in New York, Ms. Leigh co-wrote and directed her first film, The Anniversary Party, with Mr. Cumming. And maybe, by then, the spell she'd been under as an actress had been broken. Mr. Mendes put her in his directorial debut, Road to Perdition. But when that didn't work, Jennifer Jason Leigh seemed to drift away.
In 2008, she married writer-director Noah Baumbach after four years together. "And then I got married, and there was making movies together, and it became insular and I had a baby and I just didn't want to work," she says. She made a memorable appearance in Mr. Baumbach's Margot at the Wedding (2007) as Nicole Kidman's sister, but it seemed out of the blue and nothing materialized. She and Mr. Baumbach had a son together in 2010, and divorced a couple of years later. When she turned up as Ms. Parker's trashy sister on Weeds, it was a pleasant surprise, as was her wonderful turn as Miles Teller's mother in the quietly lovely The Spectacular Now.
She thought the thrill was gone. "And that was O.K. because I had a really good run. I thought, 'Things are changing and that's life.' And then all of a sudden you get a call from Quentin Tarantino and in a certain way you're back home. And I remembered why I loved acting."
"I knew I was going to be hit a lot. But the great thing was, I knew I was being hit by Kurt Russell. I never flinched."
Much has already been made of Daisy Domergue, a wildcat being transported by a bounty hunter played with John Wayne-like grit by Kurt Russell. They are tethered to each other by a real metal chain so she can't escape. He brutalizes her, and she gives as good as she gets. As the only woman in the room for most of the movie, Ms. Leigh is covered in blood and mud and soot, is toothless and annoying.
It's the role of a lifetime.
"I knew I was going to be hit a lot. But the great thing was, I knew I was being hit by Kurt Russell. I never flinched. Because of Kurt. He's been doing this so long and he's so good at what he does," she says.
"Honestly, I could be in any moment I was in, which you usually can't be in a fight scene. After the movie was done he said, 'I was always aware I had your trust.' "
What looks brutal on screen was well thought out. Ms. Leigh says, "I was never in such good hands. And we really had to learn that maneuvering with the chain. We rehearsed two or three weeks. Slowly and surely it became who we were."
Did she ever take it off? "Sometimes we took it off, but it wasn't so easy."
"You have good chemistry," I interject.
"Let me tell you, he laid on that floor for three weeks. They had a dummy for him, with a full face cast. But that is a generous, great actor. I can't imagine another actor doing that for me, 15 or 16 hours of lying on the floor."
The Hateful Eight isn't the only part of her renaissance. Ms. Leigh also voices the character of Lisa in Charlie Kaufman's Anomalisa, the only female in the film. She won raves for both performances. If the latter film hadn't been animated she might have been in the delightful position of having to choose which film to campaign for. Next up she's playing Lady Bird in Rob Reiner's LBJ. And a secret character in David Lynch's reboot of Twin Peaks.
"You're going to have another run," I tell her.
She takes a last sip of her tea. "I don't know," she says, "but I've had this run."