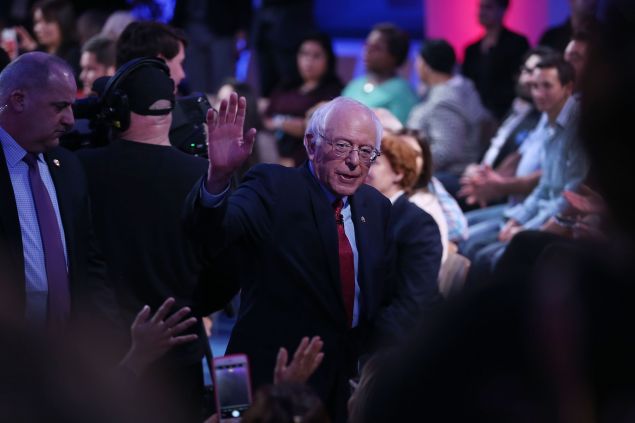 Nevada differs little from most other states in that the Democratic establishment heavily favors Hillary Clinton for the presidential nomination over Senator Bernie Sanders. So far, Ms. Clinton has received support from three out of the eight Nevada superdelegates, while Mr. Sanders has only received one and the other four have remained neutral. As many leaders in Nevada's Democratic Party side with Ms. Clinton, one of Mr. Sanders' biggest allies leading up to the Nevada caucus is Jesse Sbaih, candidate for Nevada's Congressional Third District.
As Senator Harry Reid is not seeking re-election in 2016—leaving the office wide open to Republicans and Democrats—establishment-backed candidate Jacky Rosen (hand-picked by Mr. Reid's political machine) vies for the nomination against Mr. Sbaih, a first generation immigrant from Jordan who came to the United States with his parents at the age of 11 and now runs his own law firm.
"I fully support Senator Sanders for president of the United States. His vision and my vision to take the America to greater heights are nearly identical," said Mr. Sbaih in a phone interview with the Observer. Mr. Sbaih was inspired to run for congress to help break through the bureaucratic gridlock created by politicians favoring partisanship over working together to get things done. "People tell me 'nobody really likes congress, nobody likes what they do, the fighting and not getting anything done.' For me, I'm frustrated that the country isn't going in the right direction. I am very much committed to doing great things for our country, our people and making sure that I, as an adopted son, an immigrant of this great nation, am able to give back to this great country by making sure the American dream—which has sadly been fading away for far too many of our American citizens—is restored."
'We are the greatest country in the world and if we put our minds to something, surely we can do it.'
That American dream has been all but forgotten by the current Nevada Congressman, Joe Heck. Las Vegas was one of the hardest-hit cities in the 2008 economic recession, and in 2009 it had the highest housing foreclosure rate in the country. Las Vegas has also been grappling with the federal government's plans to build a nuclear waste dump at Yucca Mountain, about 90 miles northwest of the city. Mr. Heck hasn't fully opposed the dump site, but has only pushed for funding to be reallocated toward researching safety measures and ensuring Nevada has a say in the evaluation process—leaving the project open for debate. "Congressmen Heck has not done a good job with Yucco Mountain," continued Mr. Sbaih. "We need to make sure the project never starts again and its put away forever. We should not be a dumping ground for nuclear waste in the United States."
Latinos in Nevada comprise nearly 30 percent of the state's entire population, including the highest proportion of undocumented immigrants in the country according to a Pew Research Center study conducted in 2014—estimated at 7.6 percent of the population, or roughly 210,000 people. As a first generation immigrant himself, Mr. Sbaih emphasized the importance of comprehensive immigration reform to create a path to citizenship. On Thursday, February 18, Telemundo and MSNBC hosted a Democratic Presidential Forum where immigration reform was strongly emphasized, as Mr. Sanders and Ms. Clinton make their case to Latino voters.
Ms. Clinton's campaign recently attributed Mr. Sanders' recent surge in Nevada polls to the state's lack of diversity, but allies of Mr. Reid—who has remained neutral going into the Nevada caucuses—criticized her claims, as Mr. Reid lobbied hard for Nevada to receive an early spot in the primaries due to its diversity, citing that nearly half of the state's population is non-white. Mr. Sbaih attributed Mr. Sanders' surge to Americans all over the country waking up.
"The people in my district, and all over Nevada are sick and tired of establishment politics and dark money coming into the political system," Mr. Sbaih said. "They need change quickly. We've seen this in Iowa, and in New Hampshire so far. People are sick and tired of the status quo. They are no longer interested in being told by the establishment who to vote for. People are beginning to think for themselves and they are thinking big. We need to dare to dream and think big. We can no longer sit back and think we can't have things like universal healthcare or free public college tuition. We are the greatest country in the world and if we put our minds to something, surely we can do it."