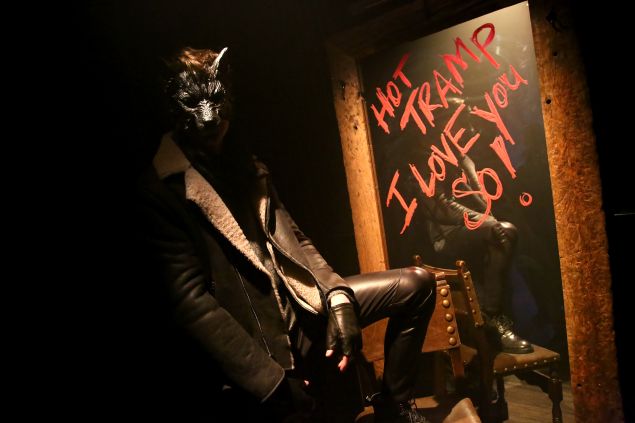 Over the weekend a curious tipster sent Observer Style an email, attaching a picture of the John Varvatos shop on Bowery, all boarded up. He postulated, "Varvatos closing??? RIP John Varvatos?"
That attached photo screamed another question, "Rock Is Dead?"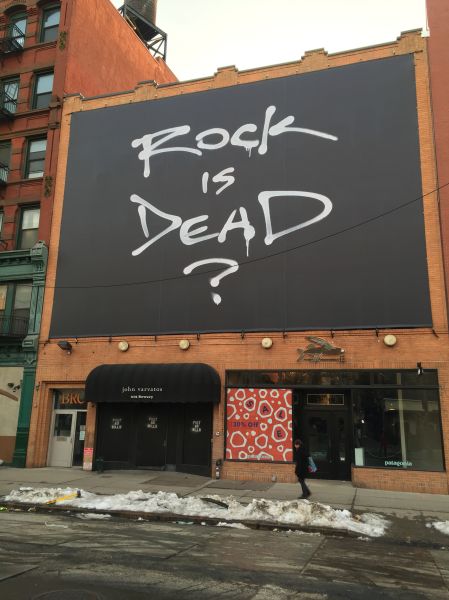 Based on last night's fashion week presentation, it's certain that Mr. Varvatos' business (and that particular shop) is alive and well. The state of rock music? Well, that's to be determined.
Located fittingly in the former CBGB space, the menswear linchpin pieced together a sensory experience that engaged his audience far more than any runway show could. Although, the clothing played second fiddle to the statement the designer was trying to make, it made for a memorable event, to say the least.
The experience began at two coffins, which memorialized the death of rockers who lost their lives to EDM and the record industry. Further into the dimly lit space, a double-breasted overcoat hung from the ceiling, surrounded by a dangling display of microphones. Crows in white skinny jeans and big leather coats followed and an actual model perched on a faux toilet, accessorizing his leather trousers with a newspaper and a bunny mask.
Disruption was clearly the theme of the evening and a bit of that feeling was delivered into the clothing as well. A houndstooth cardigan was knit so long, it's hem extended for at least six feet, ending up pooled on the floor. The show notes also pointed out that the necklines of jackets featured wires, allowing collars to be worn in ways that are far from uniform.
At times it was difficult to tell what was a mannequin versus an actual model. Each face was obscured by an animal mask, be it a bunny, wolf or even a parrot. Skinny trousers in maroon and grey were paired with combat boots and displayed on dismembered legs, lined up against a wall. But the best part was that the entire experience ended like a dream. At the end of the dark path was a light, heaven-like space, where an angelic blonde model posed in a zebra print coat, alongside a white winged horse and a wall that read "Long live rock."
Of course rock legends were honored throughout the space, with hits from The Rolling Stones blasting in one room and elsewhere a pile TVs flashed videos of icons, including David Bowie.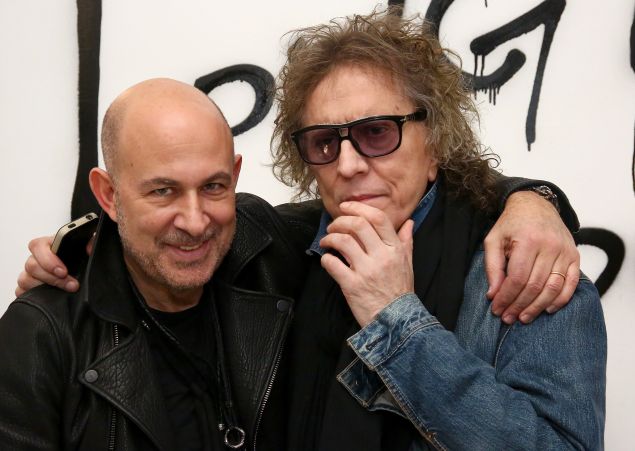 A slew of notable names made the trek to the Bowery to check out the installation; Observer spotted Vanity Fair's Graydon Carter navigating one dark room and watched Mr. Varvatos chat up Fern Mallis at another point. Christian Slater and the rock 'n roll photographer Mick Rock were also among the vast crowd.
But the elite aren't the only ones who will be able to experience Mr. Varvatos' dream world of rock 'n roll; the space will be open to the public starting today, Wednesday, February 3. "It's time to do something different–to cause disruption," said the designer in his show notes. "People need to change their lives, their clothing…to stop committing to someone else's uniform and lifestyle. With so much evolution around us, we need to create our own sense of being."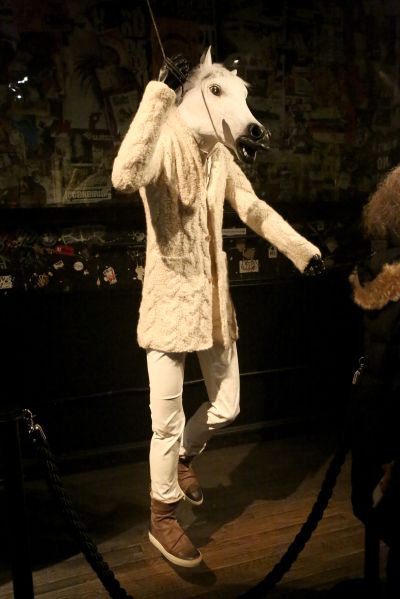 He goes on to encourage his customer: "Be rebellious. Be authentic. Walk to your own beat." And yes, in case you were still wondering, Mr. Varvatos does believe rock is still alive and well.