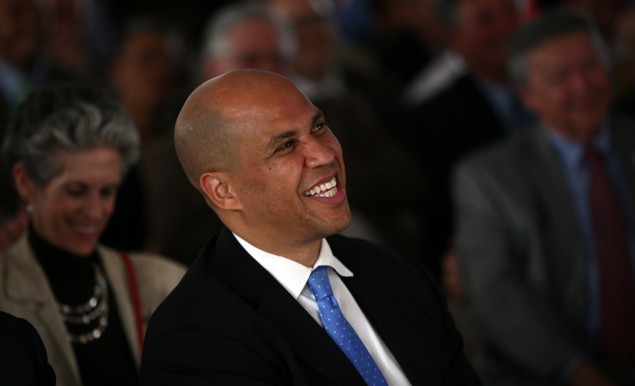 With the news of U.S. Supreme Court Justice Antonin Scalia's death Saturday, the 2016 presidential race saw its sharpest turn yet. Scalia's passing may have positioned former Newark mayor and U.S. Senator Cory Booker to gain from the unrest as he competes with an impressive cohort of possible nominees for the highest court in the land. The New York Times named him as a contender when the paper ran its shortlist Sunday. Booker said in a statement his responsibilities as Senator still have his undivided attention.
"It's humbling that anyone would mention me as a possible Supreme Court nominee, but I want to be very clear that my focus is 100 percent on doing the job I was elected to do — representing the people of New Jersey in the Senate," he said.
But with the wildly popular junior senator facing such an outsize honor on top of his potential as a running mate for Hillary Clinton, that reticence to step away from his Senate seat could disappear. Though Montclair State University political scientist Brigid Harrison said she doubts Booker's viability compared with those possible nominees who have experience on the bench, she said that Booker's value to the DNC has never been greater.
If Booker is nominated and vacates his Senate seat, Harrison said, Republican governor Chris Christie's ability to introduce a strong Republican replacement in a special election could appeal to the GOP establishment and help President Obama clear away some of Republicans' guaranteed opposition.
"His inclusion on the list is probably part and parcel of the political consideration," said Harrison. "He has a relationship with many sitting Republican senators who respect him.
"If he were to be nominated and confirmed, then a sitting Republican governor would have the ability to appoint his temporary successor. So that makes it a little more appealing for Republicans in the Senate, perhaps more-so than any of the other people that were on that shortlist."
Attorney Joseph Hayden, former deputy state attorney general and law secretary to the Chief Justice of the New Jersey Supreme Court, echoed Harrison's doubts about Booker's lack of judicial experience despite the strengths that would help him secure Obama's legacy in the judiciary.
"Cory Booker is a brilliant legal mind," Hayden said. "He has got a keen knowledge of the constitution and civil rights issues, and is a national leader in criminal justice reform. But I would think that the president would be more inclined to pick a member of the judiciary with proven experience on the federal bench."
Asked about Booker's chances against a Republican filibuster, Hayden offered that any Obama nominee will face a tough row to hoe.
"If they want to stop it, they'll stop it," he said of the Senate Republicans. "I don't think that's appropriate, but I fully anticipate it will happen."
As for the chances of a Clinton-Booker ticket, Harrison said that she fully anticipates he will continue to be a valuable chess piece for the Democrats. She predicted, however, that Booker's appeal to young voters and black voters will not be enough enough of a counterweight to his coming from a dependably blue state. Despite Booker's potential as a vote-getter in the black communities crucial to Clinton's success, Harrison argued that Booker would have to overcome conventional wisdom dictating that vice presidential candidates demonstrate partisan cross-over appeal.
"What candidate wants a Vice President from New Jersey when they could choose one from Iowa or some other more competitive state?" 
Asked about the vetting process that would precede a Booker nomination for the court, Harrison pointed to  the infamous sexual harassment allegations against Justice Clarence Thomas and said the open question of Booker's responsibility for the Newark Watershed scandal would not present a problem. 
"Others have brought much larger scandals to the table," she said.