Last night, Kanye West filled Madison Square Garden for a unique show during which he unveiled both the third season of his Yeezy clothing line and his new album, The Life of Pablo (Formerly Waves. See corresponding Twitter rant here.)
Between the interesting fashion, Kardashians in attendance and premiere of the much-anticipated album (his first in three years), one would think there'd be a lot to focus on. But it seemed everyone there, as well as those live-streaming the massive event, zeroed in on one thing—a single line in his new track "Famous," which mentions his on and off musical foe Taylor Swift in a controversial way.
"I feel like me and Taylor might still have sex / I made that bitch famous," the song goes.
Immediately, this was perceived as a serious diss. How could it not be?
But this morning, Mr. West took to Twitter to defend himself and the line. He says that "bitch" is an endearing term in rap and that Ms. Swift even came up with the line herself.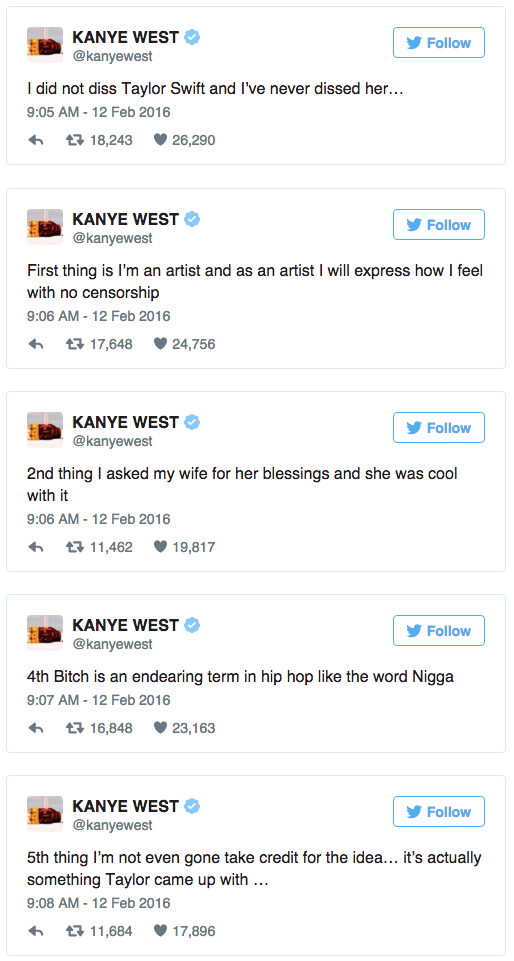 It's unclear if this is true. TMZ reported that Ms. Swift reviewed and approved it, but The New York Times' music critic Jon Caramanica shared a statement from Ms. Swift's spokesperson that says otherwise. It reads, "Kanye did not call for approval, but to ask Taylor to release his single 'Famous' on her Twitter account. She declined and cautioned him about releasing a song with such a strong misogynistic message. Taylor was never made aware of the actual lyric, "I made that bitch famous.'"
Ms. Swift herself has yet to respond, but her squad has. Both Jaime King and Gigi Hadid took to Twitter to with their thoughts: