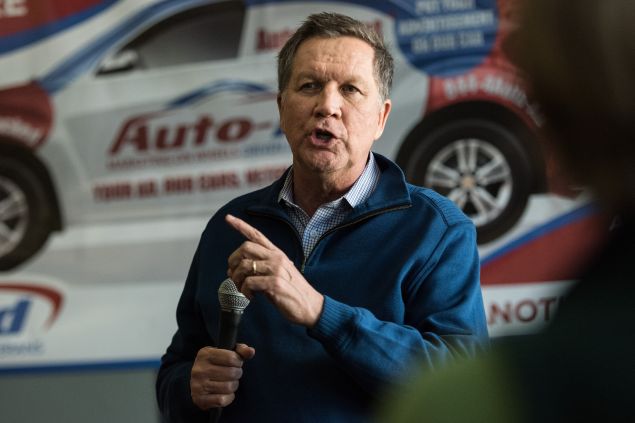 Most political observers expect Gov. John Kasich of Ohio, the soft-spoken Republican, to flop in South Carolina, where Sen. Ted Cruz of Texas and Donald Trump are locked in a war for dominance.
Mr. Kasich finished second to Mr. Trump in the Granite State on Tuesday, besting several rivals and likely saving his campaign. Now, the bare minimum goal is to avoid an embarrassment in South Carolina, where his moderate brand isn't expected to sell so well, though his top strategist said today the campaign bought TV ads in the state thanks to a robust round of fundraising.
"Our fundraising has been gangbusters," John Weaver, Mr. Kasich's strategist, told the Observer, though he declined to name any figure. "It just exploded after Tuesday night."
Mr. Weaver didn't reveal the size of the ad buy either, but promised Mr. Kasich, whose record as Ohio governor is more conservative than his rhetoric sometimes suggests, would defy the low expectations being placed upon him.
"I think we're gonna beat expectations. People don't expect us to do well. We'll win some delegates," he said. "South Carolina is a state either Marco or Jeb have to win. We're gonna watch the scorpion fight. We'll do okay down there."
Mr. Kasich finished ahead of Sen. Marco Rubio of Florida and Jeb Bush, the former Florida governor, in New Hampshire. The performance was a disappointment for the Rubio team in particular because they were hoping a strong showing could push Mr. Kasich and Mr. Bush out of the race and consolidate the support of donors behind his candidacy as a bulwark against an insurgent takeover of the GOP. Instead, Mr. Trump and Mr. Cruz, the two outsiders, are in a strong position to compete deep into the primary season.
It's debatable whether Mr. Rubio or Mr. Bush have to win South Carolina to keep their campaigns going, considering both are sitting on ample cash reserves and are looking to win larger, more delegate-rich states in March.
But Mr. Weaver's right that the February 20 primary will be pivotal for both Floridians. If Mr. Bush finishes at the back of the pack, despite the endorsement of South Carolina Lindsey Graham and the help of his older brother, former President George W. Bush, he may face pressure to drop out. For Mr. Rubio, he needs to prove a poor debate performance last week hasn't permanently derailed his campaign, and a failure to compete with Mr. Cruz and Mr. Trump, even while securing the backing of South Carolina Sen. Tim Scott and Congressman Trey Gowdy, could signal it's time for him to exit the race.
This is what Mr. Weaver, of course, hopes happens. The Kasich campaign is gearing up to win the Michigan primary in March, dominate at home in Ohio, and swipe delegates from Vermont, Massachusetts, Virginia, Tennessee and even Mississippi, a deep South state Mr. Weaver claimed Mr. Kasich could win.
"I know we're in the race until we get through the Midwest. "That's the end of March," he said. That's how far and funded we're prepared to go."
Disclosure: Donald Trump is the father-in-law of Jared Kushner, the publisher of Observer Media.