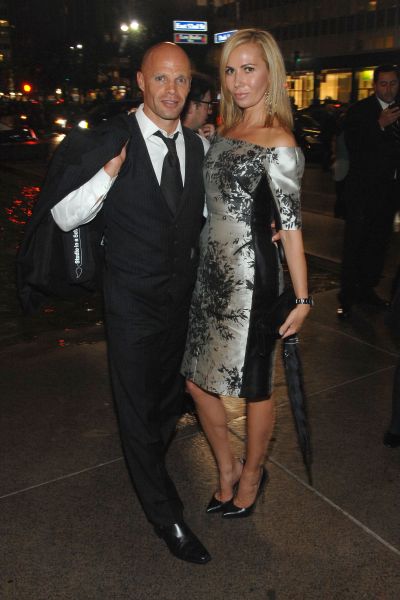 If you've ever wanted to live in a limestone that includes floors inspired by an 18th-century imperial palace in Russia and walls upholstered in custom Hermes leather, now is the time.
That is, of course, if you have $84.5 million to spend on a six-story, Upper East Side Beaux Arts limestone manse. The home was purchased by developer Keith Rubenstein, who heads Somerset Partners, and his wife, former model Inga Rubenstein, in 2007 for the sum of $35 million, when they reportedly beat out the likes of Madonna for the home.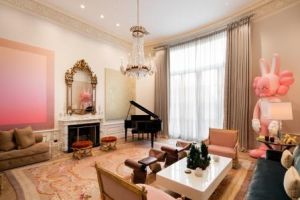 The couple live in the 15,000-square-foot limestone at 8 East 62nd Street with their 16-year-old son, moving in after a three year gut renovation in which they employed the services of designer William T. Georgis to bring back the "Gilded Age Splendor" of the six-story pad, originally built in 1903.
The home includes at least five bedrooms, with one bedroom currently being used as a smoking room; there is also a media room with a full wet bar and the billiard room, which sports the aforementioned custom Hermes leather walls. Other highlights of this just slightly over-the-top home include a marble staircase, elevator, gas and wood-burning fireplaces, 17-foot ceilings in formal dining and living rooms, and  a 2,500-square-foot rooftop terrace with a lounge area, dining area with cedar pergola, a full outdoor kitchen, three-jet fountain and Zen rock garden.
It's not clear why they've decided to part ways with the home. At 15,000 square feet, the place is certainly spacious, but why downsize? Especially after you've put your unique touches on it, including a giant neon light reading "forever" across a fireplace. Not so much, apparently.
Adam Modlin at Modlin Group has the listing, which was featured in Architectural Digest in November of 2015. In addition to the forever sign, it does have unique touches that might be adored more by some than others—per Architectural Digest, Ms. Rubenstein's rooms include a "shimmering, silvery suite" they refer to as "Inga's world," comprised of her bath, office and closet, complete with custom shelves for her designer handbags and a temperature controlled vault for furs. Oh, and her bathroom includes refrigerated storage to preserve her cosmetics.