Jackson, Mississippi, podcasting entrepreneur Beau York has learned that not everyone agrees with him about what it means to give a user exactly what a user wants. "Customization to me means I get to customize the way I want it, not you customize for me the way you think I want it," Mr. York told the Observer in a recent phone call. "Android people are going to have that mindset a little more than iPhone folks are."
Mr. York has learned that there's about a 50 percent split in how users want a podcast-playing app to serve them. He's been learning about this split as his new company builds Satchel, a player in beta, and half of its early users love the fact that it doesn't try to recommend shows for them (what he calls an Android user's disposition) and the other half can't figure out why the app isn't telling them what else to check out (an iPhone disposition). Mr. York launched his new app first on Android, and it is meant to address problems he discovered building his first company, Podastery, a producer of niche shows.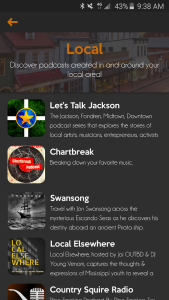 "My goal with Podastery was to understand the industry of podcasting and to identify the pain points that have been holding it back," the telecom industry veteran said. "We've identified those as revenue distribution and discoverability." Satchel primarily addresses the latter—though not exclusively. 
The Knight Foundation backed Satchel with $35,000 from its prototype fund, thanks in part to its focus on geographic discovery. "You can find podcasters that are actually creating podcasts where you are located, which is really great," Mr. York said. When a show registers with Satchel, it indicates where it is based. Doing so also gives users access to the app's call-to-action button. Hundreds of shows have done so to date.  
Podastery has a regional show called Let's Talk Jackson. It's the sort of show that would benefit if podcast fandom started to think of shows as coming from a real place in the world.
"Podcasters that we've talked to have been excited just about finding other podcasters around them," Mr. York said.
Now, the company is focusing on a feature it calls "Clipshare," which allows listeners to post 45-second clips from shows played on the app. We recently wrote about another venture focused exclusively on sharing audio, from the team at This American Life.   
Mr. York's started Podastery two and a half years ago and found a new content strategy for on-demand audio: create extremely loyal listeners within a niche rather than boatloads of listeners. In theory, it makes Podastery's shows more appealing to advertisers that want to reach that niche. "We create unique relationships for every single show," Mr. York said. "Because they are so focused and because they are so refined, this is the best possible avenue by which advertisers can get specifically to the people they want to get to."
For example, Podastery runs Country Squire Radio, which he says is the No. 1 pipe and pipe tobacco podcast. The show started lining up sponsors last year. "The way they want to advertise is not necessarily in a way to gather new acquisitions so much as it is to gather folks that are already participating in the community and upsell," Mr. York said.
Satchel and Podastery are both bootstrap companies. Mr. York said, "With Satchel, we currently have it available in beta on Android, and we currently have it in closed beta on iPhone."
Have podcast listeners been waiting to discover shows that cover their backyards? Check the app out and share your thoughts.