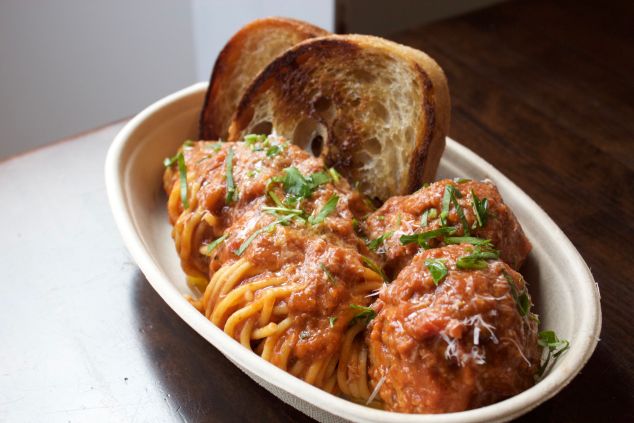 Knead & Co., the pasta bar at Downtown L.A.'s bustling Grand Central Market, is Italian-American greatness that sneaks up on you in early 2016 the way Torrisi Italian Specialties snuck up on New Yorkers in early 2010.
Knead's counter-service lunch setup is unintimidating and the menu is accessible, but chef Bruce Kalman's spaghetti and meatballs with Sunday gravy is refined marinara merriment. There's smoked guanciale ground into the pork meatballs, which also include ricotta that creates a delightful fluffy lightness. The red sauce, made with pork shoulder, beef chuck and Di Napoli San Marzano-style tomatoes from California's Central Coast, is a reminder of the transformative power of slow cooking, and how the deep cuts of meat are the best ones if you just give them the proper time. (This is a dish that won't suffer at all if you take home leftovers and eat them a day later.) Knead, which Mr. Kalman runs with restaurateur Marie Petulla, is also here to remind you that this kind of food doesn't require tablecloths or waiters or even metal utensils.
You don't need utensils at all for Knead's purposefully over-the-top porchetta dip, which comes with a pork rind and spicy giardiniera on the side. Glistening, glorious fatty pork is sliced thin and paired with roasted rapini and toasted mustard seeds on the generously stuffed sandwich. It has the makings of a fast-casual revolution we can get behind. Even the inevitable Arby's version of this might not suck so much.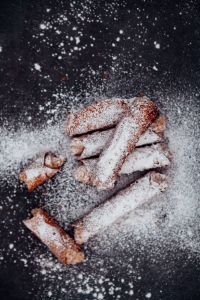 Mr. Kalman, whose crew has been holding things down at Pasadena's Union while he makes fresh pasta Downtown, is a New Jersey native who's been widely celebrated for his rarefied Cal-Italian cooking. At Knead, this means creative dishes like spelt cavatelli with spicy fennel sausage and Koda Farms chickpeas. There's also a hearty, satisfying Grist & Toll grain bowl with fresh mozzarella and carrot-top pesto.
So, yes, you can have a healthy meal at Knead. But savory hand pies, a k a panzerotti, stuffed with sausage and peppers, are another option. Whatever you do, save room for cannoli.
Knead is part of a chef-driven Grand Central Market makeover that also includes former Campanile boss Mark Peel's Bombo with its seafood stews and "Top Chef" winner Ilan Hall's Ramen Hood with its vegan noodle bowls. That's a hell of a lot of A-list culinary talent boiling water under one roof. It's not news anymore that fast-casual is the new fine dining, so you know the deal: No reservations, go grab your seat at the counter.