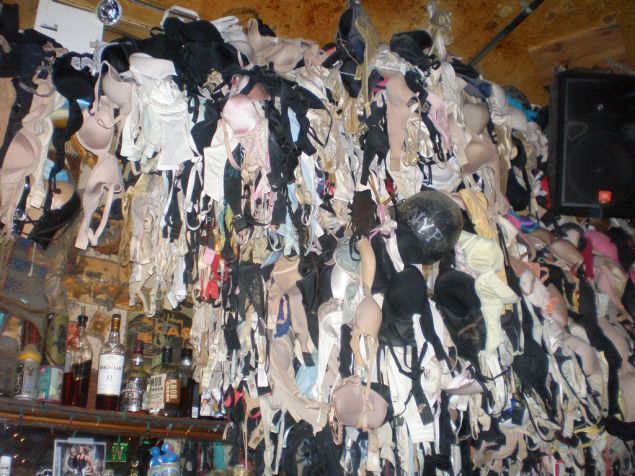 Less than a year after Hogs and Heifers, the infamous biker bar where patrons were known to dance atop the counter and throw their bras on the walls, shuttered its doors in the Meatpacking District, the bar's owner has decided it's time to ditch New York.
Of course, the Tribeca loft that Michelle Dell Ramsey has just listed for $3.5 million isn't in quite the same financial situation as Hogs and Heifers, which served its last drink at 859 Washington Street in August due to a proposed rent increase up to $60,000 per month.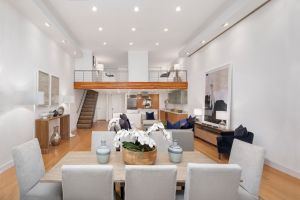 Still, the biker bar where Julia Roberts once infamously danced on the bar (and donated her own Maidenform bra to the bar's collection) turned enough of a profit in its early days that its owner was able to purchase the two-bedroom, 2.5-bath loft at 80 Warren Street for $1.5 million back in 2002. When even the likes of Paul McCartney choose to grace your bar's countertops, you know a place is doing something right (though even doing a lot right won't necessarily cover $60K a month in rent).
"I did a full gut renovation—it was like an eighties bachelor pad," Ms. Dell Ramsey told the Observer of the loft's original state. "All black marble bathrooms and track lighting. I pulled out all of that and completely opened it up. I wanted to get as much light in the space as possible!"
"At the end of the day, I can't really justify the investment in maintaining a home of that caliber in New York City," said Ms. Dell Ramsey of her decision to sell.
The current state of the 2,970-square-foot triplex, which is listed by Douglas Elliman (DOUG) broker Tamer Howard, is actually quite tame in its décor, but there's an good reason for that. "We had it staged," Ms. Dell Ramsey said. "Before, it was certainly more descriptive of me, but ultimately I needed to bring my things to Las Vegas."
Of course, there is the "open lofted bedroom" that looks out onto the living space—while this might be a bit too exposed for some, we doubt it scared off Ms. Dell Ramsey, whose bar, which opened in 1992, was known for its…rowdiness.
"I think it's an incredible space for an artist, or a musician, or someone who really wants to have a peaceful environment that is also uplifting," she opined. "It gives you that feeling of not being crowded, because the ceilings are really high." Fourteen feet, to be exact. Of course, the ten closets, five of which are walk-ins, might be especially attractive to some. "It's a dynamite space for a single woman with a lot of clothing," she laughed.
Ms. Dell Ramsey, who opened the Las Vegas location of Hogs and Heifers ten years ago, has decided to spend at least a year there, but she's confident she'll be back.
"Potentially, I'll buy another, smaller place in New York—I don't see myself not having a place in New York for long," she admitted. "I'm already stir crazy! It's already making me insane!"