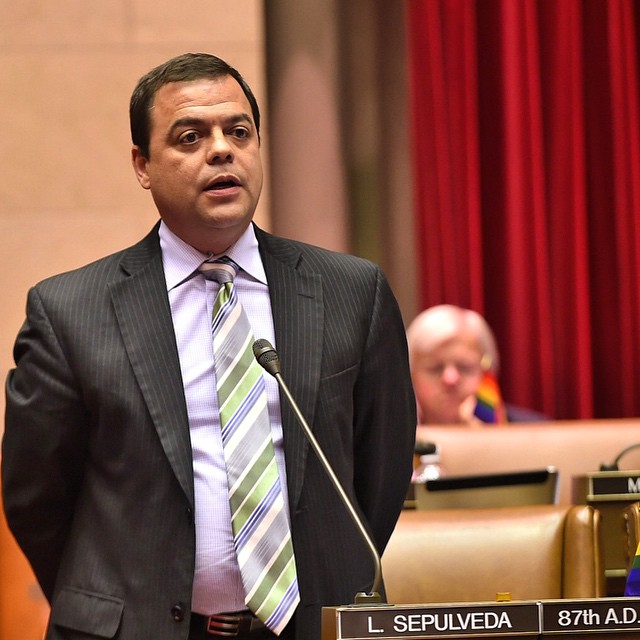 The Bronx is Berning—or would be, if Assemblyman Luis Sepulveda had his way.
Mr. Sepulveda, a Bronx Democrat, told the Observer that he is breaking with most other New York City elected officials by backing Sen. Bernie Sanders of Vermont for the Democratic nomination for president over Hillary Clinton, the former secretary of state. In particular, he criticized Ms. Clinton for backing her husband's tough-on-crime, anti-gay marriage, free-trade policies in the 1990s, as well as her vote for the 2003 invasion of Iraq.
"I've never really understood the Latino and African-American population's fascination with the Clintons," Mr. Sepulveda said in a phone interview. "All these things she's supported I've found very disturbing."
By contrast, Mr. Sepulveda described Mr. Sanders' emphasis on income inequality as "very appealing" for his low-income, majority-minority swath of the the Bronx. In particular, he highlighted the self-described democratic socialist's call for free higher education as especially significant.
"The middle class isn't the people I represent. They're generally more poor people," he said. "People say a lot of his proposals are pipe dreams, but we have to start somewhere."
The state legislator, first elected in 2012, said he believed Ms. Clinton would have just as much trouble getting her agenda passed in a Republican-controlled House of Representatives as Mr. Sanders. He criticized her for not backing a $15 minimum wage, and argued fewer Latinos would support her her if they were more familiar with her opponent's ideas—though he maintained either Democratic candidate would be better for his community than any of the Republican contenders.
He said that the senator could and should have begun reaching out to Latino voters earlier in the campaign, but maintained it was not too late.
"If you meet, and give opportunities to elected officials who represent communities of color, the message itself will attract people," he said. "I think if we can get the message out, then people in this community will support Sanders."
Mr. Sepulveda said he has so far had no contact with the Sanders campaign, but would consider serving as a surrogate if asked.
Only three other New York City elected officials have come out in support of Mr. Sanders' underdog bid: Councilman Rafael Espinal of Brooklyn, State Senator Bill Perkins of Manhattan and State Senator James Sanders of Queens. Despite Mr. Sanders' well-publicized poll weaknesses among minorities, all of them are black or Latino.
Mr. Sepulveda was also an early backer of Mayor Bill de Blasio in 2013. The mayor, however, has endorsed Ms. Clinton.