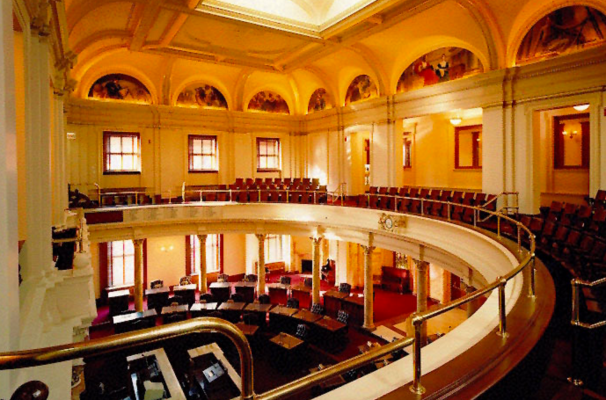 Tomorrow is a session day at the state house, with prominent bills on the Port Authority, gun control and sick leave going to a vote on the Senate floor.
There will also be a hearing on New Jersey's application for federal funding for flooding relief and mitigation. The testimony will start at 10:00AM in Committee Room 4, at the Senate Legislative Oversight Committee.
See a preview of what's on the docket tomorrow below, or listen to the session live tomorrow at 1:00PM.
S86 – Would create an additional class of police officers authorized to carry firearms while posted in public and nonpublic schools. Would draw from retired police officers less than 65 years old. – Sponsored by Senators Anthony Bucco (R-25) and Steve Sweeney (D-3)
S993 – Would require the Commissioner of Human Services to seek out those eligible for the Supplemental Nutrition Assistance Program (SNAP) based on labor and employment data, and file requests for waivers based on that data. Sponsors say that the Department of Human Services did not file for waivers last year when residents in 15 counties would have been eligible. – Sponsored by Senators Joe Vitale (D-19), Nellie Pou (D-35) and Bob Gordon (D-38)
S92 – Would allow for overseas voters to obtain ballots for state elections, under the same guidelines by which they can currently obtain only federal ballots. – Sponsored by Senator Jim Whelan (D-2)
S96 – Would expand public funding options from gubernatorial primary and general elections alone to special elections filling a vacancy. – Sponsored by Senator Jim Whelan (D-2)
SJR11 – Would require that a bipartisan committee including legislators and residents review the health of the state's voting systems and make recommendations as to replacements, repairs and changes in policy. Appointments would have to be representative and diverse with respect to regions of the state, population density, and affiliation with the Assembly or Senate. – Sponsored by Senator Jim Whelan (D-2)
S218 – Creates stiffer penalties for criminal negligence involving a firearm.  – Sponsored by Senator James Holzapfel (R-10)
S342 – Would create additional additional responsibilities for the State Ethics Board in overseeing ethics standards and enforcement in local governments. – Sponsored by Senators Tom Kean Jr. (R-21) and Jen Beck (R-11)
S708 – Creates additional legislative oversight for the Port Authority in capital planning and governance. – Sponsored by Senators Loretta Weinberg (D-37) and Bob Gordon (D-38)
S992 – Concerns equal pay for women and minority groups. Prohibits employers from lowering other employees' compensation to comply with equal pay laws and would impose penalties for employers who penalize workers who report violations. Strengthens reporting requirements. -Senators Loretta Weinberg (D-37), Steve Sweeney (D-3) and Sandra Cunnigham (D-31)