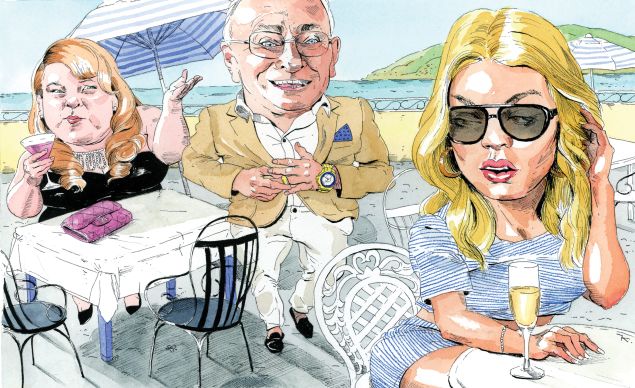 Dinner at the enduring Polo Lounge is still a glamorous affair: the distinctive dark green décor the color of money, or some would say Hollywood chits. The Pink Palace seems back in swing again after a bit of controversy and there were a few notable celebrity sightings and industry deals being done over smoked salmon avec caviar and dollops of lemon crème fraîche. Not to mention the action in the legendary coffee shop and its classic amoeba-shaped counter.
I was seated in the main dining room with one of L.A.'s most reclusive power players, who had agreed to meet under a condition of anonymity. As the pianist played "The Lady Is a Tramp," a much-awarded industry player entered the premises with a nubile young actress, or, shall we say "friend." My dinner companion and the executive gave each other a conspiratorial nod.
"Is that his girlfriend, the casting couch, or a professional?" I asked after a bit of blonde Barbie catnip.
"Perhaps all three," my friend replied in a sanguine fashion.
"Isn't he married to [a once-well-known actress]?"
"Yes, they have one of the most enduring marriages in L.A."
"And?"
"Back in the day, she was considered a great beauty. You remember her in [minor blockbuster]."
"I haven't seen her in years."
"That's because she did the unthinkable."
"What's that? Bad plastic surgery?"
"No," he whispered. "She got fat. And in this town that's like having the plague. They're still married, but now he can do whatever he likes."
"I don't understand." I had a bite of the McCarthy salad. "He can have girlfriends and affairs just because she got fat?"
"She didn't keep up her end of the bargain and now he can do whatever he pleases." He gave a theatrical Orson Welles-style pause. "Everyone agrees."
"People publicly side with him?"
"It's the worst-kept secret in L.A. She yo-yo diets and can't stop eating and everyone thinks he's the greatest guy for staying married and he gets a lot more respect."
"Really!" I processed the concept.
"He keeps his family and fortune intact, but now has what most men want." He paused. "A license to cheat!"
*********************************
Safely back East, I mulled the phenomenon. Surely, I reasoned in the city that never sleeps, there are multitudinous deals being made—and being broken. I decided to investigate.
I met Charles-in-Charge-Card, he of the $260,000 Hublot Bigger Bang, for lunch at the Four Seasons. "Once I reached $500 million in assets," he explained, "I said to myself, 'I already have the houses and the planes…the next obvious move was a supermodel-style mistress.' And it's not like it's that expensive."
"What was the motivation?"
"Honestly, the money. When you become that wealthy, you feel the rules don't apply to you. And then you might have a wife that isn't as caring or attractive as you think she should be. My feeling is, after the fourth house and the plane she could stop complaining. And then you rationalize having some fun. I'm not going to divorce her because she is anorexic and having hot flashes, but that doesn't mean she can't be more appreciative. The woman has had resting bitch face for 25 years. The last time she smiled Reagan was in office!" he said forcefully.
'I have given [my wife] this amazing life and platform, but there's little appreciation. She may not love me enough. But Svetlana does…when I give her a Goyard wallet!'
"These young girls from the Midwest or Eastern Europe get one pair of jeans and a tank top from H&M and are over the moon," he continued. "And a Chanel bag is like winning Powerball and they can't do enough for you."
"Does your wife care?"
"Only as it relates to her security. I have given her this amazing life and platform, but there's little appreciation. She may not love me enough."  He paused, "But Svetlana does…when I give her a Goyard wallet!"
"So is this your Park Avenue Permission Slip?"
"Most men know they're not Brad Pitt, but that doesn't mean they don't want someone telling them they are handsome or funny."
"So they pay you compliments but they need to get paid to do it?"
"If my head comes up to her crotch, she's blonde and smart enough to fake it, I'm happy to pay for it. You should see my wife's bills…and she isn't happy with anything."
see this all the time in my practice," said my therapist, Dr. Yes. The Viennese accent, goatee and Danish Modern sofa in his UES outpost all make for an authentic Freudian experience. "That said, it must be noted that the majority of people who have this particular issue are men."
"More men, you say?" I was taking mental notes.
"After a few years of marriage they hanker for something new. And then if the wife doesn't take care of herself, he says she just doesn't care about him. It's not that the men don't have a point, but it's more complicated than that. It's a rationalization of what they want to do in the first place"
"Meaning?" I leaned in.
"It's biological. The male species are built to want to inseminate as many women as they can. Not that they do, but there is that primal urge."
"And the women? The ones that do?"
"It's a combination of attention and economics. If a husband is not initiating sex and doesn't express his interest, the wife might look for validation elsewhere and that's where the trainer or the girlfriend come into play. Women still want to feel that their partner thinks they are beautiful. I call it 'watering the garden' and if you're not going to do it someone else will."
"And the economics?"
"It may sound like a cliché, but if a man is having financial issues his self-esteem may suffer, which can translate into emotional and physical impotence. And the woman might think to herself, 'I deserve more.' Long-term marriages can often breed ennui and someone may also just want a change."
"Other reasons?"
"Alternatively, in some circles if the man has made so much money, i.e. hundreds of millions, the wife knows she has less leverage and in order to keep the marriage intact she might turn a blind eye to his having fun. It's almost expected."
'If a man is having financial issues his self-esteem may suffer, which can translate into emotional and physical impotence. And the woman might think to herself, 'I deserve more.' Long-term marriages can often breed ennui and someone may also just want a change.'
"Expected?"
"That old expression about things that fly and float…I don't want to be vulgar, but they're all toys you can rent."
"So the über-rich get a free pass and a license to cheat more than the merely wealthy?"
"I've seen it, yes." He stroked his goatee. "It's like being a Hollywood star and not having a million girlfriends."
"And who in their right mind would do that?"
***********************************************
There's something about redheads: They're bold, they have verve, and, like Lucy, they're funny. In fact, I have yet to meet a ginger who doesn't have a fabulous sense of humor. I was catching up with a legendary advertising creative director who I hadn't seen since Season One of Mad Men. We sat down for a leisurely lunch at Nobu sur Hudson St., the glass of rosé setting off her ruby hair and green leather jacket, like a Revlon color story.
"You should always drink rosé, you're color coordinated," I observed.
She laughed. "You know that I'm terrible at relationships. If I had a personal pick up line it's, 'Hello, I'm Suzanne [not her real name] to whom do I make out the check?' " she said dryly referring to her habit of supporting the men in her life. One of the first female partners in the agency business, she is noted for her acerbic wit and finely honed sense of humor.
"License to cheat? Hmmm." She took a sip of rosé. "I was in a horrible relationship for years and I was looking for one. I wanted him to cheat on me so I could discover it and leave him. I looked for clues to no avail."
"Sounds bad!" I empathized.
"This was a man, that when my friend called and told me her husband of many years died, I thought to myself, 'Why do some people have all the luck?' " She broke into laughter.
"The relationship went on for over 20 years. I met him when I was quite young and in many ways he was my Svengali. I wanted to cheat every day, but I couldn't."
"Why not?"
"We are all products of our parents. I was taught to stay. After 13 years, we only had sex at the beginning of a season—I called him 'the man for all seasons.' When the sex goes out of a relationship and you're young, it's a sign."
"Do you regret not cheating or having sex for so long?"
'I was in a horrible relationship for years and I was looking for a license to cheat. I wanted him to cheat on me so I could discover it and leave him. I looked for clues to no avail.'
"I've been trying to make up for it ever since."
"Have you succeeded?" I pried.
"You could say that."
"So you agree with the theory?"
"I view it more of a license to leave, than a license to cheat, but yes."
"So how did it end?"
"One day, I actually kissed someone—just kissed them—but I knew what I was missing. And I broke up with him that day."
"What was his reaction?" I asked.
"He just said I was having a mid-life crisis"
"Your response?"
"I agreed. Mid-life meaning…I've lived with you the first half of my life and I'm not living with you the other half."
"More rosé?" I offered.
"Why not?"
*****************************************
Seated to my left in the dining room of the sleek Tribeca aerie, Woman of Substance Abuse (thusly named due to her proclivity for a certain white powder) gave me an unexpected earful, her Jennifer Miller diamond hoops sparkling.
"No woman wants a man home every day," she blurted, "sleeping later than she is, in his dirty tee." She used her fish fork for the salad.
"I thought Corky (not real name) was retired?" I asked.
"Retired, my derriere. He became a house husband when he was laid off and my parents pay for the help…so what is he really doing? I wish he would get a job or a girlfriend already."
"And what's your remedy?"
"I'm the one with the paycheck and I can do whatever I like."  She gave me an urban head snap.
"Whatever you like?"
"Whatever. And I mean whatever! W-h-e-n-e-v-e-r!"
"What about a simple d-i-v-o-r-c-e?"
"And pay him half of everything? No way Jose. I'll just have a tennis instructor in every port before I have to pay half to Mr. Stay At Home Loser."
"Sorry to hear that you are so unhappy."
"Who said I was unhappy? I'm thrilled!"
"Thrilled?"
"If he wasn't so unmotivated, I wouldn't have Juan, I mean Don."
"Don Juan?"
"No. Don in Los Angeles and Juan in Miami."
"So that's your license to cheat?"
"Edible?" She fished into her Edie Parker.
"No, thank you." I declined her offer.
**********************************************
The enfilade of rooms in the high-roller suite at Steve Wynn's incredible Encore overlook new Las Vegas sprawl and the snow-capped distant mountains. Vegas has changed, even in the years since I worked with Mr. Wynn to design the now-famous Wynn signature logo. Donny and Marie are still implanted on the Strip, but we opted for the DJ Tiesto at Hakkasan—a St.-Tropez-style evening replete with bottle service, bodyguards and light-up Pink DP bottles. Accommodating thousands of fans is something Vegas does very, very well, and our prime table overlooked both the stage and a number of bachelorette parties and large groups of men on the lookout for Vegas girls in bustiers and spandex mini skirts.
Two finance guys we had been chatting with at the next table approached the women in our group and invited them onto the platform to dance.
"Sorry, but the ladies in our group are all married," Younger Art Dealer filled them in.
"So are we," said Finance Guy No. 1, pointing to his wedding ring.
"Yes, but they're married to us," replied Young Art Dealer, congenially.
"But the girls in your group are all so hot."
"Thanks," Younger Art Dealer said as the pair backed off, muttering.
"Who comes to Vegas and this club with their wives?" one said to the other. "I thought guys from New York were supposed to be smart." They rolled their eyes. "What happens in Vegas stays in Vegas!" They high-fived each other.
"Here," I interrupted, handing an extra half-filled bottle of Dom Peginon to Suit No. 1, "take this and get your own women."
He thanked me profusely and invited two girls in the crowd onto the platform with the promises of DP. And as the girls approached, the suit slipped off his wedding band and put it into his pocket, flashed the neon bottle of champagne…and a smile.