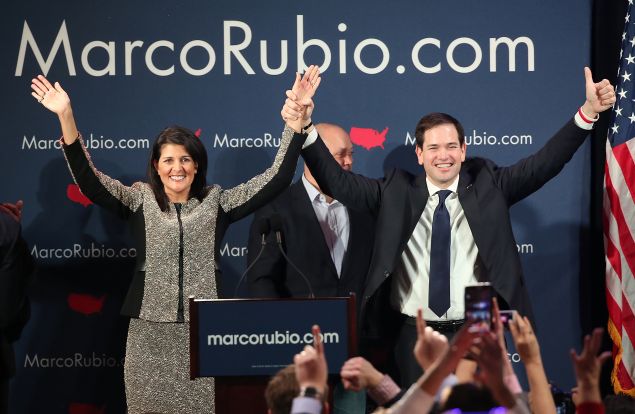 COLUMBIA, S.C.—If you were running a presidential campaign in South Carolina, securing the backing of a nationally-renowned governor, senator and congressman would be a good place to start.
Congressman Trey Gowdy, a popular lawmaker best known for leading the Benghazi investigation in the House, Sen. Tim Scott, a rising star in the Senate and Gov. Nikki Haley, who many float as a vice presidential candidate, all fell behind Sen. Marco Rubio, the Florida Republican. Despite his establishment cred, he is fiercely conservatives on most issues, with the exception of immigration, and favors an interventionist foreign policy that was built to appeal to the large number of veterans living here.
Still, he didn't win, finishing a distant second behind Donald Trump, the real estate billionaire, though he inched ahead of Sen. Ted Cruz of Texas, defying polls that showed him entrenched in third. He will leave the Palmetto State, like Mr. Cruz, with zero delegates.
What does Mr. Rubio have to feel good about? Jeb Bush finally dropped out, giving him a clear path to win all of Florda's 99 delegates on March 15. If he somehow pushes Ohio Gov. John Kasich out of the race, he will be the lone establishment or mainstream candidate remaining, whatever that will be worth against a growing Trump juggernaut.
"Practically speaking, it's down to three and I know our campaign gives us the best chance not just to come together, not just to unify our party but to grow our country," Mr. Rubio said at his election night party at an event center within walking distance of Mr. Cruz's party. "Some had doubts about whether we'd wind up even here, now. For me, the state of South Carolina will always be the place of new beginnings and fresh starts."
Mr. Rubio could be right if he somehow outlasts Mr. Cruz to face down Mr. Trump deep into the primary season, when large, moderate states like Ohio, Florida, New York and California could shy away from the bomb-throwing billionaire and go for someone more traditional. If Mr. Rubio can consolidate the large number of GOP voters still choosing candidates other than Mr. Trump—granted, the billionaire claims he can take votes from whomever leaves the race next—he could, by the nature of the primary season's math, capture the nomination.
What's clear is that one debate performance in New Hampshire may have been enough to hurt him in the Granite State but will probably not matter much in the long-term. Conventional wisdom will say Mr. Rubio "bounced back" tonight, even if he never fell as far as everyone thought.
Mr. Rubio is still threatening enough for the Democratic National Committee to focus their efforts on belittling him. In an email sent to reporters tonight, the DNC chose to hone in on Mr. Rubio over Mr. Cruz, claiming he was "successfully boxed out" by Mr. Trump. Maybe, or maybe not.
It's early enough in the primary season and too soon to triumphantly declare any single candidate is guaranteed to fail or capture the nomination, though Mr. Trump is rising fast. The Republican Party establishment, thanks to Mr. Bush's exit, may finally be ready to hand over the reins to Mr. Rubio—and give themselves the hope of electing an orthodox conservative they can trust.
Disclosure: Donald Trump is the father-in-law of Jared Kushner, the publisher of Observer Media.