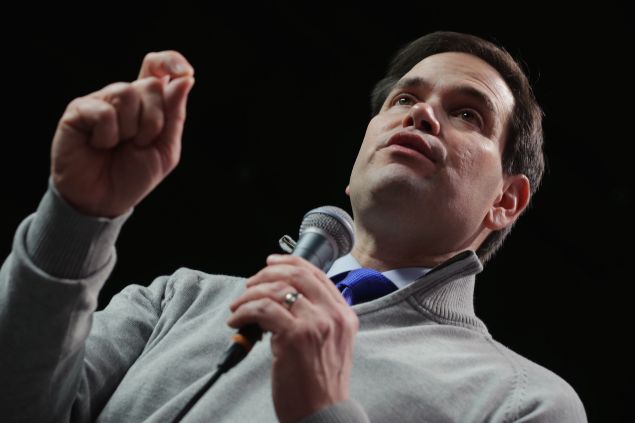 There's a line of argument that Sen. Marco Rubio of Florida is the beneficiary of a reality crafted by the political class and media that covers this strange presidential race.
It goes something like this, and it has a degree of merit: pundits and the press, tailoring their coverage to ever fluid polls, built a narrative of a two-horse race between Donald Trump and Texas Sen. Ted Cruz, forgetting that other Republicans in the crowded field still had a decent enough shot to win the nomination. Mr. Rubio, by nearly finishing ahead of Mr. Trump in Iowa, emerged showing strength in an Iowa ritual that is all about expectations, and not actual delegates. Without the help of much campaign spin from his operatives, Mr. Rubio left the Hawkeye State in a renewed position to do what seemed a lot more plausible before Mr. Trump consumed an unprecedented amount of the media's bandwidth: get most of the GOP's establishment players on his side.
With a new poll showing him gaining ground on Mr. Trump in New Hampshire—the caveat here always is that pre-primary polls are often unreliable—and pulling into second place, Mr. Rubio is now a contender to outright win the Granite State, once regarded as a place where Mr. Trump would dominate.
Were Mr. Rubio to win New Hampshire next week, he could effectively end four, if not more, Republican candidacies. Mr. Trump, Ohio Gov. John Kasich, New Jersey Gov. Chris Christie and Jeb Bush, the former Florida governor and Rubio mentor, could all be staring into the abyss on February 10 if Mr. Rubio cruises to victory.
Why? Each candidate has their own reason. If Mr. Trump loses New Hampshire, with the premise of his campaign still resting on winning and making America great again by winning some more, the whole enterprise will begin to look like a confidence game to voters. Election outcomes in states can be partially determined by what happens in prior states, a so-called "bandwagon effect." A normal presidential candidate with prerequisites like prior or current elected office can survive losses because there is a built-in expectation that he or she, due to past precedent, can still compete.
Mr. Trump defies most precedents in numerous ways; he has never held elected office, proudly insults ethnic groups and the media, retweets white supremacist accounts and violates Republican orthodoxies. Mr. Rubio, on the other hand, looks a lot like prior candidates, including the current president, a former first-term U.S. senator.
A Trump loss does not mean he leaves the race. He may believe he has real support among white working class voters in the South. But going 0-2 is devastating to the Trump electoral brand and an indication to voters that his nomination is far from inevitable. His loss to Mr. Rubio may mean the Republican primary starting to follow a more typical and expected pattern.
For Mr. Bush, it's simple: he needs support from the same establishment class as Mr. Rubio and his so far hapless campaign is doing little to convince even his own donors that he has rosy long-term prospects. Mr. Bush won less than 3 percent of the vote in Iowa despite his campaign and super PAC spending about $14 million there. He was wisely in New Hampshire on election night Monday and is staking his campaign on appealing to moderates and independents with the argument that he is the only conservative with experience you can trust.
Yes, Mr. Bush is far more experienced than Mr. Rubio, because two-term governors are responsible for a lot more than one-term senators. But he last held elected office in 2007, a political lifetime ago. A bad loss in the Granite State and many of his backers will pressure him to leave the race.
Mr. Christie faces a similar dilemma and his attacks against Mr. Rubio follow the same logic: I have experience and you don't. Wearing his heart on his sleeve as always, Mr. Christie is campaigning aggressively in New Hampshire. He has the full-throated endorsement of the once-powerful New Hampshire Union-Leader, which may help. But he is far less well-funded than Mr. Bush and his trend lines in the polls are not encouraging. There would be little reason for Mr. Christie to stay in the race if he falls behind Mr. Rubio, unless he came in second.
Mr. Kasich, as the governor of a pivotal state in the general election, is the kind of candidate who could win the moderate, delegate-rich states that come later in the primary. But first he needs to survive, and he has staked his entire campaign on New Hampshire, matching if not exceeding the campaign schedules of Mr. Bush and Mr. Christie.
He has refrained from attacking Mr. Rubio overtly, choosing instead a message of uplift. Falling behind the Florida senator would mean losing any hope of keeping his campaign well-funded. He only has $2.5 million cash on hand, more than Mr. Christie but far less than the two Floridians in this race.
The caveat to all of this, of course, is that the conventional wisdom can shift again. We don't know as much as we think we do.
Donald Trump is the father-in-law of Jared Kushner, the publisher of Observer Media.