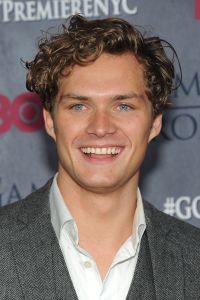 Entertainment Weekly reports Marvel and Netflix have cast Finn Jones, best known as Loras Tyrell on HBO's Game of Thrones, as Danny Rand aka Iron Fist. The character is set to star in his own series, Netflix's fourth Marvel-centric show, then join Daredevil, Jessica Jones, and Luke Cage in the The Defenders.
Also…oh boy.
Here's the thing: For months, a genuine vocal movement has called for Marvel to cast an Asian-American actor as Iron Fist. #AAIronFist trended. "Why Iron Fist Needs To Be An Asian American Hero, Not Another White Savior Cliche," read a headline on ComicsAlliance.com. An Asian-American Iron Fist Would Course Correct Marvel's Spotty History with Race Changed Characters," said another at MTV.
Where things get…controversial, is that the character Danny Rand, in the comic books, is a white, blonde pretty boy. Finn Jones, as you can see, is a white, blonde pretty boy. Casting Mr. Jones isn't the same as, say, casting Emma Stone as a woman named Allison Ng, or John Wayne  as Genghis Khan, or the entire population of ancient Egypt as white people. Technically, Marvel nailed it. But, for one, super hero film and TV is also super white. Iron Man premiered in 2008, and we're still two-and-a-half years out from Marvel's first black-hero-led film, Black Panther.
And it's worth taking a look at the way Danny Rand becomes Iron Fist in the first place, His origin story pretty dated, created in that 1970s period where everyone was obsessed with kung-fu movies. In a nutshell: a 9-year-old Rand travels to the Tibetan city of K'un-Lun, learns mystical martial-arts, becomes the best at mystical martial arts, defeats a dragon, and returns to New York City to fight crime using mystical martial arts. Of course, there are those who argue casting an Asian-American actor JUST because the character is proficient in martial arts isn't the right move, either.
So what do we do here? Bring in Shang-Chi? Significantly alter Danny Rand's backstory? Make Danny Rand kind of shitty at martial arts? So far out from Iron Fist's premiere, it's tough to say. That is unless the fact this casting news and Daredevil's season two trailer appeared on the same day isn't a coincidence?
Oh boy.