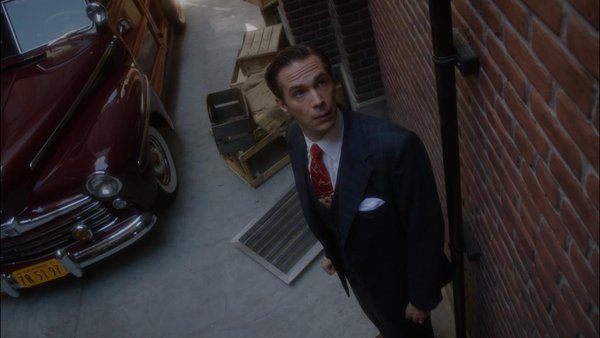 Last week Agent Carter dug into the back-story of our hero Peggy Carter and our villain Whitney Frost in an attempt to show the sexism they faced. I thought it was heavy handed, but then I wondered if maybe I wasn't being fair. There are so few superhero properties that feature women, and few of those that center sexism as a major antagonist in their heroines' lives, so maybe Agent Carter deserved credit just for trying.
Then I watched this week's episode, which dealt with those same sexist themes with humor and subtlety and deftness, and last week's episode only seems worse. This might be the best episode of the season so far — light and dark in all the right places, and never losing sight of the fun.
We open with still non-corporeal Dr. Jason Wilkes in Stark's lab, showing Peggy that the little piece of zero matter they've trapped is drawn to him. Suddenly, it breaks out of its container and he absorbs it. His eyes go black and for a second he's physically solid. When it passes, he can feel where Jane Scott's body is (you'll remember her as the victim in episode one), and he asks Peggy to go get it, because zero matter could be the key to curing him. It is obvious that this is a horrible idea, but Peggy and Jarvis run.
Whitney and her sad husband Cal Chadwick have also found Jane's body, because when she sensed it when Jason did. While Peggy and Jarvis watch from an air duct he hopes isn't full of spiders, Whitney absorbs the zero matter out of Jane's body, to the shock and disgust of all three people watching. Not great! Jason figures out that Whitney will want to use Roxxon's atomic bombs to try to open a zero matter crack again and get more, so Peggy decides they have to get the bombs before she does. Don't worry, this isn't 24 — no nuclear weapons will be deployed in Los Angeles. Instead, this maguffin gives us a lot of spy shenanigans.
First, Peggy needs to get a key to open the elevator at the Roxxon nuclear plant off of Hugh Jones, the owner of Roxxon and one of the Council of Nine. Sousa — newly and adorably engaged — helps her get a mind-wiping devise from the SSR's Dr. Samberly to outsmart the lecherous, gross businessman. It is an incredibly fun sequence, wherein Peggy impersonates a silly girl, and every time Jones remembers that he met her before (last season, in New York), she wipes his mind. Peggy uses people's sexism against them, and it's equal parts funny and disturbing, and it's definitely more enjoyable and interesting than flashbacks to her boring fiancé. She eventually gets the key out of his belt buckle, repeating, "You are saving the world, you are saving the world," to herself to power through the discomfort. It's golden.
Meanwhile, Whitney tells Cal they'll use her connections to get the bombs, and she goes to mob boss Joseph Manfredi (Ken Marino) to get the manpower they'll need. He's sexist and gross from the minute they sit down together, but it only escalates when he pummels someone for looking at Whitney the wrong way. Manfredi's got anger issues (makes sense, since in Marvel comics he's a super villain). We see him in the foreground punching away, and Cal is in the background, freaking out. But Whitney sits silently, unmoved. It's gorgeously subtle — this is the misogynist, violent world she had to master to get where she is. And now it's her turn to be in charge.
Peggy assembles the greatest spy squad ever to get the Roxxon bombs: herself, Sousa, Jarvis, our favorite admin assistant Rose and the awkward Dr. Samberly. Apparently Rose is a fully trained agent, and this is her chance to shine. The team-up is played for laughs, as the five walk down the street in slow-mo while old-timey music plays, but it's also exciting and cool. This is what this show is about at its heart — a group of misfits, who no one expected, saving the world. (It's worth noting that Rose, like Peggy, is adept at using her feminine wiles to get what she wants. Can we get a web series of Rose's adventures as an SSR agent?)
With Rose's smarts and Samberly's taser bomb, our ragtag team gets to the bombs, only to find that Whitney is already there. Peggy goes to face her while Sousa coaches Jarvis through removing the uranium. Jarvis is great because he's sort of the every man in this story — we all want to play spy, but if I had to defuse the atomic bombs, I would also freak out. Of course, Jarvis succeeds.
Peggy has a harder time with Whitney and her absorbing powers. She barely gets away, only to fall off a ledge and get impaled. Sousa rushes to her side, panicked, because he's definitely in love with his fiancé and not Peggy.
Thankfully Peggy bleeds out slowly enough for Sousa to bring her to that lovely fiancé, Violet, who really wishes they would go to a hospital. She packs Peggy up and sends her off with Jarvis, to turn around and call out Sousa's obvious love for Peg. Mama didn't raise no fool.
Speaking of disillusionment, Cal is realizing his wife is out of control. When he calls her out on it, she grabs his face, threatening to do her worst. Instead, while she sleeps, he calls an impromptu meeting of the Council-probably-known-as-Hydra. No way he manages to keep it from her, though.
Meanwhile, Peggy is getting tucked into bed by Jarvis, whose wife seems to have officially disappeared (maybe they'll investigate her kidnapping in season three). Jarvis, in a very touching moment, says to Peg, "You know, these adventures, they're only enjoyable if you return from them, Miss Carter." Peggy getting hurt really shook everyone up.
We end with Peggy talking to Jason. She tells him the pain from her impaling isn't as bad as the pain when the zero matter touched her, and Jason admits that it's incredibly painful to be at the center of it. He promises to explain it to her another time, which he tries to play off as cute, but seems suspicious. Peggy trusts him, but I'm not sure she should. But that doesn't matter, because before we find out more, he loses his visibility and gets pulled away. Too bad for Peggy — she really could have used a day off. She hasn't had one since Pearl Harbor.