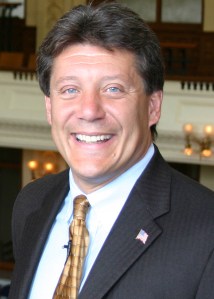 Assemblyman John McKeon (D-27) joined the rounds of counter-arguments following Tuesday afternoon's budget address from Governor Chris Christie. Taking shots at Christie for declining to take a firm stance on the beleaguered Transportation Trust Fund, McKeon also called the governor's claim to making the largest pension contribution of the last five governors "a major stretch of the truth."
"I am disappointed that the Governor was unclear as to how he will fund the Transportation Trust Fund (TTF) and that he didn't address such issues as the failure of Atlantic City or explain his diminished pension payments (several billion short of the mandated amount)," McKeon said.
"It should be clear though that the Governor claiming that he has made the largest pension contributions of the past five governors is a major stretch of the truth; the 2011 pension-benefit reforms the Governor sought and received required him to make the pension payments he brags about making.
Christie called Democrats' emphasis on the approaching deadline for funding the Trust Fund "a politically driven mischaracterization" of the process. Christie did not take a firm stance for or against a proposed gas tax increase, saying only that his administration was waiting for "legitimate discussion on tax fairness, not just tax hikes" and renewing his call for cuts to the state's estate tax.
McKeon went on to criticize Christie on public spending and lack thereof, pitting the state's bonded debt against the governor's claims that he closed an $11 billion deficit within a year of his first term and that the state has seen steady job growth.
"The Governor talked about not raising taxes, but his lack of funding for the school funding formula has led municipalities to raise their taxes for education; his lack of funding for NJ Transit has led to 9% and now 25% fare hikes; and our total bonded state debt is now over $35 billion, several billion more than when Governor Christie took office.
"We in the Legislature have presented solutions to address some of these problems, but we cannot address them in a vacuum and we cannot solve them with an executive in-absentia.  As the governor so pointedly reminded us, his tenure as governor lasts for another 630 days.  Without the distraction of pursuing a higher office, perhaps we can bring him back to the table so we can finally being to address the lingering and languishing problems facing our state."