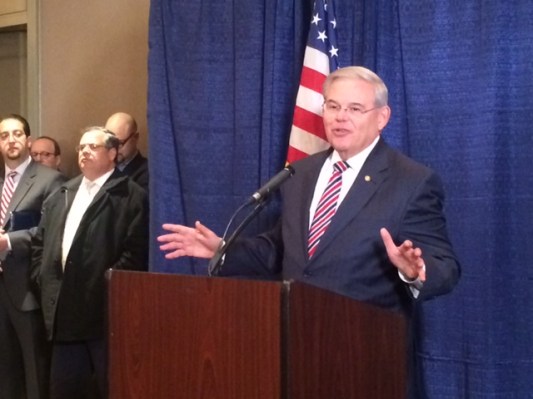 New Jersey's embattled U.S. Senator Bob Menendez issued a statement Wednesday calling for his Republican colleagues to judge President Barack Obama's nominee for the Supreme Court on his or her merits. Republicans in the Senate have vowed to block any candidate that Obama chooses, arguing that a replacement for the late Justice Antonin Scalia should not be named until after Obama leaves office in eleven months.
"The American people understand that our obligation in this process is to advise and consent, not neglect and obstruct," Menendez wrote. "And If Republicans employ such shameful political tactics as they have threatened, they will make a mockery of this duty, creating undo harm to our country and our courts.
Senate Majority Leader Mitch McConnell (R-KY) and presidential candidates Ted Cruz (R-TX) and Marco Rubio (R-FL) have all stated their intention to block a nominee, with Cruz threatening a filibuster.
"That is not leadership – it is partisanship – and the American people understand that too," Menendez said of the Republican opposition. "The way forward is simple. Let's do our jobs."
Obama is constitutionally entitled to name a nominee, though the Senate's Republican majority and several of the Republican contenders for the presidential nomination have come out against the move and pointed to the scarcity of justice appointed during election years. Menendez continues to face a 2015 indictment on corruption charges.