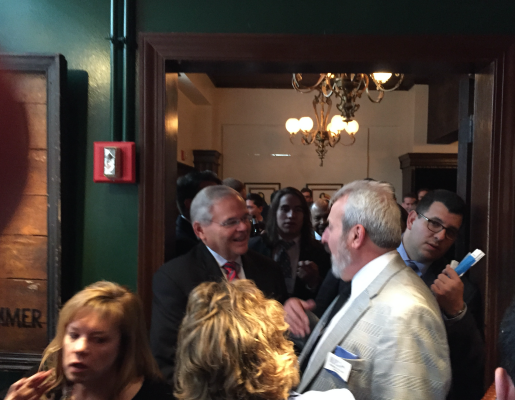 WASHINGTON — Senator Bob Menendez kicked off the Democratic side of the New Jersey Chamber of Commerce's Walk to Washington by echoing the Clinton and Sanders campaigns' messages of confronting income inequality while throwing a characteristic jab at his Republican colleagues on the Senate Foreign Relations Committee.
Senator Cory Booker, who has garnered buzz as a potential running mate for Clinton and was invited to appear in D.C., was on the campaign trail for the former Secretary of State instead. With Donald Trump leading the Republican field by mixing criticism of America's recent foreign wars with a hawkish attitude toward ISIS, Menendez brought his longtime service on the committee to bear in talking up Democrats' foreign policy record.
"They talk like Rambo, but we act like the terminator," Menendez said of the Senate Republicans from the mic. "We are actually the individuals fighting to make sure that America is secure."
First congratulating state chairman John Currie on Democrats' electoral gains last year under a Republican governor, Menendez made sure to hit all of this cycle's prevailing economic issues in his remarks. He compared the two parties' records again.
"What we advocate for alternately is an opportunity for every American and every New Jerseyan to fulfill their god-given potential, to see rising wages and living standards, to make sure our kids don't graduate under a mountain of debt."
Gubernatorial hopefuls Phil Murphy and Steve Fulop were there at the Democrats' welcome from the chamber train at the Dubliner Restaurant, along with Currie and a claque of New Jersey congressmen including Frank Pallone and Donald Norcross. The state Assembly was also well represented with Reed Gusciora, Raj Mukherji and Shavonda Sumter and Andrew Zwicker all in attendance.