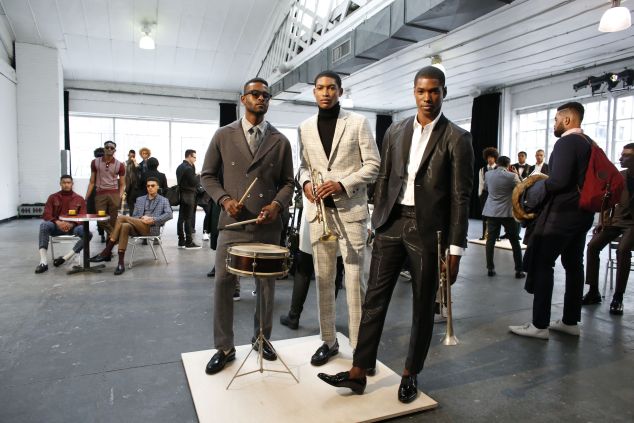 The fashion industry has been good to menswear designer David Hart. In March of last year, the designer was one of four selected as GQ's Best New Menswear Designers in America. The win was accompanied by a Gap collaboration and a watershed of press. Three months later, Vogue was tapping him as a finalist for their CFDA Fashion Fund and it's through that program that Mr. Hart's wares will be stocked on Amazon Fashion later this month.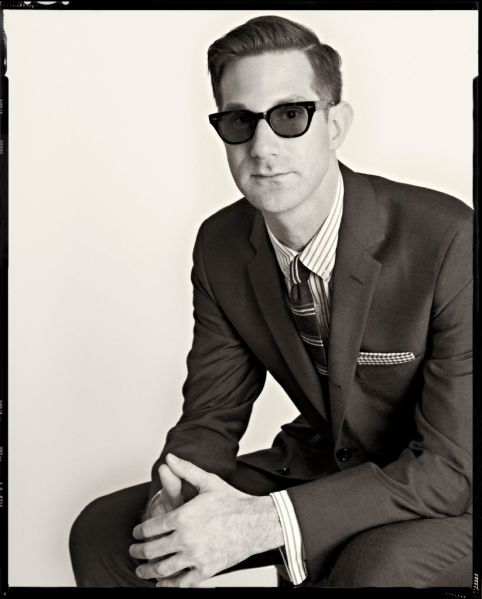 "You know, when I started I didn't expect as big of a reception as I've gotten," Mr. Hart told the Observer two weeks before his show on the opening day of New York Fashion Week: Men's. "People have really been seeking me out which is more that I can ask for." That reception has seen the designer's "best of" Gap collaboration sell out in less than a month and steady growth since the brand's inception in 2009.
"That sort of exposure is unreal and then to go see it on social media and see people all over the world tagging themselves in it is super cool," the former Anna Sui, Ralph Lauren and Tommy Hilfiger employee said of his seven-piece Gap capsule. "It really sort of drove home that there is a demand for this brand and aesthetic; people want it, they love it. I think it's now just figuring out how to get it out there and who the right retail partners are."
Much like Mr. Lauren, Mr. Hart got his start in neckties. Back in 2009, the designer launched a small collection of the accessory but it wasn't until 2013 that he launched a full ready-to-wear range. Having had an affinity for ties and tailored clothing since he wore his first bow tie in elementary school, the Maryland-native's current line-up is little surprising. The Spring 2016 range headed to stores in a few weeks includes single-breasted, two button suit styles of Irish linen and summer weight wool colored in a palette reminiscent of Easter as well as Bauhaus graphics.  Those offerings come mixed with a few sportswear options like knit cardigans and polos which Mr. Hart said are his focus for Fall 2016.
"We've been focusing a lot on tailoring in the past but this season we're layering in a lot of knitwear," the designer said pulling a polo from the rack. "I'm trying to build the collection as a sportswear collection with elements of tailoring as opposed to vice versa." At Monday's show, this was shown in a collection that included a capsule of formal wear and black-tie, shown alongside Canadian Cowichan sweaters, a small denim program, 5 pocket corduroys as well as leather jackets. It was an impressive selection, inspired by the personal style of jazz musicians like Art Blakey, Sonny Stitt and Miles Davis. To illustrate this, models held saxophones and other instruments and posed in coffee cup laden vignettes. In addition, the designer unveiled a six-piece limited-edition formal shoe collaboration with Johnston & Murphy.
The capsule collection is based on archival Johnston & Murphy designs from the 1940s and '50s, updated by Mr. Hart. A representative for the footwear brand said the styles should hit a very limited number of specialty retailers in September. Only 250 pairs of each style will be produced and according to the brand, this is hopefully just the beginning of a longterm partnership with the menswear designer.
Outside of shoes, Mr. Hart's business is growing, but slowly. The designer points to made-to-measure formalwear and event dressing–as well as neckties–as the largest components of the business, with the Japanese market shouldering a lot of those orders. Now, the time seems prime for a retail expansion to follow up the large order that Amazon placed for the Fashion Fund project.
"The way we're building out the collection is a very merchandised collection; we're not just thinking about East Coast but also thinking a lot about West Coast dressing," the designer said. Through the Fashion Fund, Mr. Hart was able to get advice from Rag & Bone's head merchandiser while working on the collection. "The West Coast is looking like a big market for me."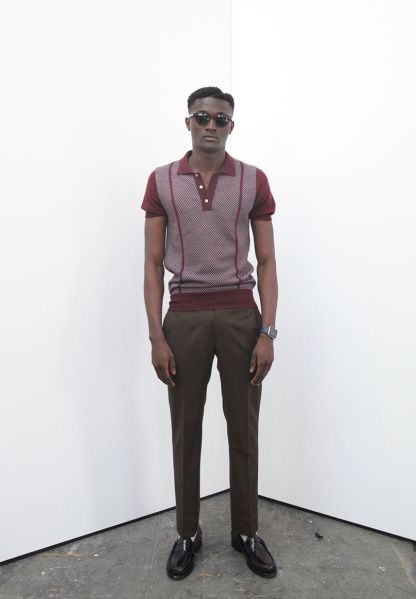 Because of that, and the cool, "mid-century vibe" that he's found in California, Mr. Hart has mixed in pieces like short sleeved styles that he previously wouldn't have added in the fall range. The lighter pieces will undoubtedly find favor not only on the West Coast but in southern cities like Charleston—the city has hosted him for the past two years at their fashion week—and Miami. But 2016 is also about getting those pieces to those markets.
"We're really focusing on our sales strategy this season," said Mr. Hart, whose website only lists stores in Japan as stockists. "We're in a new showroom and targeting a bunch of specialty stores both domestically and internationally, hopefully placing it with one or two majors but in a very focused and specific way."
It's a key time for growth for Mr. Hart's label: Having already garnered exposure from GQ and Gap, the designer will star in The Fund, a weekly docu-series based on the CFDA/Vogue Fashion Fund, set to debut February 26 on Amazon. Sadly, providing options at the price point of his Gap range is near impossible right now. "What was great about Gap was that those people were able to get the collection at [an] affordable price point. We'd love to get the quality that we're offering here at those price points for everyone." To do that, the brand needs better distribution, which will allow Mr. Hart to negotiate lower prices and pass savings on to customers. That growth would hopefully be the basis for the brand to layer in licenses for sunglasses, accessories and even fragrance. And for his female fans?
"I'd love to layer in women's at some point!" Mr. Hart said. "It's something we've been getting a lot of requests for; people want to wear suits, women want to wear formal wear." And he's making some of the best out there.