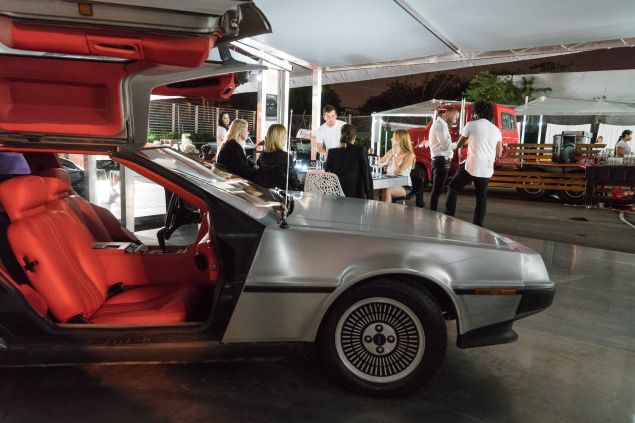 Elo is a man of many words. The founder of Miami Supercar Rooms is known to spin a yarn or ten when welcoming guests to his 13,000 square foot auto art gallery/culinary experiment in Wynwood.
Like the time he pulled up to the valet stand of a neighborhood restaurant in his 1953 Lamborghini tractor (yes, the storied auto maker got its start manufacturing… tractors)—much to attendant's confusion.
Or, after passing the "Bugnaughty" housed in the gallery's indoor showroom, launching into the backstory of the contemptuous sibling rivalry between Rembrandt Bugatti, the Italian sculptor, and his older brother Ettore, the founder of the Bugatti auto empire.
Which is all to say: This is a man who loves and knows his cars.
And the founder of UK's London Motor Museum brought that love, along with his wife's deep appreciation for an expertly prepared meal, to a town known for its fervent passion for a rare and exotic ride: Miami.
There's one catch: You'll need a membership.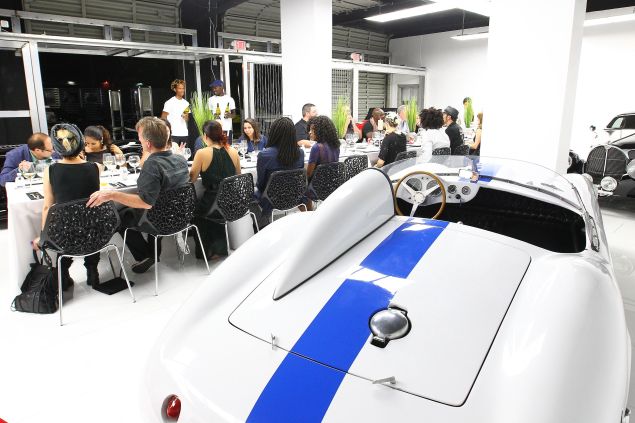 "This is a showcase of my life's work, combined with the ultimate in gourmet cuisine and entertainment.  South Florida has some of the most passionate auto enthusiasts and car collectors I have ever seen and we are giving them a reason to show off their possessions to the world," says Elo. "Our plan is to not only collaborate with the region's automotive fan base, but to also offer an opportunity to the local culinary community to showcase their menus to our clientele in Wynwood within a unique high-octane environment."
Built primarily of aluminum, the space features an indoor showroom housing some of the most desirable cars in the world. A never-before-seen collection of extremely rare models such as the 1955 SL 300 Mercedes Gullwing, a 1929 Rolls Royce Bootch, a 1958 450 S Maserati vintage racing car, a 1961 196 SP Ferrari vintage racing car and the 2007 Shelby Supercar Ultimate Aero TT—deemed the fastest production car in the world. And then, there's the aforementioned "Bugnaughty," a 1937 derivative of the only Bugatti Atlantic built by the famed Terry Cook of Delahaye ÙSA.
But outside is where the (dinner) party starts. Six outdoor pods each play host to six diners and its very own luxury car. For $3,000, you can commandeer one of those pods for the night and have your way with unlimited food and drinks. You can opt to have the privacy shades drawn around your Dionysian feast, or left open to the courtyard before it. One which houses a 40-foot aluminum bar built into Ford COE C600 custom tractor trailer with a small dance floor jutting out from the back. It's a bar scene that practically delivers the ice breakers into your back pocket.
Behind the pods are select parking spaces for diners with vehicles they want to keep an eye on… and not-so-discretely put on display for discerning guests.
Dinner is a rotating affair here, with a different local restaurant taking over the reigns every month. GK Bistronomie's Peruvian fare made an appearance for the February opening, but French and Russian are slated to pop up in the coming months.
Now, there's one catch: You'll need a membership to access the space. The entry-level black membership grants you access to the gallery and the bar. From there, you can upgrade to silver or white—each with increasing privileges on the property. But for now, basic memberships are being offered free of charge to those who pass an e-verification process.
Which is decidedly easier than your high school Driver's Ed course.