Simply being within earshot of Michael Kors is a total treat. The designer is well-known for his celebrity models and flattering feminine clothes, but he's also notoriously hilarious, as you may have noticed if you tuned into any Project Runway episode where he served as a judge (for 10 seasons).
On Wednesday morning, he gave a gift to editors when he invited them to his showroom to present and narrate the Fall/Winter 2016 collection. "They call this a mock store," he told us with the roll of an eye. He then went on to compare the faux shop to a "mock apple pie," whatever that may be.
Hilarity ensued from there, in regards to the current state of men's style and the weather. He also really wants his customer to go out there and get some milk, referencing the action over and over again. "I mean, the going out to get milk conundrum, if you're running out or just going to the gym what changes your look?" he asked. "It's all about the jacket."
Without further ado, here are our favorite lines from the morning we spent with Michael.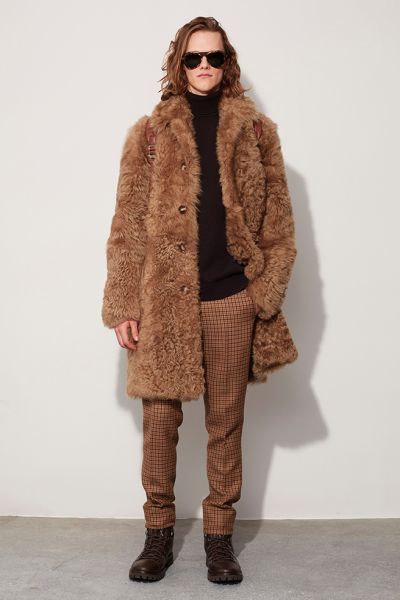 "You know I've never seen a camel coat I don't love, so there are a lot of different permutations [in this collection]. This is tigrado shearling, kind of the chicest teddy bear on the planet."
"The essential thing is to keep your belongings warm," said Mr. Kors, pointing to a rabbit fur knapsack.
"I'm always amazed that it will be August in Malibu and there's a guy with a scarf and a tank top. I'm like 'Can I pull this off?' Somehow I don't think I can, but I love the idea that you just pop the scarf on and that's your outerwear. That's the reality."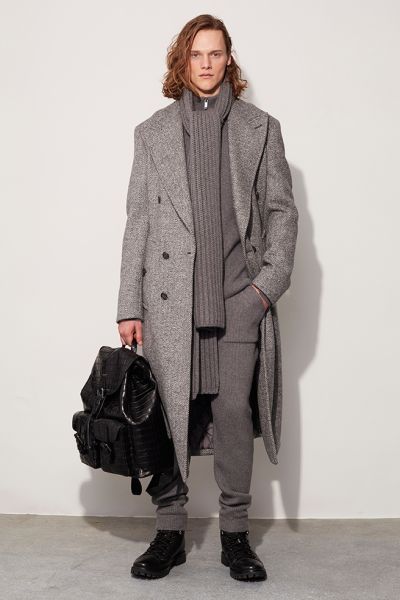 "This is a real 'going to get milk' kind of moment. It used to be going to get cigarettes, but now it's much healthier, to get skim milk…and he puts the milk in the crocodile backpack."
"This is not a lift ticket, it's an 'I'm sick of losing my phone' trick," said Mr. Kors, pointing to the cord around the model's neck. "His phone is with him at all times and he doesn't have to deal with putting it in those trousers and ruining the shape of the pant."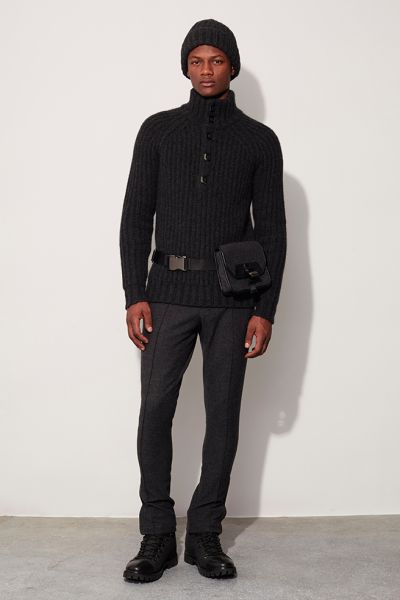 "I cannot think of the modern word [for] fanny pack, we're not using bum pack. I'm going to have a contest on that, writers in this office are not coming up with good names. Bum pack doesn't work!" Coming soon, to a Twitter near you…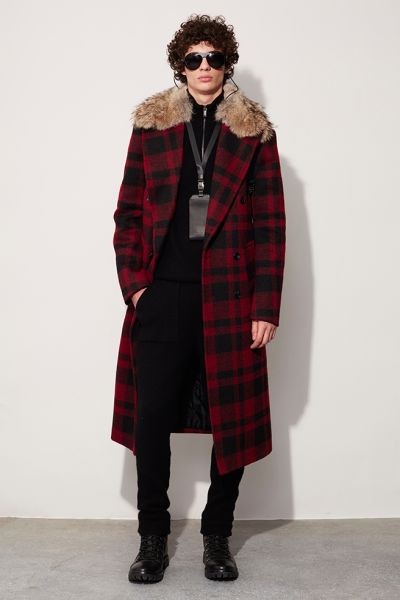 "You have two people running out for milk, this could be the other one. One's in the grey one's in this one."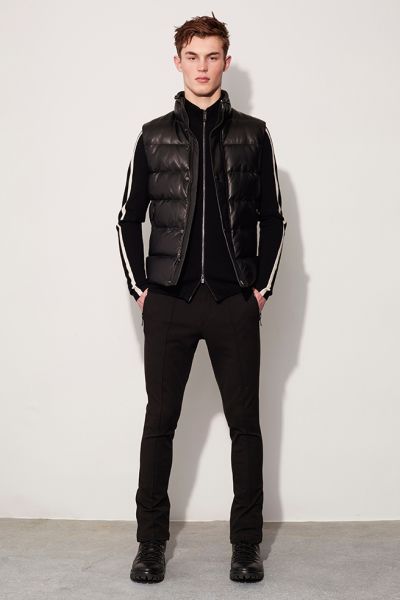 "I had a sweater like this when I was a kid, [even though] I was the worst skier on the planet. But because of Robert Redford in Downhill Racer, I was like I need that sweater. This is my Proustian sweater. I was a great après skier as a child, I had great outfits."