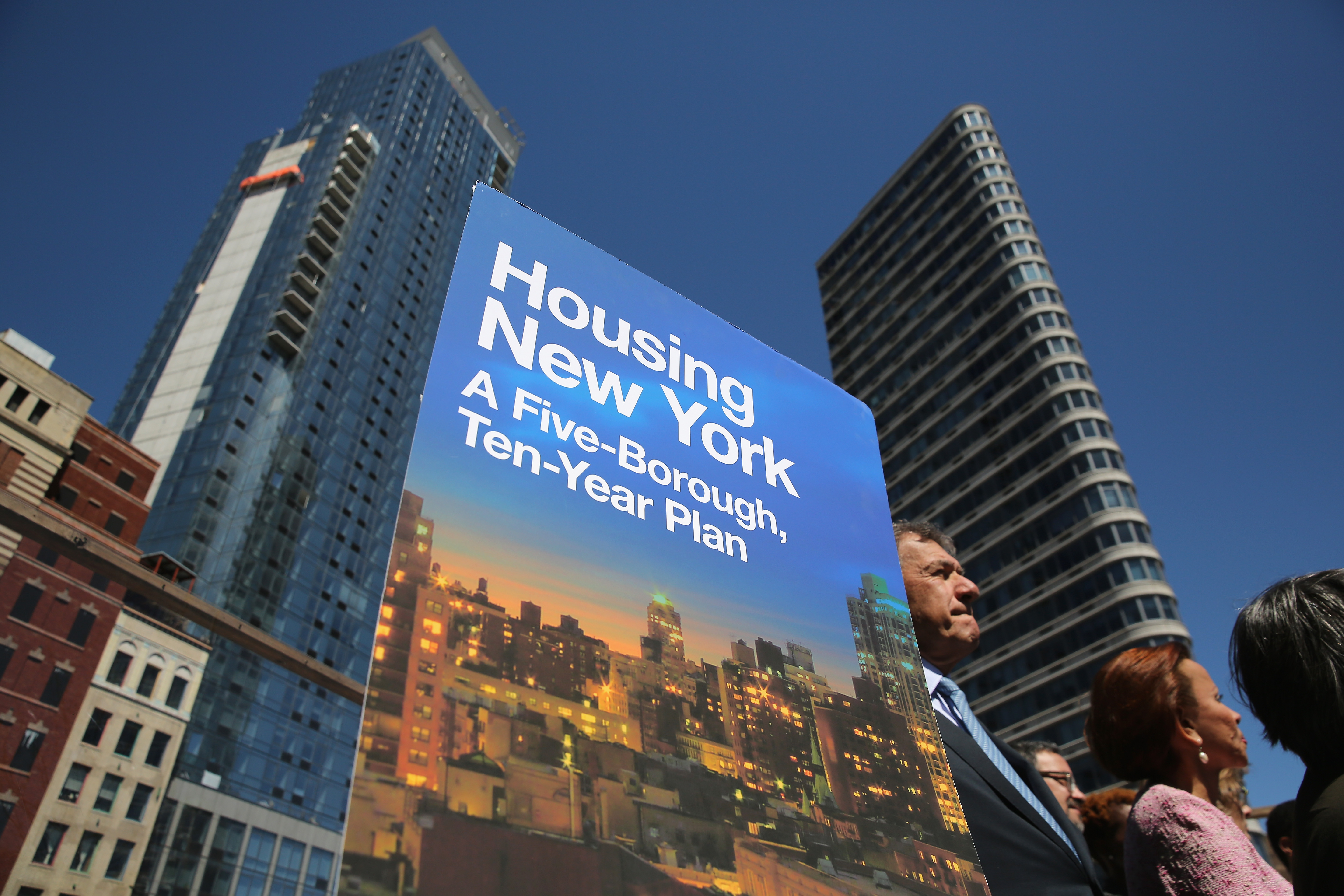 Mayor Bill de Blasio's controversial plan to re-zone New York City in pursuit of affordable housing is getting some support from beneficiaries of the city's last big affordable building boom: residents of developments built through the Mitchell-Lama program.
In letters to the City Council, resident leaders for Mitchell-Lama developments cited the importance—and strong demand for—affordable housing in the city.
"As members of various Mitchell-Lama Co-ops, we have experienced first-hand the positive impact affordable housing provides to individuals and working families," reads a letter signed by the Mitchell-Lama Partnership, on behalf of eight developments across the city. "This is evidenced by all New Yorkers currently living in affordable housing across the City, and only dreamt about by THE HUNDREDS OF THOUSANDS OF hopeful applicants currently on waiting lists."
(The all-caps emphasis is the partnership's.)
City Hall has made a considerable effort to roll out support of the plan in the last few months, as grassroots opposition to it grew. Mr. de Blasio has touted endorsements from labor unions and the AARP, and a letter from a slew of clergy—only for a group opposed to the plan to provide its own letter from clergy who opposed it, including a handful of clergy who signed both letters, a succinct example of just how complicated the issue can be.
The City Planning Commission approved the proposals, dubbed Mandatory Inclusionary Zoning and Zoning for Quality and Affordability, last week—over considerable opposition from community boards, borough presidents and some community groups—and this week it heads to the City Council, which will hold hearings on each of the amendments.
The first, MIH, would require developers who need city approvals to build residential properties to include affordable units alongside luxury or market-rate rentals. The second, ZQA, will allow for taller buildings in exchange for affordability, with Mr. de Blasio citing a need for more density if the city is to increase its affordable housing stock.
In addition to the letter from the Mitchell-Lama Partnership—which is signed of behalf of eight developments in Brooklyn, the Bronx and Manhattan—separate letters of support were sent by the Big Six Towers, Inc. in Woodside Queens and Gateway Plaza in Manhattan.
"In principle, we're in favor of any plan that makes life more affordable for New Yorkers," Glenn Plaskin, president of the Gateway Plaza Tenants Association, told the Observer. "There's an ever-increasing number of expensive places to live, and there are these pockets of affordability in the city and we certainly need to maintain the ones we have and create as many new ones as possible."
The Mitchell-Lama program was established by state legislation in the 1950s, with the aim of increasing the amount of housing—both rentals and co-ops—for middle-class people. The city used eminent domain to grab blighted parcels and turn them over to developers who were given tax abatements, low-interest mortgages, and guaranteed returns on investment to stay within the program. The last Mitchell-Lama buildings were erected in the 1970s.
That's when Nate Adams moved into his home at Tilden Towers in the Bronx: 1971, he said, the year it opened.
"I lived in a regular apartment across the street and watched it go up and I decided I would apply," Mr. Adams, 71, now president of the board of directors there, told the Observer. "I've been here since the inception, and I've raised a family."
Mr. Adams, who signed on to the partnership's letter, said he understood concerns about taller buildings—but said there's a limited amount of land and a high demand for housing. He believed that if the apartments can be built to quality standards and if developers can be held accountable, the plan will work. But he also said he knows how difficult that can be, citing tensions between hiring union labor or trying to find minority-owned work crews, as well as rising construction costs.
"I think if we maintain the affordability and the accountability for the construction of these facilities, I think it's a feather in the cap," he said. "I think it's a great effort for the city.
Some fear that Mr. de Blasio's plan does not go far enough. Unlike Mitchell-Lama, the plan will not build entire towers full of affordable housing. Instead, it leverages private development—already happening at a brisk pace—to build affordable units when builders want to go higher or to build on property that requires approvals. Affordable units have never been required in the past, though developers were encouraged to build them by the 421-a tax credit, which has now expired.
Progressive groups say that the plan is not affordable enough—that it doesn't reserve enough units in the city for the most poor. In East New York, one of the neighborhoods targeted for re-zoning, some residents have said they fear any new building that includes market-rate units will hasten gentrification, bringing with it higher costs of living and higher rent. In Queens, community boards were in an uproar over a lack of parking. In brownstone Brooklyn and Manhattan, there's concern that taller buildings will hurt neighborhood character. The building trades want the program to include union labor.
Toba Potosky is president of the board of directors for Cadman Towers in Brooklyn Heights, a neighborhood that is familiar with the anxiety that comes with luxury development. They are losing nearby Long Island College Hospital, which will become—you guessed it—condos. And the Brooklyn Heights Library will be redeveloped into a 36-story condo tower—though that development will require the building of 114 affordable units, which will be off-site but within the district, which has been a sticking point for some in the neighborhood who wanted to see affordable units in the building.
Mr. Potosky said those opposed to the mayor's plan had "a very valid point" about the consequences of development. But he said that without a plan like Mr. de Blasio's in place, the development will keep happening, and residents won't be able to count on any affordable housing coming with it.
"I think for some people who are speaking out who might have problems with the mayor's plan, they want to start with perfection—which just doesn't exist," Mr. Potosky said. "You have to start with a plan."
Mr. Potosky—who himself was relieved when a proposed high-rise next to his building didn't come to pass because property owners chose not to sell—allowed that the plan was "far from perfect." But he praised Mr. de Blasio for putting forward an "aggressive" blueprint, and said he trusted the details to be worked out in forthcoming negotiations.
"We have so many bright minds in the City Council who can work with the mayor's office to come up with the finer points and work out an agreement," he said. "We have to be careful that the skyline is not all of a sudden dotted by all these high rises."