There were several takeaways from the just-completed Knoedler art trial—which ended with a whimper and not the bang that many in the art world had been eagerly awaiting—that stretched over a fortnight in lower Manhattan until last week.
Perhaps the main takeaway is this: Hell hath no fury like a woman scammed.
In this case, the woman is Eleanore De Sole, the wife of Domenico De Sole, a Harvard-trained lawyer, former CEO of Gucci, and current chairman of Sotheby's Board of Directors. In 2004, Ann Freedman, president of Knoedler Gallery, sold Ms. De Sole what she claimed was a recently discovered masterpiece by the hand of Mark Rothko.
The De Soles, novice collectors at the time, paid Knoedler $8.4 million—almost six times more than they had ever spent on a piece of art, the couple testified last week.
As the world has known for three-and-a-half years, that Rothko was a fake, one of an astonishing 63 fakes painted by a little-known Chinese artist in his Woodhaven, Queens studio/garage on behalf of Carlos Bergantinos and Glafira Rosales, art dealers from Long Island. Knoedler by itself sold 40 of these 63 works from 1994 through 2008.
The De Soles lived with their Rothko for almost seven years in their Hilton Head, S.C., home, showing it off to friends who stopped by just to ooh and aah over it, never thinking for a moment it was anything but authentic.
Until the December 2011 day that Eleanore De Sole, reading the New York Times on her iPad in a Florida hotel room, came across a news item that said Freedman and the Knoedler Gallery had settled a case with a disgruntled buyer.
That buyer, she testified, had purchased a Jackson Pollock painting with a dubious provenance: it came from the anonymous son of an anonymous Swiss collector, with the assistance of a long-deceased art advisor named David Herbert.
Domenico De Sole recalled hearing his wife scream as he was taking a shower following a morning workout. Under questioning from his lawyer, Gregory Clarick of Clarick Gueron Reisbaum, Mr. De Sole testified immediately stepping out, dripping, to see his wife shaking uncontrollably and crying.
She showed him the article: That story of David Herbert and the anonymous collector? That was the same story Freedman had told her about their Rothko. Under questioning from her attorney, Ms. De Sole was asked what happened next.
"Domenico took over."
The De Soles lived with their Rothko for almost seven years in their Hilton Head, S.C., home, showing it off to friends who stopped by just to ooh and aah over it…
In effect, the De Soles' litigation started that day in December 2011. It ended February 9, Day 12 of the trial, before Freedman and the Knoedler Gallery owner, Michael Hammer, the grandson of famed American businessman Armand Hammer and the father of actor Armie Hammer, were called to testify. The courtroom, typically half-full of spectators on most days of testimony, was packed that Tuesday in anticipation of hearing Ms. Freedman, but the parties reached a tentative agreement during the lunch recess and announced their settlement the following morning. The De Soles had been seeking $25 million in damages from Freedman, Knoedler Gallery—which closed in late 2011 under the weight of the scandal—and 8-31 Holdings, which owns what remains of Knoedler. (Ms. Freedman herself had settled after the first 10 days of trial, leaving only Knoedler and 8-31.)
The fact that Ms. Freedman didn't have to testify was the only mercy extended to her by the De Soles.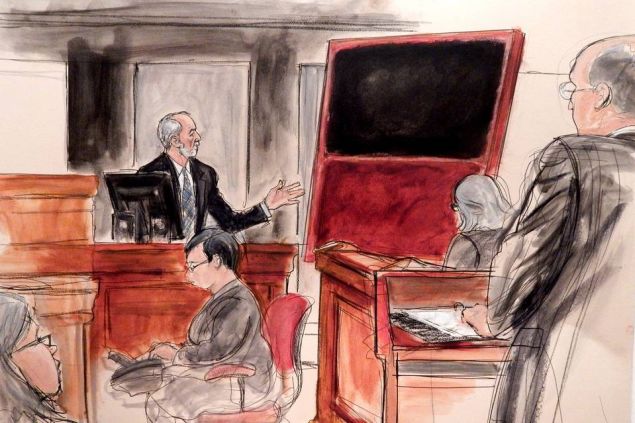 Five previous cases arising from this scandal had been settled by Knoedler and Ms. Freedman, but this one didn't. It couldn't. It was apparent throughout that Ms. De Sole's hurt and embarrassment ran too deep; her husband, protective of his wife and his own reputation, needed to make certain there was vindication. That necessitated a public trial and a full airing of Ms. Freedman's business practices concerning not just their painting, but all 40 of the works sold by Freedman after being marched through the door by Rosales.
Ms. Freedman's attorney, Luke Nikas of Boies Schiller, did not respond to a request for comment. Mr. De Sole was angry on the witness stand, but it was his wife who cried. Raised in Washington, D.C., she recalled how she came from a middle-class background and developed her love of art from her late mother, who took her to the National Gallery and other museums, back when most museums offered free entry.
Mr. De Sole was angry on the witness stand, but it was his wife who cried.
The De Soles both testified to their love of art, but it was she who made it her quasi-occupation as they built their modest (by Russian tycoon standards) collection. He professed to know little about art. When asked how he decides what to buy as a collector, he said simply that Ms. De Sole made the decisions. He was certain she was on top of everything; this was her job.
"I don't know art," said Mr. De Sole, who helped save Gucci when the brand was teetering, under questioning from Knoedler attorney Charles Schmerler of Norton Rose Fulbright. "I can tell you about handbags."
It was Ms. De Sole who was responsible for contacting Ms. Freedman in 2009, seeking a fresh appraisal of their beloved Rothko for insurance purposes. Ms. Freedman was already aware that the International Foundation of Art Research had called the provenance story too fantastic to believe (one of many provenance stories concocted through a 14-year period) and that representatives of the Robert Motherwell foundation were berating her for running "a factory of fakes", according to her 2013 deposition. Yet, as described through the 12 days of the plaintiffs' case, she did what she always did with her buyers and kept the information to herself.
Ms. Freedman eventually responded to the De Soles to tell their insurance company that their Rothko had appreciated eight percent in their five years of ownership, and was now worth $9 million. Such a deal. Ms. Freedman, meanwhile, had purchased the Rothko from Ms. Rosales for $950,000—a 773 percent profit.
As always, Ms. De Sole dutifully filed the appraisal letter from Ms. Freedman along with her other carefully collected files in her home office. That was her job.
The De Soles' anger was not just palpable in the courtroom. On the first few days of trial, they would swivel their heads frequently to the public viewing area, trying to decipher who was who—and why were these people taking such copious notes? Once they knew these were reporters from the New York Times, Wall Street Journal, Vanity Fair, "60 Minutes" and a variety of independent reporters for art news websites and blogs, they willingly made themselves available to talk on the record, a practice highly uncommon during trials. They were frequently making their points with reporters in the hallways.
Lunch breaks during the trial were only an hour—Judge Paul G. Gardephe kept things moving at a brisk pace—so the parties had to share the only eating place, the basement cafeteria. The De Soles sat at the same upper-right corner table, every day, diagonally from Ms. Freedman, Mr. Nikas and the Knoedler lawyers. The De Soles would sometimes look across the way at Ms. Freedman with obvious contempt.
Mr. De Sole told me one day in the cafeteria that he had been offered $5 million before trial as a settlement. That number actually seems sensible from a purely legal and mathematical calculation: Even in a case as cut and dry as this one played out, there is always risk of losing, not to mention the enormous costs of trial.
Would the De Soles have settled for anything less than $8.4 million before the trial? Probably not (although the settlement is confidential). Because that would have deprived them of the catharsis those 12 days of testimony provided to Ms. DeSole and her husband.
Said Mr. De Sole to me: "Somebody had to do this." Meaning, even though the trial revealed little different from the pre-trial memorandums available to the public, this case had to be heard in public.
Four more cases against Ms. Freedman and Knoedler remain active. It would seem unlikely that they will reach trial following this settlement, but much depends not only on the amount of money offered by the defendants, but also the level of anger—as demonstrated through all parts of the courthouse. BESbswyBESbswyBESbswyBESbswyBESbswyBESbswyBESbswyBESbswyBESbswyBESbswyBESbswyBESbswyBESbswyBESbswyBESbswyBESbswyBESbswyBESbswyBESbswyBESbswyBESbswyBESbswyBESbswyBESbswy
Hallways and cafeterias included.