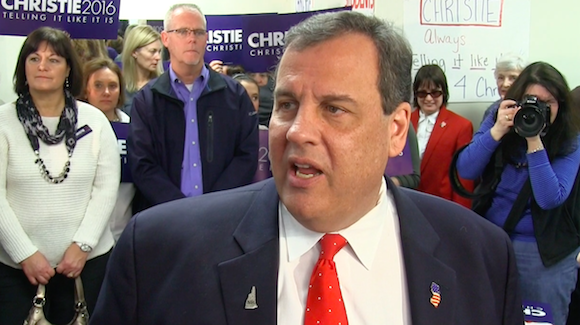 Apparently shaking off the attacks coming his way, Florida Senator Marco Rubio continues his post-Iowa ascendancy while the Rubio-bludgeoning Gov. Chris Christie skids backwards in New Hampshire, according to this morning's NBC/WSJ/Marist Poll.
Billionaire real estate tycoon Donald Trump remains the the front-runner in Tuesday's New Hampshire primary after his second-place finish in Iowa, the poll finds. He receives support from 30 percent of likely Republican primary followers – followed by Rubio at 17 percent, Ted Cruz at 15 percent, John Kasich at 10 percent, Jeb Bush at 9 percent and Chris Christie at 4 percent.
Last week – before the results in Iowa, where Cruz finished first and Rubio third – Trump was at 31 percent, Cruz 12 percent, Rubio 11 percent, Kasich 11 percent, Bush 8 percent and Christie 7 percent.
Christie finished tenth in Iowa.
Since then he has repeatedly attacked Rubio, his latest salvo coming last night on the Fox News channel.
"He is not ready to be president of the United States," Christie said of his Florida rival. "He is not ready because of the way he – not only his lack of accomplishment in his Senate career but also because he lives a very protected life as a candidate. He doesn't answer questions in gaggles. He doesn't do extensive town hall meetings. He does drive by town hall meetings of 40 or 45 minutes with a lot of prepared, pre-canned answers."
While Christie struggles with the challenge of trying not to appear desperate while attacking to protect what he believed he built in New Hampshire, the down-sliding Cruz confronts a problem of his own. The winner of Iowa is trying to fend off damage from a story that his campaign staff sneakily called voters on Monday night prior to the end of the Iowa caucuses, and passed along wrong information about GOP contender Ben Carson quitting the contest.
NBC/WSJ/Marist conducted the poll of likely Republican primary voters from Feb. 2-3. The poll has a margin of error of plus-minus 3.8 percentage points.
For the FULL poll results, go here.