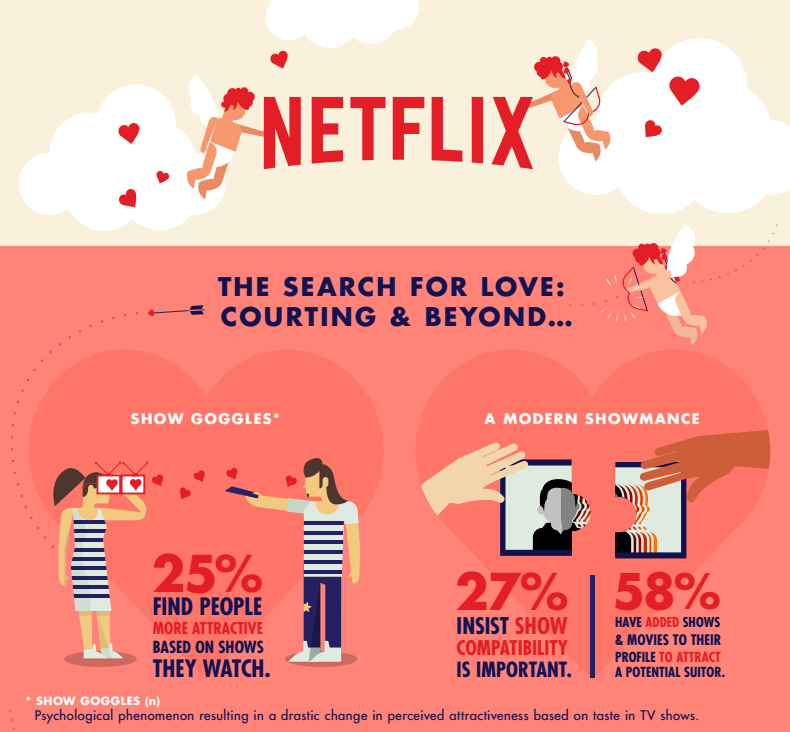 With Valentine's Day mere days away, everyone is either looking for love or the perfect spot to celebrate the holiday. After all, in New York there are plenty of places screaming romance, whether it's a Versailles themed speakeasy or a jaunt upstate. Despite the romantic nature of the holidays, many couples will celebrate the season with a Netflix marathon; because nothing says "together forever" like holing up with Making a Murderer. Whether you're currently with someone special or hoping to swipe right before February 14, here are the Netflix findings on what it takes to create and maintain a relationship in the modern age.
The poll was conducted in October 2015 on behalf of Netflix, surveying more than 1,000 Americans from 18 to 39. Unfortunately, they only interviewed people with their own Netflix accounts. Since many people use a family member's or a failed OKCupid date's login, they're obviously missing important data.
If you're not an avid Netflix watcher, you may be losing out in the dating world: On a first date, 69 percent of people discuss movies and 63 percent of people discuss television. Shows are used as an icebreaker because 27 percent of those surveyed believe "show compatibility" is important when choosing a potential mate. (While similarities are always important, it's less than likely that hunky men are watching mega-brilliant Bravo series, therefore missing out on The Girlfriends' Guide to Divorce and Millionaire Matchmaker.)
Ladies, begin binge-watching based on what your future mate is looking for: the survey said 34 percent of men fall for someone based on similar tastes in movies and shows. And 25 percent of respondents found someone more attractive based on what they watched, creating the concept of "show goggles."
While a "Facebook official" status update used to be the ultimate sign a relationship was heading towards the altar, becoming "Netflix official" is the first step. More than half of those surveyed believed sharing a Netflix account is a big step towards a "serious relationship." In fact, it's so serious most wait until they're exclusive to combine Netflix accounts. The most wary (17 percent) wait until they're engaged, or even married, to share.
If you're single and feel your coupled up friends never go out anymore, this survey confirms your beliefs. Seventy-two percent of the respondents who are married or in a relationship say staying in to watch Netflix is their favorite way to spend date tonight; 58 percent believe they bond with their significant other over Netflix.