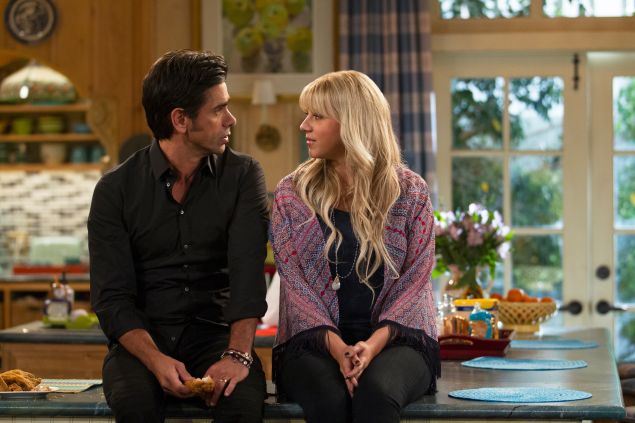 Last year the pop culture universe seemed to go a little crazy when it was announced that Netflix would reboot '90s sit-com Full House with their new entity Fuller House.  The original series ran for 8 seasons, amassing nearly 200 episodes.
For those not familiar with Fuller House's predecessor, the original series was centered around widower Danny Tanner who was struggling to raise his three young daughters. To help out, Danny enlisted the help of his brother-in-law Jesse and his childhood friend Joey. The three men shared a house and the responsibility of looking after the small girls, one of whom was in diapers when the series began.
Fuller House keeps virtually the same premise intact but gender-switches it up with Danny's daughter DJ as the widowed mom of three young boys (one of whom is in diapers!) who co-parents with her sister Stephanie and her childhood friend Kimmy, who is also a single mom.
The pilot is as corny as you'd imagine with the insertion of old catch-phrases, lame inside jokes, an overabundance of flashbacks and way too much hugging. When John Stamos (Jesse) makes a crack about how good everyone looks, it's almost too much to take.
Thankfully, the pilot is markedly different from subsequent episodes – not that these are that much better, but they are still somewhat better. There is still way too much cheese and false audience laughter, but once Danny, Jesse and Joey are gone there are actually storylines and not just a lot of mugging for the camera.
The jokes continue to be really bad and the situations way too contrived, but it's sort of nice to see that DJ has become a veterinarian and that she has real parenting issues.
In fact, the difference in parenting styles between DJ and Kimmy is one of the only things that seems fairly authentic in these series. Both are believable as moms, maybe because the actresses who portray them in real life are moms – DJ's Candace Cameron Bure with three, and Kimmy's Andrea Barber with two. Not to say that single gals can't play moms on TV but in this instance it does seem as though the duo's real life parenting experience has helped inform their onscreen performances.
The parents aren't the only characters who take center stage in Fuller House as DJ and Kimmy's kids have storylines all their own. When this second generation is featured in an episode the series feels remarkably like a Disney channel show – complete with a wacky exploding volcano scene!
Another main difference between the original Full House and Fuller House is not only the content but the distribution of that content. The original series was on Friday nights, once a week. It was a good fit for 'Family Fridays' genre on broadcast television and easy to find. Now that it's a series that people have to actively seek out and not something that they can just randomly land on many might make other choices instead. And, the availability of all episodes at once might hurt the back end installments as this really isn't a show that incites the viewer to keep watching one episode after another. Some may give up after taking a few episodes, once they've satisfied their '90s flashback fix.
For those viewers who love all things nostalgic, who have jumped onboard The X-Files reboot and are anxiously awaiting the launch of Twin Peaks, the next 24 and Prison Break, you might enjoy just checking in with Fuller House, but it's a bit doubtful that you'll stay for the duration of the 13 episodes.
All episodes of Fuller House will be available on Netflix beginning Friday, February 26th.