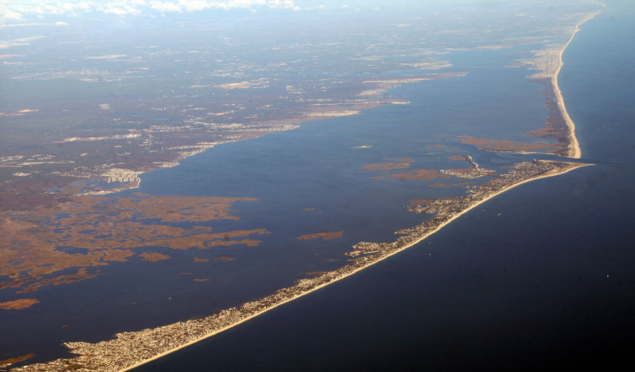 So far, 2016 has seen Governor Chris Christie be pitted against not only an inhospitable electorate in Iowa and New Hampshire, but a surge in criticism of his administration and its role in a number of New Jersey Department of Environmental Protection decisions. A new suit from residents of Barnegat Bay and a cluster of environmental groups against the DEP will appeal new coastal zone construction standards that the complainants claim favor developers.
As environmental challenges mount and the governor returns from a long stint in New Hampshire, Christie's political capital will be put to the test as the suit and others like it cast the department as a politically charged extension of his tenure.
With the loosening of the department's omnibus coastal regulations, Doug O'Malley of Environment New Jersey said that developers would be effectively building on land guaranteed to disappear due to sea level rise. New York, Delaware and Maryland have all mandated that structures damaged by Hurricane Sandy be built two feet higher than federal recommendations.
"Hurricane Sandy should have been our wake up call to realize unchecked development along our coast will only be costlier in the future due to sea level rise," said O'Malley. "Instead, DEP's coastal zone rules will only greenlight more development in vulnerable coastal communities. DEP's arbitrary and capricious rules don't make sense to keep residents in our coastal communities safe."
The DEP began revising building standards, flood hazard regulations and water quality management plans in 2014 as Christie was conditionally vetoing a measure to force the DEP's hand in conducting a study of Barnegat Bay, a shore community hit hard by Sandy and blighted by pollution. A new version of that bill is currently in the Assembly.
The renewed challenges to the Christie administration's handling of the Barnegat Bay fiasco joins a confluence of environmental boondoggles for the Christie administration — already this year Christie has unceremoniously replaced a chairman of the Pinelands Commission who opposed the South Jersey gas pipeline, seen the state's application for federal flooding mitigation dollars underperform by tens of millions of dollars, and been forced to confront several similar appeals as the DEP changes the scope and shape of its mandates.
The replacement of Mark Lohbauer as chairman of the Pinelands Commission followed a DEP ruling that the proposed pipeline is not subject to the approval of the whole commission, only the approval of its executive director. Bill Potter, the lead attorney for the plaintiffs in the Barnegat Bay case, said that similar contortions are taking place to aid development in flood-prone coastal areas.
"With its massive rewriting of coastal zone policies covering nearly 1,000 pages, the DEP has attempted to do through regulation what it cannot accomplish through legislation — namely, to open up the coastal area to more at-risk development where there should be less.  Among the more problematic rule changes, the DEP has made it easier to construct landfills dedicated to dredge spoils, called confined disposal facilities or CDFs, on freshwater and coastal wetlands."
Peter Woolley, a professor of political science at Farleigh Dickinson University, said that while the challenges will do little to help the governor's flagging poll numbers at home, Christie will likely retain his ability to fight against the tide of legal challenges as environmental groups continue to attack.
"It's too bad that people see environmental policy and business policy as somehow in opposition to each other" Woolley said of the appeals. "He's still one of the most powerful governors in the United States in terms of his ability to appoint, dismiss, bargain, compromise, veto. So even without political capital, he has the opportunity to play a good game."