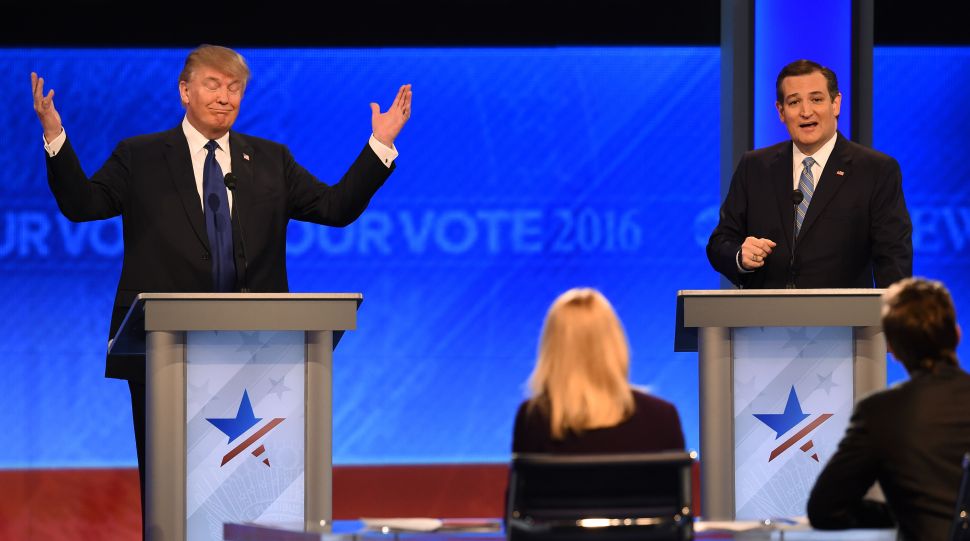 Following the death of Supreme Court Justice Antonin Scalia, the remaining six GOP presidential candidates faced off for the ninth time. All eyes were on Florida Sen. Marco Rubio to see if he would be able to redeem himself after his disastrous debate ahead of the New Hampshire primary that made him appear robotic and may have hurt his chances in that state. Following the primary, New Jersey Gov. Chris Christie and former Hewlett-Packard CEO Carly Fiorina dropped out of the race, meaning we are finally able to watch a manageable number of candidates having a serious conversation. This was the final debate before the South Carolina primary, so each candidate's future was on the line.
Donald Trump
Where he floundered: Former Florida Gov. Jeb Bush may not have the most support, but insulting anyone who supports another candidate as a lobbyist or special interest was not going over well. Mr. Trump was actually getting booed for his insults against Mr. Bush, and responded by claiming those who were booing must be special interests paid by Mr. Bush. Mr. Trump was booed throughout the night for multiple answers. It sounded like the entire audience was booing when the New York businessman blamed George W. Bush for the terrorist attacks of September 11, 2001. "The World Trade Center came down during your brother's reign, remember that," Mr. Trump said to loud booing.
Where he excelled: Mr. Trump gave a practical and thoughtful response on the probability of President Obama nominating a replacement Supreme Court justice. "If the President, and if I were President now I would certainly want to try and nominate a justice. I'm sure that, frankly, I'm absolutely sure that President Obama will try and do it," Mr. Trump said. "I hope that our Senate is going to be able – [Senate Majority Leader Mitch McConnell], and the entire group, is going to be able to do something about it." He also got a good hit in on Mr. Bush when he reminded the audience that the former Florida governor took several days to change his story about whether it was a good idea to go into Iraq under his brother's presidency. "He went back, it was a mistake, it wasn't a mistake. It took him five days before his people told him what to say, and he ultimately said, 'it was a mistake,'" Mr. Trump said.
Ted Cruz
Where he floundered: He was immediately rebuffed on his claim that Supreme Court justices weren't nominated or confirmed (it wasn't clear which he was referring to). It was a minor embarrassment, but Mr. Cruz has argued before the Supreme Court and should have been more knowledgeable on the facts.
Where he excelled: He may have been booed with this response, but he was able to set himself apart from Rubio when the two got into a heated debate over immigration and amnesty. They devolved into accusing each other of lying, but the exchange should have fired up their supporters.
Marco Rubio
Where he floundered: He made an awkward attempt to save the debate while Mr. Trump and Mr. Cruz were accusing each other of being liars. Mr. Rubio was given a chance to speak, and he decided to talk about poverty. It was good that he changed the topic and got the fighting to stop, but it was an odd way to go about it.
Where he excelled: Mr. Rubio came out of the gate strong with a response on the death of Mr. Scalia and the importance of the next president's ability to nominate the next Supreme Court justice. "Someone on this stage will get to choose the balance of the Supreme Court, and it will begin by filling this vacancy that's there now," Mr. Rubio said. "And we need to put people on the bench that understand that the Constitution is not a living and breathing document. It is to be interpreted as originally meant." On every question, Rubio was specific and knowledgeable in his responses, reminding the audience of why he was rising in the polls and seen as the person to beat despite not being the GOP frontrunner.
Ben Carson
Where he floundered: Mr. Carson is essentially irrelevant at this point. He may still be polling higher than Mr. Bush or Ohio Gov. John Kasich, but there's nowhere for him to go. He came in last of the "top-tier" candidates in New Hampshire, and he is currently polling last in South Carolina – a conservative state where he should be doing better.
Where he excelled: He had a good point about not wanting to be the candidate who jumps up and down and screams (like some of the other candidates appeared to do), but it wasn't such a great line that he will end up saving his campaign.
Jeb Bush
Where he floundered: He had another chance to knock Mr. Trump on eminent domain, but his attack fell flat.
Where he excelled: He got a good hit in on Mr. Trump by defending his brother, former President George W. Bush. Mr. Bush pointed out that "while Donald Trump was building a reality TV show, my brother was building a security apparatus to keep us safe."
John Kasich
Where he floundered: Mr. Kasich may have had a second-place finish in New Hampshire, but there really isn't a path forward for him at this point, and he's just taking up space.
Where he excelled: Mr. Kasich was realistic about the ability of the country to remove more than 11 million people who are in the country illegally. It might not play well with conservatives, but his suggestion that the country fine the illegal immigrants and give them a path to citizenship is a little more practical. It sounds good to say we're going to round up the illegal immigrants and kick them out, but it's just not practical, especially if the border isn't secure and more could just come in.
Disclosure: Donald Trump is the father-in-law of Jared Kushner, the publisher of Observer Media.