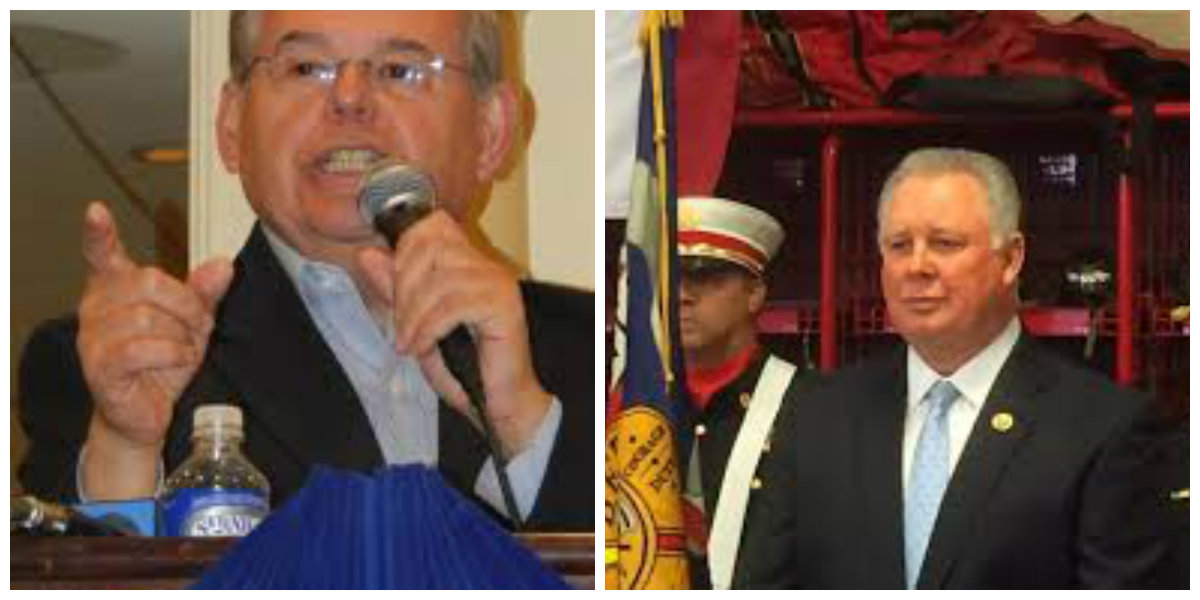 On Thursday, President Barack Obama officially announced on Twitter that he would embark on a historic trip to Cuba. While Obama said that his visit will advance the United States's "progress and efforts that can improve the lives of the Cuban people" many of New Jersey's Cuban-Americans (from both political parties) are taking the opposing stance.
U.S. Senator Bob Menendez, born in New Jersey to Cuban immigrants, has been a vocal critic of Obama's efforts to thaw relations with the island nation. Following Obama's announcement, Menendez released a statement calling the March visit "totally unacceptable."
In his statement, Menendez said that Obama will come to "rue this decision" to visit Cuba.
"Since Castro seized power, nine American Presidents – Kennedy, Johnson, Nixon, Ford, Carter, Reagan, George H.W. Bush, Clinton, and George W. Bush – did not rush to the island to shake hands with an oppressive dictator," Menendez said in the statement. "They instead stood firmly against a regime that represses its people's freedoms and blatantly violates human rights just 90 miles from our shore. The President is – again – prioritizing short-term economic interests over long-term and enduring American values."
Congressman Albio Sires (D-8) was born in Cuba and immigrated to the New Jersey as a child. Like Menendez, he believes that the decision by the President to go to Cuba is a mistake. The two men held a press conference today in Union City, one of New Jersey's most Cuban-American municipality, with former Cuban political prisoners to stand against Obama's decision.
"The President's announcement this morning that he will travel to Cuba next month is extremely troubling and represents yet another concession to the Castro brothers while the Cuban people continue to languish without access to basic freedoms. This trip sets a dangerous precedent for U.S. presidents visiting dictators in Latin America and is another step towards legitimizing a dictatorial regime that thrives on the backs of innocent Cuban people," said Sires in a statement.
Sires also called on the president to remember that he had "previously stated that he would only travel to Cuba if he can meet with pro-democracy dissidents there." Sires said the president must stand by that statement and call on the Cuba to extradite Joanne Chesimard, who murdered New Jersey State Trooper Werner Foerster in 1973 "and still roams freely in Cuba."
Another Cuban-American Democrat from New Jersey who opposes the visit is Rafael Fajardo, formerly of the Elizabeth School Board.
"The people of Cuba have no freedom of speech," Fajardo told PolitickerNJ. "The people of Cuba have no freedom to elect their own representatives. [Obama] is going there to embrace tyranny and, as a Democrat, I am very disappointed he is doing that."
Fajardo likened the opening of relations with Cuba to how the Unites States reacted to South African during the time of apartheid.
"If it was okay to totally isolate South Africa for how they behaved against the people of South Africa until the war broke the tyranny of the South African government, how come we cannot do this for the people of Cuba?" Fajardo said. "It is a very sad day, the day he steps off the plane and embraces two brothers that have been in power for 50-some years and have been responsible for the deaths of thousands upon thousands of people. This is a very sad situation for the Cuban Americans who live in the United States of America that this kind of attitude is embraced by our president."
It is not only Cuban-American Democrats in New Jersey that are against the visit, however. Hudson County Republican Chairman Jose Arango also believes that the visit will "consolidate the longest dictatorship in Latin America."
"Cuba is still a dictatorship where the people of Cuba are basically slaves of the government," Arango said. "One of the reasons why I can't be a Democrat is because they betrayed us in Bay of Pigs. They betrayed us with Elian Gonzalez. Now, they betray us with this relationship with Cuba."
Arango continued: "People can compare China, they can compare Vietnam but the reality is that I can't agree with being with a communist country in any shape or form."
Not all of New Jersey's lawmakers agree that the move by Obama to visit Cuba is a bad decision, however. Assemblyman Reed Gusciora (D-15) recently traveled to Cuba on an unauthorized legislative trip made by ten New Jersey Assemblypeople. According to Gusciora, opposition to the president's trip mainly comes due to a lack of firsthand experience with the situation on the ground there.
"I would argue that Menendez should go down there," Gusciora  told PolitickerNJ. "They state that they know what it is all about but they haven't been there. At least I have sat across the table from Cuban officials. At least I have asked for the return of Joanne Chesimard. I think that it really benefits us to open the doors instead of pursue this failed policy. We are friends with China, we are friends with Vietnam, we are friends with Saudi Arabia. It just makes no sense to continue to shut out people that are 90 miles away."
According to Gusciora, the embargo has done far more harm than good to the Cuban people.
"Our embargo has done a number on the Cuban people and they can't say it is all Castro," Gusciora said. "Through our blockade where we don't send them building materials and medicines, we block a whole bunch of stuff that should be going into that market. Everyday people are suffering. I saw the abject poverty."
According to State Senator Ray Lesniak (D-20), time will tell if the decision made by President Obama, and the decision of Pope Francis to visit Cuba this week, will be beneficial.
"I am not going to second-guess the president on this one, nor would I second-guess the Pope," Lesniak said. "I think, hopefully, with the Pope and a President visiting, we will see the changes that Senator Menendez and Congressman Sires want for the people of Cuba, but we will just have to wait and see. So far we haven't seen much progress. I just hope for the people of Cuba who have suffered so much there will be a lot more than what we are seeing today."
President Obama's visit to Cuba is scheduled for March 21-22. He is expected to meet with Cuba's Raul Castro before departing for Argentina. Obama will be the first American president to visit Cuba since Calvin Coolidge in 1928.