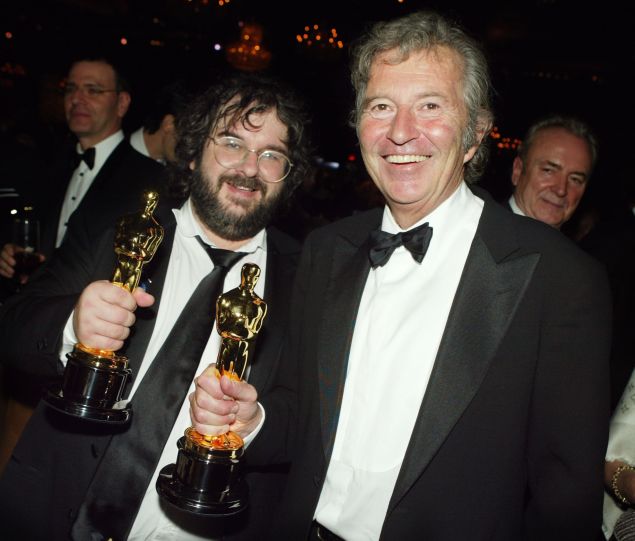 It's not quite Middle Earth, but Tribeca is perfectly nice on its own—especially the view from a brand-new penthouse.
New Line Cinema founder Robert Shaye has added to his real estate portfolio with the purchase a $12.98 million penthouse duplex.
His new 3,165-square-foot condo at 290 West Street has such perks as ceilings over eleven feet, a formal dining room, an open chef's kitchen, and a great room with floor to ceiling glass windows in order to showcase views of the Hudson River. Per the listing shared by Douglas Elliman brokers John Gomes and Fredrik Eklund, there is also 1,478 square feet of private outdoor space.
Mr. Shaye and his wife, Eva, already own an apartment at 353 Central Park West, which they haven't yet put on the market—perhaps they're planning on holding onto it for whenever they have the make the oh-so-far trek to the Upper West Side.
Mr. Shaye also owns homes in St. Barths and Bridgehampton, as well as a home in Los Angeles—quite the leap from the fifth-floor Greenwich Village walk-up where he founded New Line Cinema in 1967 as a film distribution company, before it became an independent film studio. New Line was associated mostly with indies before it produced and released A Nightmare on Elm Street (and the ensuing franchise) in 1984, and thereafter released films including the Austin Powers franchise.
And then, of course, there was the Lord of the Rings trilogy—Peter Jackson approached Mr. Shaye about it in 1998, and New Line would distribute the entire film series of the next few years. Oh, and the three movies won a total of seventeen Oscars, despite the rather public arguments Mr. Jackson and Mr. Shaye had regarding the films.
New Line Cinema was merged with Warner Bros. in 2008, when it essentially shut down as an independent studio–Mr. Shaye and his co-chairman Michael Lynne stepped down from their positions at the studio around the same time.
Perhaps he's stepping further into real estate now, since he doesn't exactly seem like the kind of person who would just be lolling around–prior to his climb up the Hollywood ladder, Mr. Shaye earned a law degree from Columbia University, and was also a Fulbright Scholar. Or maybe he just wants to decorate a new condo with a nice river view.