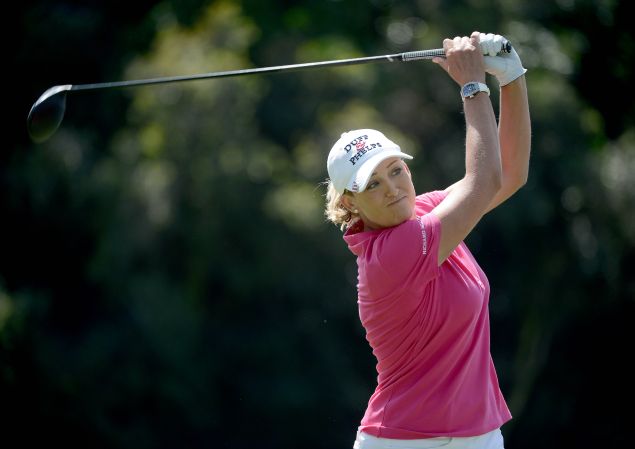 Perhaps they wanted something a little closer to a putting green?
No matter what the reason, it was a very nice shot by professional golfer Cristie Kerr. Ms. Kerr and her husband, Erik Stevens have sold their West Village condo, for more than double what they paid in 2009. Perhaps if the 18 time LPGA winner ever gets bored, she can look to real estate as a fallback career?
The couple purchased the abode at 1 Morton Square for $2.34 million in 2009, and per the listing, spent over $1 million on renovations and a complete redesign by Thom Filicia. Even with the additional $1 million the two put into the place, they made out very nicely—Stephen and Robin Rostowsky paid the full ask of $5.9 million.
The 1,985-square-foot condo was only on the market for a few days before it went into contract, so the Rostowsky family must have been quite taken with the three-bedroom, three-bathroom apartment, which was offered fully furnished.
Per the listing, held by Town Residential broker Sofia Falleroni, the apartment has direct Hudson River views, a gourmet kitchen, stained oak floors, and floor-to-ceiling windows. The master suite has an "industrial-chic ambiance," which apparently translates to an Edison lamp and "denim texturized wallpaper." Some people really like their denim. Oh, and for vino enthusiasts, there's also a 150-bottle wine cooler—Ms. Kerr does, after all, have her own wine label.
Perhaps the two are looking for a place in the city with a bit more space–they had their first child, via surrogate, in late 2013. It seems likely that the two will be picking up another home in the city at some point soon, since Ms. Kerr golfs at Liberty National in New Jersey in the summer and has spoken rather fondly of the city.
"Being in New York has helped me grow. It's kind of a sink-or-swim city, and that's helped me develop as a person," Ms. Kerr previously told the Wall Street Journal.
The listing makes sure to add that the building is "home to celebrities and other well-known New Yorkers," though the place has seen quite a few departures (or attempted departures, at least) in the last few years, including Oliver Stone, Amy Poehler, and the Olsen twins… Still, certainly there's something to be said by way of recommendation for their having moved there in the first place.