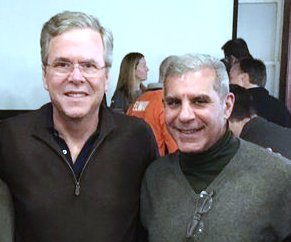 After having weathered months off scorn heaped on his soft-spoken establishment presidential candidate, state Senator Joe Kyrillos (R-13) finds his man very much still alive in the contest and fighting for the number two slot in New Hampshire behind billionaire behemoth Donald Trump.
Party sources now see a two-man contest for second between Kyrillos's choice, former Florida Governor Jeb Bush, and Ohio Governor John Kasich.
It was perceived to be a four-man race as late as pre-Iowa. But at Saturday's debate, Gov. Chris Christie impaled his own dying post-Iowa political fortunes on surging Florida Senator Marco Rubio, sending both candidates into a fiery furnace, by the reckoning of most observers.
Kyrillos doesn't quite see it that way. But he does acknowledge that the debate changed the game.
"Going into this thing tonight the race is scrambled," said the veteran Monmouth County lawmaker, Bush's most visible New Jersey ally, who shocked the political establishment when he backed the Floridian over his old ally Christie.
"Prior to the debate, Jeb already had some new energy, which was clear on the ground," said Kyrillos, a point confirmed by a pre-debate Monmouth University Poll released this week that showed a nine-point bounce for Bush since January.
Kyrillos sees Bush as the most complete so-called establishment candidate for the contest beyond New Hampshire.
"He's ready to go to next state, he has the money and the resources," said the senator. "What he has in South Carolina is amplified by the endorsement of [U.S. Senator] Lindsay Graham and Graham's people. I believe coming out of New Hampshire strong, Jeb can go on as a true national candidate. He has a strong and deep organization. I don't think others can make that claim."
Of course, Bush is trying to untangle himself from Kasich and Rubio and Christie to define himself as the true party counterweight to Trump and Texas Senator Ted Cruz, widely perceived as the two off-the-reservation GOP contenders.
That tension could drag on into a convention, Kyrillos speculated.
"That possibility also means a New Jersey Republican primary for the first time could be a relevant contest," he said. "Of course all of that is academic right now. We will have the benefit of a wider eye tomorrow. The point now is there is a real contest going on. Hillary Clinton as conceivably the country's first woman nominee by a major party is hardly standard fare. The fact that she's up against an avowed socialist says a lot about the modern day Democratic Party.
"On the Republican side, there are many who are supportive of Ted Cruz, and I'm certainly not one of them," Kyrillos added. "Trump is enormously attractive. I think Ted is very unattractive. But Trump is an enormous gamble. People will have to take a deep breath before really deciding that he is our party's nominee."
Kyrillos said he loves Bush's record as a reformer in Florida, work that ensured the transplanting of New Jerseyans southward for a better quality of life.
He believes that record is not insignificant.
"We'll see what happens tonight," Kyrillos said. "Chris did a great job on Saturday night. Look, he certainly has his share of fans up here."