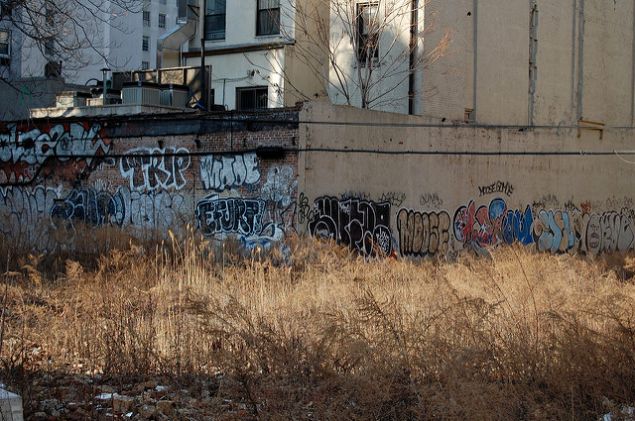 More than 1,000 city-owned lots are not only sitting vacant, most of them have been so for more than 30 years, an annual study from the comptroller's office finds, according to The New York Times. The lots—"remnants of the thousands of abandoned lots and buildings the city seized after the fiscal crisis of the 1970s"— are mostly in Brooklyn and Queens could, ostensibly, be used for affordable housing development. But "City officials say many of the leftover properties have been hard to develop because they need basic infrastructure such as road access and sewer lines, require too much subsidy or, after Hurricane Sandy, no longer meet resiliency concerns."
Speaking of long disused properties: New York Farm Colony, a poorhouse on Staten Island that closed four decades ago, is getting a $91 million renovation to become a residential community for seniors, according to DNAinfo.
Meanwhile, in Queens: the RKO Keith's Theater in Flushing, Queens is up for sale again, with its most recent owner JK Equities deciding to sell the theater after obtaining approvals to redevelop it, according to Crain's.
The city has released its environmental impact statement for the East New York rezoning, which finds that it would leave the neighborhood with a temporary shortage of public school seats, childcare and open space, Politico New York reports.
Everything about this West Village townhouse is so whimsical (it has a disco ball in the master bathroom!), except the $26 million asking price, via The Wall Street Journal.
Apparently, Facebook "likes" 770 Broadway quite a lot as the social networking site has leased an additional 80,000 square feet in the Vornado building, making it the building's largest tenant with 335,000 square feet, according to Crain's.
Haagen-Daaz theft ring: police say that thieves are lifting pints of gourmet ice cream from drug stores and reselling it to bodegas, DNAinfo reports.