The Upper East Side has a healthy assortment of 18- and 20-foot-wide townhouses—there's even a decent selection of 25-foot manses to chose from—but for those who simply can't bear the thought of even remotely cramped confines, nothing under 30 feet will do. Fortunately, one such house at 128 E. 73rd Street has just hit the market.
Nestled amid a quintet of other neo-Georgian manses on the block between Park and Lexington, the four-story brick townhouse is asking a not insignificant $42 million, listed with Brown Harris Steven's Paula Del Nunzio and Sotheby's Serena Boardman. But then, how many other elevatored townhouses allow you to truly stretch out with a 30-foot wide grand living room and a 30-foot-wide dining room and a 35-foot-deep rear garden? The average Manhattan townhouse width is, after all, estimated to be a mere 18 feet.
But as Stibling's Kirk Henckels once told The New York Times in regards to the all-important breadth: "Size matters — and let's face it, it's the first thing everyone wants to know when they start looking. Most people will say right off the bat that they won't look at anything under 20 feet. I can tell them it's the most beautiful place in the world, with fabulous layouts and lots of light and a great facade, but it won't matter if it's 16 feet wide. There's ego involved."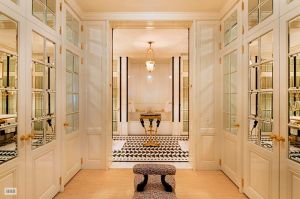 City records indicate that the home belonged to the late Bernard and Josephine Chaus, who purchased it for an unrecorded sum in 1987. Co-founders of the fashion firm Bernard Chaus, the couple met in 1973 and commenced a year-long cross-country motorcycle trip before settling down to start their own fashion company. After Bernard died in 1991, Josephine took the helm, becoming one of the first female CEOs of a public company and exhibiting, Women's Wear Daily averred, a "formidable and courageous personality." She died this past November.
In the listing photos, one can see evidence of Chaus' avocation in the magnificent mirrored dressing area, which connects a capacious master bedroom and sitting area with a marbled bath.
Designed by architect A. Wallace McRae in the early 20th century, the home currently done in a brawny variety of Upper East Side style by Peter Marino, whom the listing points out decorated another A. Wallace McRae house at 16 East 69th Street that sold in 2010 for $48 million. Of course, that townhouse was 33 feet wide.