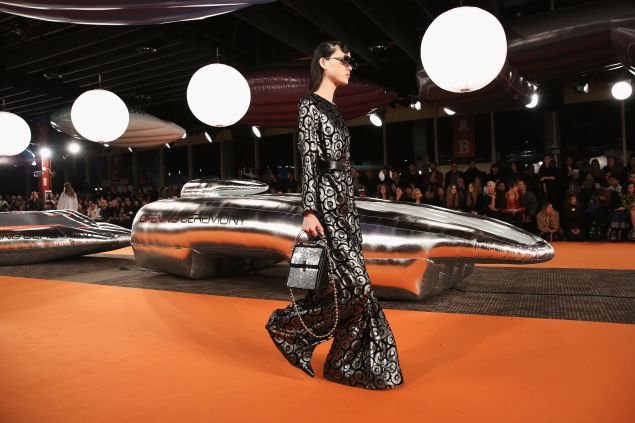 A little booklet on the seats of the show at Opening Ceremony featured an interview with the main inspiration of the range: Syd Mead. It let readers know: "You're living in Syd Mead's future, whether you realize it or not."
Most of the 20-something crowd, decorated with neon green buzz cuts and Supreme hoodies didn't realize that. Surely, Jaden Smith and his girlfriend Sarah Snyder were unbothered by thoughts of Mr. Mead, as they cuddled and giggled in the front row.
But designers Carol Lim and Humberto Leon were fully aware. Mr. Mead's work on movies such as Blade Runner, Tron and Alien had influenced the OC creatives since their childhoods. So they chose Fall/Winter 2016 to pay homage to the "visual futurist" by recreating some of his forward-thinking space ships and UFOs in an inflatable versions.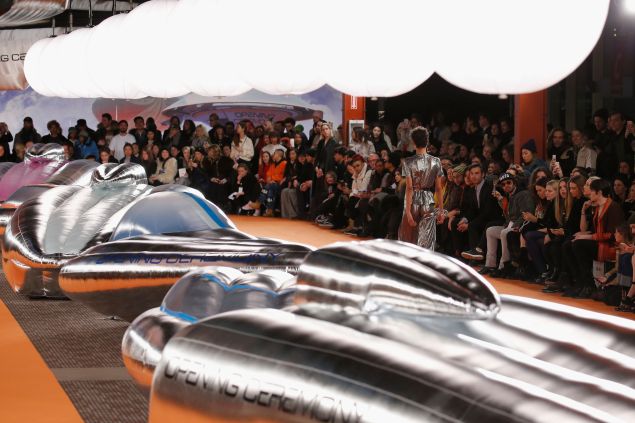 "We called him up and talked to him…he gave us amazing insight about how they were dreaming about the future in the '60s and '70s by drawing these amazing cityscapes for city planners and movies," Mr. Leon told Observer.
That's exactly what the OC designers did. They wanted their backdrop to have a sort of "lo-fi, hi-fi" vibe, which they achieved via orange carpeting and slick, silver inflatables. They even partnered with Lexus, to wrap cars in the Liquid City print that they threw on the runway, in a nod to a modern application of the future. "They're visionary designers and anything we do to support them, we will," said Lexus corporate manager of product marketing and marketing communications Brian Bolain. "We just feel like they tap in."
Set design aside, what about the clothes? "I asked Syd Mead, 'How did you depict people?'" Said Mr. Leon. "He told me, 'People were just like the people around me, they were real. When I draw people, there's a reality to the people. The setting is where we try to take things into the future.'"
Turns out, the threads were futuristic, but still totally wearable. At least for the dedicated Opening Ceremony girl.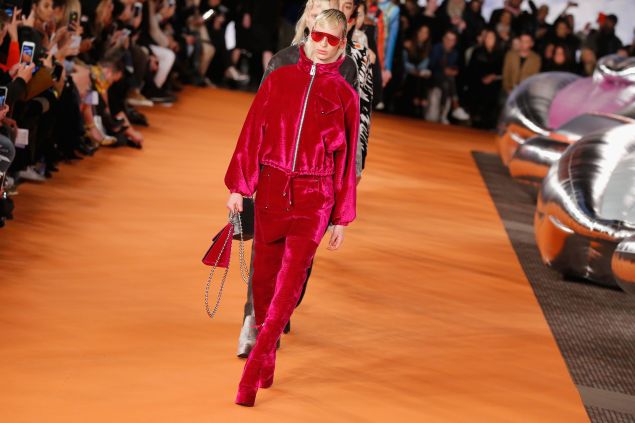 A utilitarian black coat started off the show. But it was the sixth outfit, a hot pink velvet look, with a hoodie, skirt and knee-high boots all in the same shocking pink hue, that really got the crowd riled up. The color made a few more cameos on a pair of pointy mules and a rectangular handbag. "We were so excited because we feel like it was such a good pop of pink that we only needed a few pieces in that hue. Too much of that color and you would've been falling off your chair," Mr. Leon joked.
"And you'd be like, I've already saw that!" Interjected Ms. Lim.
Oil-slick silver was another standout look, which turned a pair of billowing flare pants into Instagram video bait. Sweatshirts printed with scenes from Mr. Mead's work were paired with mom jeans and an off-the shoulder silhouette appeared on knit dresses and sweaters alike. Basically, these were clothes that emulated what the crowd was wearing. A silver swirl print may have appeared futuristic, but it was reasonable enough for a girl of 2016 to wear, not 2066.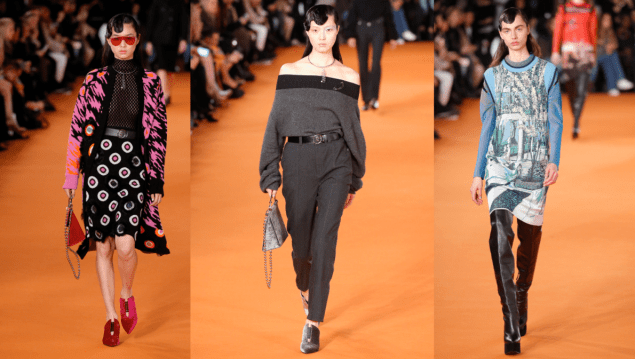 All this talk about the future had us wondering about extraterrestrial life. So, do the OC designers believe in aliens? "Definitely," nodded Mr. Leon. Ms. Lim added, "There's probably some here tonight."