The 88th Oscars ceremony will honor the best films of 2015 this Sunday. We'll drink to that!
We recently visited cozy Brooklyn bar Forrest Point, where bartender Jeremy Hawn concocted a collection of original Oscar-themed drinks especially for us. The beverage assemblage consisted of eight cocktails—each inspired by a nominee for Best Picture. The bar isn't serving the drinks, but the recipes below should make whipping one up for an Oscar-viewing party a cinch.
Mad Max: Fury Road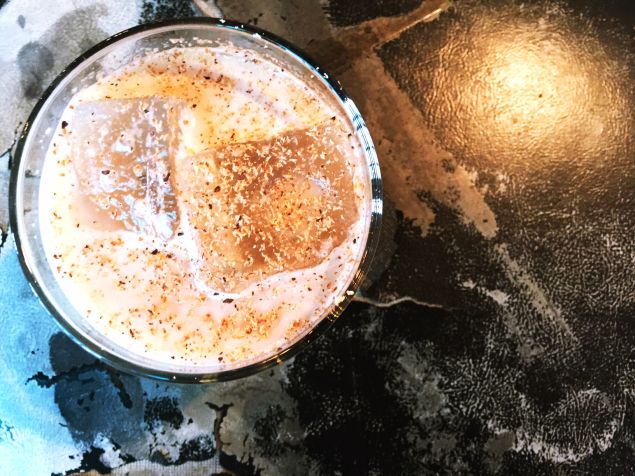 2 oz. Atlantico Private Cask
1 oz. Milk
1 oz. Honey
Garnish with grated nutmeg and all spice.
Shake and strain into a rocks glass with ice. Garnish with grated nutmeg and all spice.
"It's an interesting movie and definitely an outlier as far as Best Picture nominees go," Mr. Hawn said. "A major plot point was that they drink mother's milk as opposed to water, so I made an Atlantico rum milk punch. Some people use simple syrup, but I prefer milk and honey—that as a combination being symbolic in itself. The garnish is to compliment the backing spice notes of the Atlantico and to add a nice winter spice element when you raise the drink to take a sip."
The Big Short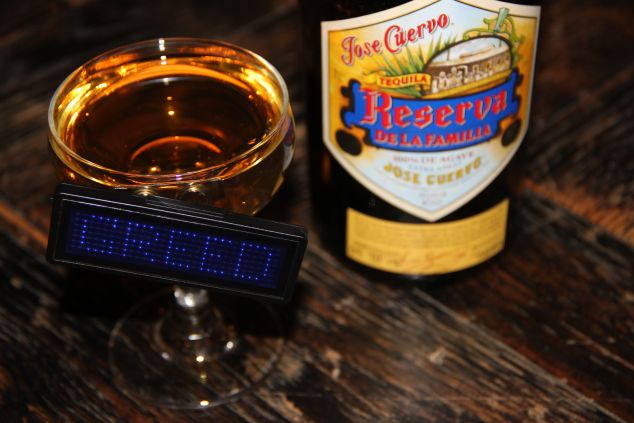 3 oz. Jose Cuervo Reserva de Familia
1 oz. Dry vermouth
3 Dashes orange bitters
Stir, strain into martini glass or coup and garnish with a flashing LED sign that says "greed"
"The Big Short is the true tale of greed and recklessness," Mr. Hawn said. "So to signify that, we used Jose Curveo Reserva de Familia, which is a really expensive bottle of very old and limited edition tequila. It retails around $150 a bottle, so it's definitely a luxury item to symbolize the excesses of Wall Street." Mr. Hawn added that he used dry vermouth and bitters to make the cocktail a twist on the martini and the martinez, because "anyone who works in the service industry knows those types of folks like to drink martinis."
Martian
2 oz. Santera Tequila Anejo
2 oz. OJ
3/4 oz. potato syrup
Garnish with orange twist
Shake, strain into rocks glass over ice, garnish with orange twist cut into stars
"It's a movie about both isolation and human perseverance," Mr. Hawn said. "I was thinking about the red planet and thought of Santero Tequila Anejo, which is a mix of both reposado and extra anejo tequila, which is very unique. I mixed orange juice in it to give it the color of Mars. It's also reminiscent of a tequila sunrise, but instead of using grenadine, I used potato syrup because they're a major plot line of the movie."
Bridge of Spies
2 oz. Hangar 1 Vodka
1/z oz. Jägermeister
1/2 oz. Coca Cola Syrup
1/4 oz. White wine vinegar
Garnish with lemon twist
Stir in a coup glass and add a lemon twist cut into a bridge as garnish
"It's about an actual event where the U.S. and Russia had to exchange spies who were being held prisoner during the Cold War at the beginnings of the Berlin Wall in East/West Berlin," Mr. Fawn said. "So we used Hangar 1 vodka, obviously vodka being associated with Russia. But it's an American vodka, so it has that twist to it. We used Jägermeister, which is a german bitter, given that most of the film takes place in Berlin." The Coca-col came in because he "wanted the most American thing he could think of that could work in a cocktail." And the white wine vinegar is because Russian food is so often pickled.
Brooklyn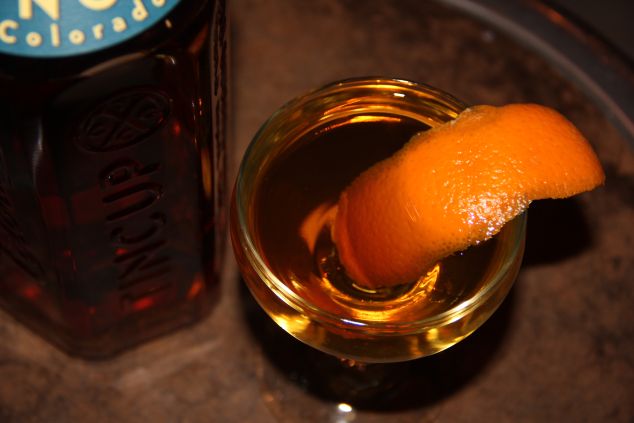 2 oz. Tin Cup Whiskey
1/4 oz. Amer Picon or Amer Nouvelle
1/4 oz. Maraschino
1/2 oz. Dry vermouth
Garnish with an orange twist
Stir in a coup glass and add an orange twist garnish
"The movie is about Irish an Italian immigrants meeting in New York in a traditionally ethnic neighborhood in Brooklyn," he said. "Now, this is not an original recipe. One of my favorite classics is 'the Brooklyn'. There are a few Manhattan variations that are near and dear to my heart—the Brooklyn being one of them, just because it's an insanely delicious drink and has a bit of a more complex character. The reason I wanted to use this classic cocktail and not create my own recipe is that it's obviously named after the same area the movie is named after, but also because cocktails are an American invention. They are America's greatest contribution to the culinary world, because all of our food is basically borrowed." He added that the drink was created around the same time that Italian and Irish immigrants came to the U.S.
Spotlight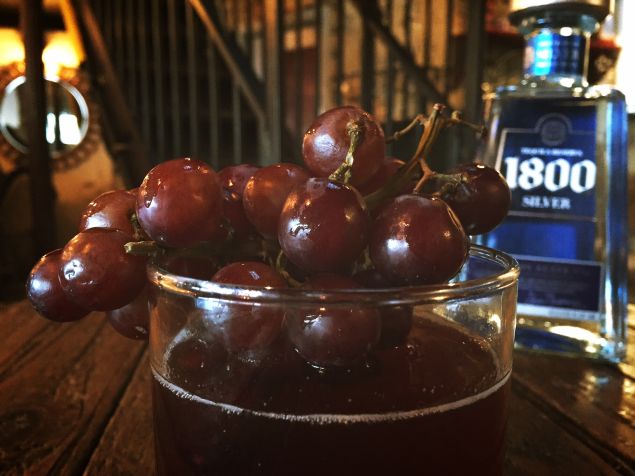 1 oz. 1800 Silver Tequila
1 oz. Irish Whiskey
5 oz. Campari
3/4 oz. Pedro Ximenez sherry
1/4 oz. Demerara
1/2 oz. lemon juice
Garnish with a bunch of grapes
Shake, strain neat into a rocks glass and garnish
"I wanted to do something that was intrinsically Irish and inherently catholic, so we used 1800 Tequila because Mexico is the most populous Catholic country in the world," he said. "I used some Irish whiskey because Boston has such a large Irish population and it was mainly Irish Catholics this was happening to in the Boston area. Campari, to symbolize Italy and the Vatican, and then Pedro Ximezen sherry, which is from Spain, another major Catholic country and maybe the country most responsible for spreading Catholicism to the new world. And then a little bit of lemon juice to offset the bitterness of the Campari and the sweetness of the sherry. I garnished it with a bunch of grapes to symbolize the communion wine."
The Revenant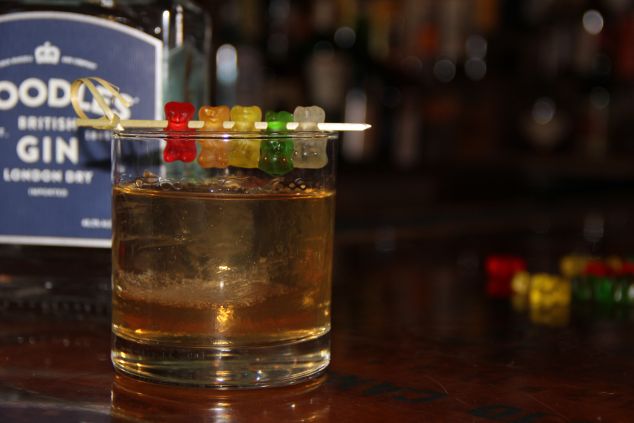 2 oz. Boodles Gin
1/2 oz. Bitterman's Hiver Amer
1/4 oz. Zirbenz pine liquor
3/4 Demerara syrup
Garnish with a gummy bear skewer
Stir, strain, serve over large ice cube in a rocks glass with a gummy bear skewer as garnish
"The Revenant is a movie about revenge and survival in the dead of winter," Mr. Fawn said. "I used Boodles gin because juniper is very piney and it's nice and crisp, so it makes sense for a winter setting. I used Bitterman's Hiver Amer, which is a winter bitters heavy on cinnamon, so it's meant to warm you up. Then Zirbenz pine liquor, which is intensely piney and meant to accentuate the juniper and can give you the aroma of that sticky pine cone scent. And Demerara to offset what would otherwise be an incredibly boozy and bitter drink. I served it over a large block of ice to symbolize the big winter chill and garnished with some gummy bears, because anyone who's seen even just the previews knows the fact that he was attacked by a bear is a big plot point."
Room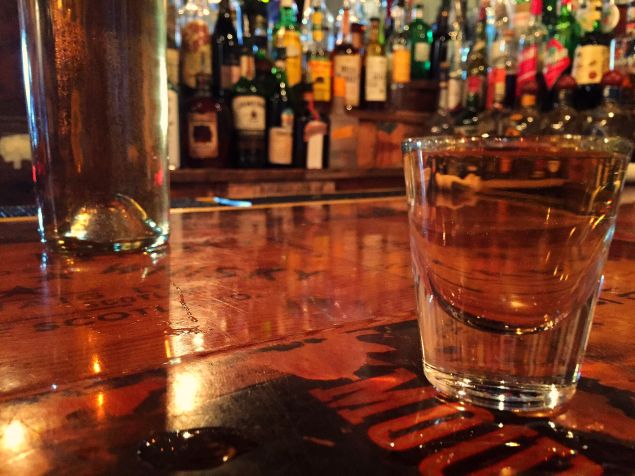 A shot of strong booze.
"Room is about a mother and her son who grow up captive in a room by her kidnapper and rapist. She convinces him that the room they live in is the entire world because he's never set foot outside of it," he said. "It's incredibly heavy subject matter. Spotlight is too, but there are so many products from their cultural backgrounds that are associated with that event and the players involved. There's really not with Room, and instead I just chose to have a bottle of booze and a shot because you're probably going to need a stiff drink before you dive in."