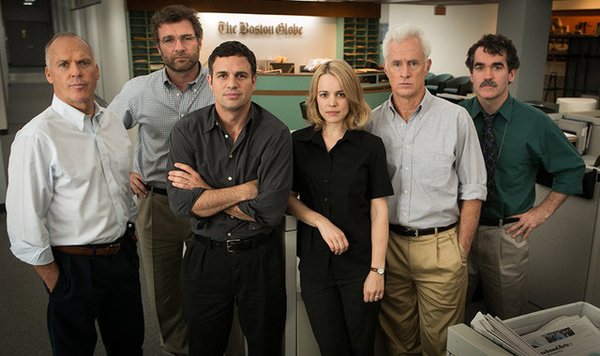 It's ironic that when a movie about journalism finally won the Oscar for Best Picture, the award was presented too late for most papers' deadlines.
But in any case the media world rejoiced at midnight when Spotlight did what All the President's Men and Citizen Kane couldn't do and took the Oscars' top prize. The film, which tells the story of  the reporters at The Boston Globe who uncovered the clergy sexual abuse scandal in the city,  also won the award for Best Original Screenplay—it was the first Best Picture winner since 1952's The Greatest Show on Earth to win only two awards.
Once the final envelope was opened, media Twitter echoed the Spotlight producers' call for more investigative journalism, and also urged consumers to subscribe to their local newspapers.
For its part, The Boston Globe took the opportunity to tweet out the Pulitzer Prize-winning Spotlight pieces that inspired the film. It also promoted an investigative journalism fellowship to work with the Spotlight team, and followed up with several clergy sex abuse survivors who felt validated by Spotlight's Best Picture win.
The journalists depicted in the film told CNN they were "excited and overwhelmed" by the award, but were looking forward to getting back to their day jobs. All six of them—Michael Rezendes, Walter Robinson, Sacha Pfeiffer, Matt Carroll, Marty Baron and Ben Bradlee Jr.—attended the Oscars.
The Spotlight win was sadly not the Oscars' most viral moment, however—that honor went to Leonardo DiCaprio, who broke an Oscar record when he was mentioned in 440,000 tweets a minute after winning Best Actor for The Revenant.