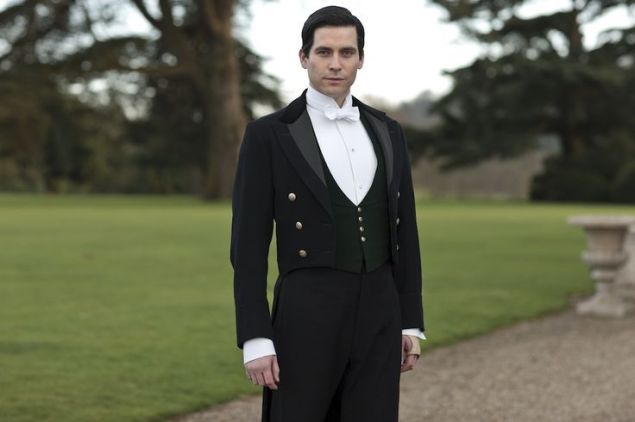 2008 New York City is alive and well in 1925 England.
Downton Abbey, in its sixth and final season, has the wealthy downsizing, creating jobs for themselves or doing ones that they used to pay others to do; while those in service – a suddenly anachronistic occupation – are moving on to have babies, open B&Bs, become teachers, etc. Yet, under-butler "Thomas Barrow" (Robert James Collier) is going nowhere – and it's hard to feel sorry.
For a decade, the disdainful villain has been sabotaging his downstairs colleagues and stirring the pot around his upstairs employers.
His last ditch benevolent efforts – from babysitting the Crawley children to saving Lady Edith from a fire – are too little too late.
Lord Grantham has made it clear that Barrow should not let the door hit him in the back on the way out, and his co-workers could not care less.
The DA staff has put up with their share of bullying, harassment, antagonism, and razorsharp barbs. Now, that the clock is ticking before the ax falls, they are not retaliating in kind. Their inaction speaks volumes though: there're no comforting arms around his shoulders; no heads up about job openings, or collections being taken up to tide over their work mate. Who can blame them?
I've worked on staff with a Thomas or two when I was an ad agency writer in the first years of my career, but these last many years as a freelancer, going into companies to do assignments, if only briefly, and seeing people still pulling the same Barrow shenanigans is as disconcerting as ever.
Although the solution as to how to not be a Barrow is obvious (keep you're mouth shut and do your job), dealing with one takes a lot of self-discipline, proven day in and day out by the DA professionals.
REMEMBER YOU'VE ALREADY WON
When Mr. Bates arrived to be Lord Grantham's valet, Barrow was none to pleased, as he had wanted to step up from footman into that position. He tried to prove Bates, who used a cane due to a war injury, incapable of fulfilling his duties. He even mocked Bates, pantomiming hobbling with a walking stick. Through it all Bates did his job in exemplary fashion and kept his dignity, knowing that if you join your opponent in the mud, all you get is dirty.
RESPECT THE JOB (EVEN IF YOU DON'T RESPECT THE PERSON DOING IT)
During Mr. Carson's honeymoon, Barrow – next in command – was acting butler. He strutted around, lording it over others. Everyone did their work and followed his directives – protocols they would have followed whether they were told to or not. Barrow knew that regardless of his new title, he did not have their respect. That was enough satisfaction for the group.
COME CLEAN
Barrow had it over lady's maid Baxter. He knew of her secret past in prison for stealing from a former employer – a crime for which a manipulative boyfriend had set her up. Thomas was blackmailing the former felon to help him with his dirty deeds, until she couldn't take it any more. She confessed her indiscretion to Lady Grantham, who had mercy, allowed her to keep her job, and thus released her from Thomas's grip.
FEAR NOT THE ALLIANCES
Barrow and Cora's maid O'Brien joined forces to trade information and conspire against real and imagined enemies. The thought of being double-teamed by them had everyone on high alert. Because there is no honor among thieves, though, it was only a matter of time before everyone got to stand back and watch the two connivers turn on each other, as they did when O'Brien's nephew arrived at DA as a footman and she pushed for his success at Thomas's expense. Perhaps the only time Barrow merited compassion is when the devious maid hatched a plan to out him – this at a time when being gay was considered a criminal act punishable by imprisonment.
TAKE COMFORT THAT PLANS DON'T ALWAYS WORK OUT
Post the First World War, Thomas tried his hand at the black market. Then there was the time he wanted to get back in his Lordship's good graces and kidnapped the Earl's dog figuring after a mad search, he would show up with pet and he hailed the hero. Except the dog escaped from his hiding place. Thomas drove himself mad thinking the animal, which found his way back home, was truly lost. He started so many rumors, that after a while, it was assumed if his mouth was moving a lie was coming out of it.
ENJOY THE LAST LAUGH
Barrow did himself no favors when, as a soldier in WWI, he returned to DA, which functioned as a temporary convalescent ward, and rubbed in everyone's face his rank as sergeant and hospital manager, while they were still servants. That was until he had enough of the battlefield, shot himself in the hand and returned to serving whatever Mrs. Patmore cooked up.
There are only two episodes left. Where Mr. Barrow lands is anyone's guess. Something tells me it'll be on his feet.
Lorraine Duffy Merkl is the author of the novels FAT CHICK and BACK TO WORK SHE GOES.