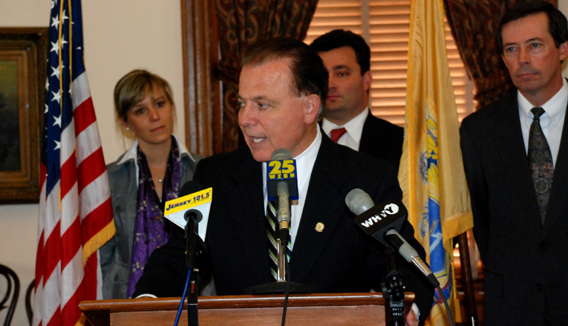 Citing the need for a new direction in American politics, State Senator Joe Pennacchio (R-26) today endorsed Donald Trump for president, becoming the second senator in the New Jersey Legislature behind state Senator Mike Doherty (R-23) backing the New York real estate tycoon.
Pennacchio was a staunch backer of the presidential candidacy of Gov. Chris Christie, who dropped out of the contest last Wednesday after a disappointing finish in the New Hampshire Republican Primary.
"He's brash, vulgar at times, and questions arise whether he has the temperament to be President," Pennacchio said in a prepared statement.
"Yet he has become a crucible for American's anger and feeling of disenfranchisement from their government. The latter I hope can change, while the former I wish to embrace and support," added the Morris County lawmaker. "He is not the perfect candidate, no one is, but I believe that a new direction must be charted for this Country. I disagree that he can deport 12 million illegal immigrants and believe that attempt will be tempered by the Courts. However putting America and our interests first as well as protecting us from our enemies is a cornerstone of his campaign. No disagreement there. No longer giving away the store to our economic competitors makes sense and is long over due. Not being supported by the Republican Establishment in my view is a plus and is a primary reason for his success. For these and many other reasons I will be supporting Donald Trump for President. Warts and all."