One of the lesser-noted attractions of opera is the art form's appeal to the gambling impulse. Just as in a casino, at the opera house you put down a small fortune and then hope for the best. What seems a sure thing—for instance the Metropolitan Opera's recent gala Manon Lescaut—can totally crap out. But a long shot—like a revival of Madama Butterfly starring nobody in particular—can turn out not only a winner but also one of the most satisfying evenings at the Met so far this season.
The trick, of course, is exactly who the "nobody in particular" is. The singer of the title role in Butterfly, Ana María Martínez, is "nobody," only at the Met, and that status may well change on the basis of her understated but heartbreaking performance as Puccini's tragic heroine. What stacked the odds further was that Ms. Martínez was not even the first soprano cast as Butterfly for this revival. The uninspiring first choice was the veteran diva Patricia Racette, who last summer decided to "retire" the opera from her repertory. Taking her place was to be the even more veteran Hei-Kyung Hong, who in turn two weeks ago called in sick.
The Met turned to Ms. Martínez, whose scant resume with the company until now has included only a handful of performances of Carmen and La Bohème in 2005 and 2015, respectively.  Friday night's triumph may well leave the Met's management wondering how it let such a gem slip through its fingers. She sang the music with sensitivity and poise, never forcing her slender instrument. In a role that tempts many sopranos to attempt exaggerated effects—such as a singsong voice in the first act to indicate Butterfly's child-bride status—she always remained true to her natural timbre.
Within this naturally dark, complex sound, Ms. Martínez accomplished numerous feats of breathtaking virtuosity, as, for instance, in Butterfly's entrance when she soared up to a delicate pianissimo high D-flat. Most sopranos belt that note or simply omit it; Ms. Martínez made it into a whispered expression of sheer enchantment.
What impressed most perhaps was the seamless nature of her singing. There was no sense of "here comes the big aria" or "now, having sung the big aria, I'm going to relax for a while," which you get in so many performances. The celebrated second-act solo, "Un bel di vedremo," began so subtly that it took one by surprise, and even after the last note, a firm and bright high B-flat, she continued enacting the character's ecstatic sense of determination, gradually "coming back to earth" as she slowly left the room and shut the screen behind her.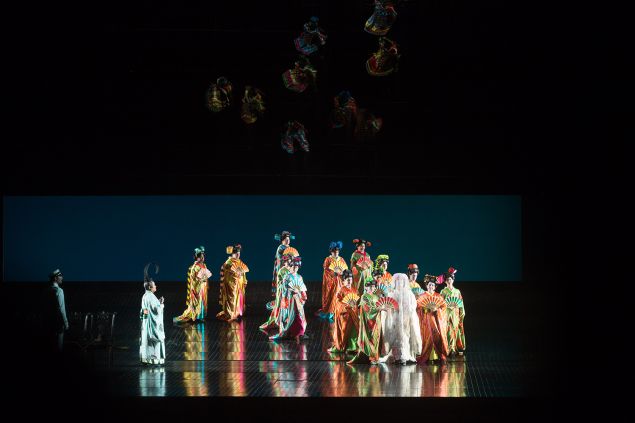 Visually this was also a Butterfly to treasure. Ms. Martínez moves with an easy, confident grace and chooses her gestures most sparingly, as befits the character—a Japanese woman of noble birth. So dignified was she that when Anthony Minghella's exquisite production called for a violent moment—as when the heartbroken Butterfly flings a tea tray across the room—the movement seemed as shocking as an act of murder.
So distinctive was the soprano's take that it exposed as a canard the conservative opera fan's worry that high-concept "Regie" productions force performers into a strict mold and quash individuality. What Ms. Martínez gave was her own Butterfly, focused through the prism of Minghella's stylized vision, simultaneously on-message and utterly unique.
Enhancing the soprano's dominance of the opera was mediocre casting in other roles. Roberto De Biasio, a perfect Arrow Collar ad of a Pinkerton visually, struggled all night with a muffled tenor. Artur Rucinski contributed a big, healthy baritone as the consoling Sharpless but seemed unconnected dramatically. Mezzo Maria Zifchak's "reliability" as the faithful maid Suzuki has now, after dozens of performances, so slipped into the routine it may be time for her to emulate Ms. Racette's example.
If Ms. Martínez looked like a dark horse as Butterfly, the participation of conductor Karel Mark Chichon might have signaled "no bet," since his presence at the Met could easily be interpreted as an act of nepotism. (His wife is superstar mezzo-soprano Elina Garanca.) But Mr. Chichon's debut demonstrated he is a very fine artist in his own right, able to coax delicate impressionistic tone color from the massive Met orchestra. Madama Butterfly is one of the world's most popular operas, but it doesn't play itself; it takes a perceptive maestro like Mr. Chichon to present this score at its best.
The Puccini warhorse is so superbly crafted it tends to make just about all other operas sound clumsy, so it's really not fair to compare Ricky Ian Gordon's A Coffin in Egypt, except to say that it sounds clumsier than most other operas as well. This adaptation of an obscure Horton Foote play about a yammering 90-year-old widow relies on musical devices almost as ancient as its heroine, mostly hand-me-down harmonies from Aaron Copland to evoke the wide open prairies surrounding the old lady's home in backwater Egypt, Texas.
The work—at 80 minutes, a good quarter hour too long—would be negligible without the legendary mezzo Frederica von Stade, who created the leading role at Houston Grand Opera in 2014 and reprised it last Thursday as part of Lincoln Center's American Songbook series. Though she is temperamentally miscast in the part—there's not a haughty or a cranky bone in Ms. Von Stade's body—she retains, at age 70, a firmness and flexibility of voice that artists a generation younger might envy.
She was at her most radiant in an aria near the beginning of the work in which the old lady recalls riding a horse across her no-good husband's estate, reveling in the sight of wildflowers. She sees bluebonnets, buttercups and "Indian blankets," and through tiny variations of vocal color Ms. von Stade made each blossom seem so unique and immediate you could almost touch it.
Mr. Gordon has done much better work than this before, especially in his superbly quirky concert songs. But with Ms. von Stade singing it, even so ramshackle a piece as A Coffin in Egypt hit the jackpot.