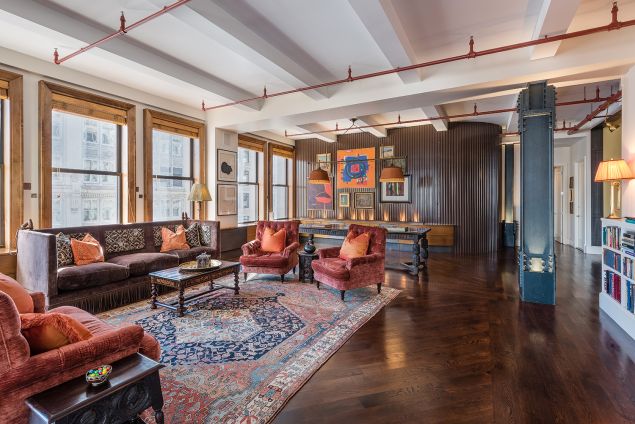 "The sellers have very large pieces, tapestries, all sorts of interesting antiques," Brown Harris Stevens broker Scott Harris told the Observer as we entered the foyer of the $7.9 million condo at 260 Park Avenue South.
Indeed, the wall greeted us with one such tapestry, and the 46-foot-wide great room was bedecked with burnt orange velvet armchairs atop an Oriental rug, as well as the mounted head of an "ibex or gazelle." It was decor distinctly at odds with the exposed beams and 12-foot ceilings of this, dare we say, loft-like space.
On the other hand, the stainless-steel kitchen was more expected. "[It] was meant to echo the age of the building, kind of 1930s industrial," Mr. Harris noted.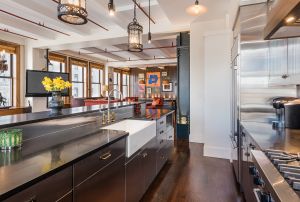 More incongruous items awaited in the master suite, where three sailboat models perched above the bed. The master also boasted two walk-in closets with full en-suite baths. ("We always joke that this is like a Soho bedroom," Mr. Harris said as we entered the second walk-in, which truly was the size of many a downtown studio.)
Of the two additional bedrooms, one has an en-suite bath and the other has an adjacent full bath that we assume would also be of use to the "hundred people" Mr. Harris claimed the 3,287-square-foot space would easily accommodate.
"[The sellers] installed some new lighting to show off their art," Mr. Harris said of the many distinctive (and clunky) fixtures throughout the ninth-floor unit. "These are really nice, heirloom kind of pieces," he said, "you might find [them] in churches, or large banks." We were less sure they belonged in a Flatiron condo.
"The light fixtures will move onto their next house," Mr. Harris reassured us. "Someone could put in a more contemporary light fixture, and that would fix that."