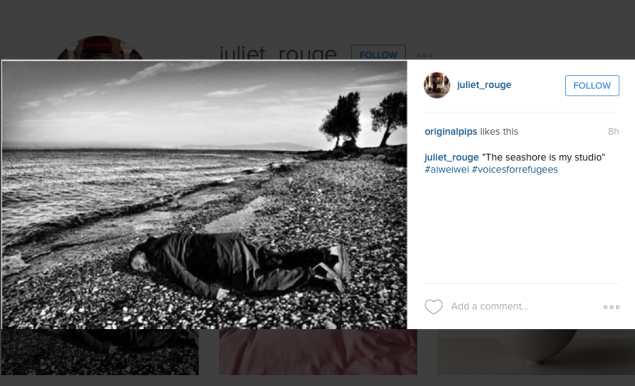 Contemporary Chinese art star Ai Wei Wei has again grabbed attention, albeit this time with a questionable decision: to pose as the washed up body of deceased three-year old Syrian refugee Aylan Kurdi, who drowned after his boat capsized in the Mediterranean Sea last September. The boy's body was found off the Greek island of Lesbos near the town of Bodrum, where Mr. Weiwei's photograph was also staged; the young boy and his family were seeking refuge from Islamic State insurgents in Syria.
The artist's image recreates a photograph of the boy taken by Nilüfer Demir, who was working for the Turkish agency DHA, that horrified the world and brought international scrutiny to the realities of the refugee crisis.
Mr. Weiwei has been at Lesbos since the beginning of the new year, offering refugees assistance as they land while collecting rubber from the incoming boats for an art installation.
The image was shot by photographer Rohit Chawla for the magazine India Today and will run next week along with an interview with the artist. A print of the image is on display in an exhibition titled "The Artists" that was held at the recently concluded India Art Fair.
But has Mr. Weiwei gone too far in emulating this tragedy?
There are some defenders. "It is an iconic image because it is very political, human and involves an incredibly important artist like Ai Weiwei," said co-owner of the fair, Sandy Angus, who spoke to the Washington Post.
"Powerful tribute to the three-year old Syrian refugee who drowned in the Mediterranean last year by Chinese artist Ai Weiwei," said Michael Hermann said on Mr. Weiwei's Instagram page.
But many were outraged by the photograph, labeling it both callous and careerist.
Brooklyn artist Sean Capone summed up his feelings thusly, commenting on the photo on Instragram: "Calling you [Mr. Weiwei] out for your bad taste, egotistical victim porn and endless parade of crappy art, enough is enough."
New York-based Street photographer Sally Davies agreed.
"I viscerely reject this image in every way," she told the Observer via email. "Having viewed the original heart-breaking photo of the small child washed up on the beach, this feels like nothing more than an opportunist move to hitchhike onto a current tragedy. I resent him mooching an image that has been burnt into my psyche forever, and I hold art in a much higher esteem than this."
The news of the haunting photo comes just a day after the artist chose to shut down his exhibition at the Faurschou Foundation in Copenhagen, Denmark, titled "Ruptures," as a protest against a recently passed law that will allow Danish authorities to seize property from refugees.
Mr. Weiwei currently has a two-person exhibition with Andy Warhol at the National Gallery of Victoria in Melbourne, Australia. The show runs through April 24.