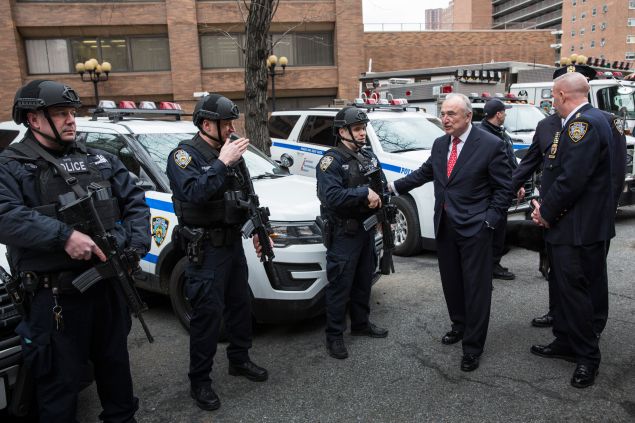 Last week, President Obama's spokesman, Josh Earnest, let slip one of the rankest, most distasteful examples of payback politics we have seen in a very long time. When asked at a press conference why funding was being cut for New York's very substantial homeland security needs, the president's spokesman attacked Sen. Charles Schumer—and his vote against the Iran deal.
"At some point, Sen. Schumer's credibility in talking about national security issues, particularly when the facts are as they are when it relates to homeland security, have to be affected by the position that he's taken on other issues," Mr. Earnest said. "Sen. Schumer is somebody that came out and opposed the international agreement to prevent Iran from obtaining a nuclear weapon. He was wrong about that position," Mr. Earnest added, "and when people look at the facts here when it comes to funding for homeland security, they'll recognize that he's wrong this time, too."
Seriously? New York's security would be compromised because the president was unhappy with Sen. Schumer's vote?
New York's security would be compromised because the president was unhappy with Sen. Schumer's vote.
Apparently so. President Obama announced that he was cutting funding for domestic anti-terrorism initiatives. Nationally, the Urban Area Security Initiative would drop to $330 million from $600 million. Locally, the impact would be even greater, with New York City seeing a cut in funding to $90 million from $180 million.
The Urban Area Security Initiative was designed specifically to prevent terrorist attacks by funding essential technology. Just in New York City it has paid for 9,000 cameras and thousands of license plate readers.
Police Commissioner William J. Bratton called the planned cuts "unconscionable."
The president's logic at first appeared to us to be rather elusive. After all, it is just two months since Islamic terrorists attacked a mental health facility in San Bernardino and killed 14 dead and injured another 22 people. And a month earlier, the horrific attacks in Paris killed 130 and wounded hundreds. Even today, the FBI is still trying to crack the San Bernardino's iPhone to determine whether the killers had accomplices or there was network chatter about other planned attacks.
President Obama's inability to deal with Republican congressional leaders—some would say disinterest—is well established. But this apparent exercise of presidential pique directed at a Democratic senator—indeed the presumptive next Democratic leader—is unprecedented. In an administration well known for its top-down control of policy and messaging, Mr. Earnest did not come up with that attack on his own. Nor was he reprimanded for wandering off the reservation. A child, sometimes embarrassingly, repeats what he hears at his parents' feet.
Terrorist threats against New York City are neither hypothetical nor imaginary. Urban Area Security Initiative monies have been used to protect synagogues and bridges after police uncovered credible evidence of specific plots. That the president is willing to place citizens in jeopardy to salve his wounded ego is simply unacceptable.
Shame on you, Mr. President.