Twitter and its various public social media manifestations inspire little confidence that literary life exists in the province of Generation X and its leaders, who with every passing day show less and less evidence that they were ever readers, and so we approached with real dread the prospect of wading into the 46-year old U.S. Senator Cory Booker's new book, United: Thoughts on Finding Common Ground and Advancing the Common Good.
The title alone summoned all the worst associations of thin, election year exercises "written" by any number of national-sized brand names auditioning to advance to the next level of the game. But Booker in particular as a book presented all the face-down literary comfort potential of a bed of punji stakes.
Mind you, it wouldn't have always been that way.
After landing electrically on the stage of local politics in Newark with the promise of being conceivably New Jersey's only truly literate public figure, Booker had a remarkable six or seven year-run before getting his hands on Twitter and promptly succumbing to the worst excesses of Orwellian Newspeak.
Pre-2008 his speeches actually contained granular detail and revealed an intellectual hyperactivity that threatened to turn Booker into something exciting and rare in what increasingly appeared to be the scrubbed arena of public discourse: an interesting public voice.
Almost overnight though he went from Cervantes to Rod McKeon; from Childe Harold's Pilgrimage to the Bridge Across Forever, as Twitter killed his muse and rendered of every public Booker utterance a rigorous cut and paste regurgitation of those lines and guitar licks he magically trotted out during the first half of his career. Even earlier this month in New Hampshire, PolitickerNJ rounded a corner in Manchester to hear Booker mouthing that MLK quote he's spoken exactly 8,675,876 times now in two years: the one about the garment of destiny.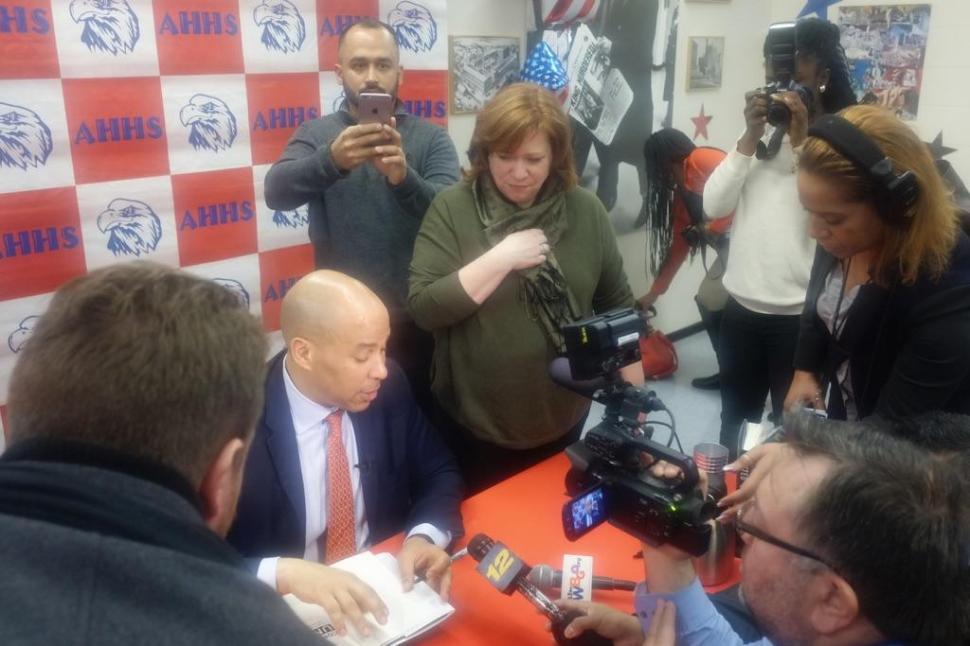 United: Thoughts on Finding Common Ground and Advancing the Common Good offered the possibility of 223 pages-worth of variations on that single quote, or so we figured sitting down today with the U.S. Senator's hardcover offering published by Ballantine.
But here's the surprising skinny on United: it's good.  It's an exceedingly good book, and an important book, and a reminder of what makes Booker an important and, through it all, a promising public figure.
The junior U.S. Senator dedicates United  "to the people of Harrington Park and the surrounding small towns of New Jersey's northern valley and the people of Newark,"  and in this grateful admission of "wisdom, love, and support that I can never repay"  to both communities, offers a glimpse into the crux of his story.
New Jersey at its worst is a disjointed and ghettoized state with too vast a distance between its richest and poorest versions to ever offer the notion that it will be anything other than a divided barrel tapped at both ends, to paraphrase Ben Franklin. But the suburban-raised Booker insisted on connecting with Newark, and insisted on doing it his way, diving post Rhodes Scholarship and post-Yale Law School into residency in the Brick Towers Public Housing Complex and ward politics, in the process creating an autobiography that attempts to resolve those apparent irreconcilables in New Jersey – and by extension – American life.
That has always been Booker's most inspiring selling point: his insistence on trying to transcend those narrow parameters of expectation we associate with our worst and schizophrenic, suburban-urban public selves. Here, he gives us not simply the standard slingshot of self-love that usually characterizes these kinds of political books (yes, Booker is on Hillary Clinton's short list for vice president and it is a presidential election year). He actually populates the book with real people and big-picture relevant plot lines – people we have known as we have observed and examined the mayor's and then the senator's rise to power. He takes the time to develop these people, starting with his parents, and all the political gurus who advised him in his earliest days in Newark, including Ray Chambers, Virginia Jones, Carl Sharif, and Mo Butler.
In the portrait he gives of his father, for example, the late Cary Booker sits in his car in suburban Bergen County and insists that his son listen to WBGO Newark jazz broadcasts. What emerges is narrative reinforcement of what it means to be a New Jerseyan, a condition we too often bury in dislocation or parochialism.
All the portraits create a vital story line – and an activist's political narrative.
A PolitickerNJ regular behind the scenes, Mr. Sharif died last year, and Booker gives him fine treatment in these pages, illustrating his considerable local political influence.  The late Virginia Jones, too, emerges from the narrative with force as she instructs the young Booker in a right mindset as he undertakes to challenge the system in his adopted home town on his way to challenging Mayor Sharpe James.
"You need to understand something," Ms. Jones tells him. "The world you see outside of you is a reflection of what you have inside of you. If all you see are problems, darkness, and despair, then that is all there is ever going to be. But if you are one those stubborn people who every time you open your eyes you see hope, you see opportunity, possibility, you see love or the face of God, then you can be someone who helps me."
In the chapter titled "Law, Order and Accountability," Booker Chief of Staff Mo Butler schools his boss on the need for the administration to improve police-community relations. Booker admits that he failed as a manager to amass reliable analytics relating to police accountability. Butler pulls Booker aside and tells him that an independent investigation into the police department by the U.S. Attorney's Office "was important for the community, for our neighborhoods, friends, allies, and fellow activists.
"There were indeed allegations of police misconduct in Newark, around New Jersey, and across our nation," Butler tells Booker. The investigation and its findings would give the administration a way forward within the grip of a deepening American problem.
Based on Booker's selfie-snapping spree and reluctance to ever step away from predictable sound bites, we feared a book that indulges in all the same stretched safety nets of establishment flatness. But what makes the book fine ultimately is its gritty reliance on local people and encounters to demonstrate a story for the country right now.
Leaning on those local ties, the book presents lived street-level experiences as pertinent lessons for a country up against all the old divisions: suburbs versus cities, police versus youth, black versus white, and generations to often disconnected from one another. Throughout there's a certain vitality and good-hearted gratitude expressed in a strong American idiom.  "We must all, in this sense, be activists. …
"From my earliest days," Booker writes, "I was informed that I was the result of a conspiracy spanning space and time – that billions of meritorious actions past and present yielded the abundance I enjoy."
That's how he sets up the narrative, and there's a consistency there to the very end, as the author celebrates those activists who shaped and shape him, a cast of characters spanning a big range of New Jersey turf, but mostly rooted in Newark – where the young man found a center to begin examining and serving America.
"There is something about Newark that is intrinsic to me," Booker writes. "I was inspired by the city's resilience, its determination, its defiant attitude, its unshakable belief in its unappreciated beauty. I felt at home in Newark. Newark was a kindred spirit, a soul-mate city. Newark was family.  …I stand proudly here in Newark. You may be afraid to even drive through it, but this too is America.  If Newark fails, the very idea of America fails."