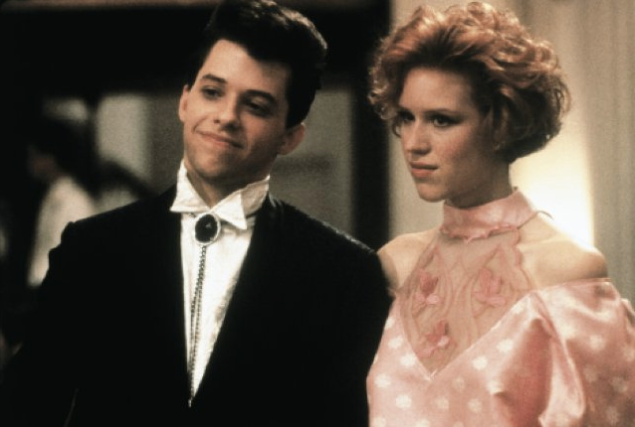 Yes you read correctly, it's been three decades since one of the best teen coming of age films hit theaters. John Hughes' classic Pretty In Pink had an eclectic soundtrack (from The Smiths to Suzanne Vega to OMD) and everything a heartbroken youngster could want to mourn their lost love to (or celebrate being young, depending on where you stood on the matter).
Pretty In Pink also boasted a talented and beautiful cast. Has the last thirty years been kind to them? Let's find out.
Molly Ringwald '80s Queen Ringwald was a goddess for teenage boys and girls across the world. Playing the lead role, Andie, the actress was coming off the back of an extraordinary run of movies—Spacehunter: Adventures in the Forbidden Zone (and that is as much fun as it sounds), Sixteen Candles and then The Breakfast Club. But Pretty In Pink was the end to her box office pull. After a few years of interesting-but-failed choices (the underrated James Toback autobiopic The Pick-Up Artist opposite fellow brat-packer Robert Downey Jr.) and mediocrity (and turning down lead roles in Pretty Woman and Ghost), Ms. Ringwald left L.A. for Paris to "make mistakes" and be "ridiculous." After marrying and divorcing, she returned to the U.S., where she took to Broadway for a number of shows and then returned to the small screen full-time with ABC's The Secret Life of the American Teenager. In 2013 the talented actress also released a jazz album (she's the daughter of blind jazz pianist Bob Ringwald) and has done other pet projects, such as providing the narration for the audiobook of The Middlesteins, the delicious novel by favorite Brooklyn daughter Jami Attenberg. Later this year, Ms. Ringwald will star in a new sitcom with another actor who made it big young, Jason Priestly, Raising Expectations from Canada's Family Channel.
Harry Dean Stanton Incredibly, at the age of nearly 90, this grizzled star of the small and big screen is still adding to his 194 IMDB credits. Of course, before he starred in Pretty In Pink as Molly Ringwald's dad, HDS was already a name in the business (his first TV gig came in 1954), having made an impact in Alien and Paris, Texas (to name but two). Since '86, the actor continued in his eclectic choices and has never been stuck for work; Scorsese's The Last Temptation of Christ, Lynch's Wild at Heart and alongside Tom Hanks in The Green Mile whilst also popping as a recurring character in HBO's Big Love. He was even reunited with Duckie himself, Jon Cryer, in the sitcom, Two and a Half Men for an episode.
Kate Vernon Ms. Vernon played popular super-bitch Benny and, while never reaching lead roles, the actress has been on televisions constantly, in such shows like Who's the Boss?, LA Law and Heroes. Kate also made a splash as Ellen Tigh in the Noughties reboot of Battlestar Galactica.
Annie Potts Probably best known for her role as secretary Jeannine in the first two Ghostbusters films (and will also be seen in this year's reboot), Ms. Potts was Andie's BF, the quirky and ultra fashionable record-store owner Iona. Straight after Pretty In Pink, she starred in CBS sitcom Designing Women for seven seasons and, like Harry Dean Stanton, she also made an appearance in Two and a Half Men. For many, however, Potts will be forever known as the voice of Bo Peep in the Toy Story films.
Andrew McCarthy Poor Blane. The mid-80s seemed like they belonged to Mr. McCarthy and that he would assail the heights of stardom with his Mathew Perry persona and looks before Mathew Perry came along. Soon after Pretty In Pink the actor had hits with the very 80s Mannequin (reuniting him with co-star James Spader) and the so-80s-it-hurts Weekend At Bernies. But then the 90s came. The decade didn't require his boyish charm and Mr. McCarthy quickly became retro (though he would work constantly, even impressing in 1997's Stag) and then turned to television, where he has guested on many shows and had regular roles in Lipstick Jungle and Kingdom Hospital. You can currently enjoy Andrew as Hank in ABC's new mystery drama, The Family.
Kirsty Swanson The original Buffy the Vampire Slayer, Ms. Swanson pops up as the "Duckette" at the very end to steal a dance with Duckie.
Andrew Dice Clay In 1990, the controversial stand-up became the first 'comedian' to sell out Madison Square Garden. Mr. Clay had a small role as the club's Bouncer In Pretty In Pink, but concentrated mainly on his comic career (with various TV and film appearances along the way). Turning to drama, Mr. Clay made a positive impact in Woody Allen's Blue Jasmine and can currently be seen chewing the scenery as over-the-top asshole Buck Rogers in HBO's rock biz arc Vinyl.
Gina Gershon Older readers may remember this actress from the mid-'90s as she blossomed in Showgirls, Bound and Face/Off, though her career moved into a busy television career (Rescue Me and guest appearances in Curb Your Enthusiasm, Ugly Betty and Elementary, for example). Fact fans will note that the actress has provided voices for the animated shows, Spider-Man and The Batman (as Catwoman). And if you're struggling to remember Ms. Gershon in Pretty In Pink, don't worry—you won't be alone; she played the iconic role of 'Girl Friend / Gym Class' (friend of bad girl Benny).
James Spader It's probably safe to say Mr. Spader has had the most successful and interesting career of all the cast since 1986. The actor completed the decade with hits like Wall Street and the critically-acclaimed Sex, Lies & Videotape and moved smoothly into the 90s in a similar vein with sci-fi smash Stargate and Cronenberg's sex mess, Crash. Mr. Spader caused a stir again in the fantastic Secretary but then shrewdly moved onto the small screen, where he could play big roles (and where Golden Globes nominations and Emmy wins awaited him). The actor stacked up huge praise in The Practice, Boston Legal and now The Blacklist, and even found time for a hilarious recurring role in The Office. Just to cap it all off, he played villain Ultron in last year's superhero mega-smash, Avengers: Age of Ultron.
Margaret Colin Another blink-and-you'll-miss-it role—she played Andie's English teacher—Ms. Colin hit the big time in the following decade with Independence Day (playing Jeff Gouldblum's wife) and The Devil's Own (playing Harrison Ford's, erm, wife).
Jon Cryer Duckie seemed like he would have the world at his feet with his charisma, fun and not bad looks. But, post-Pink, Mr. Cryer's career did not fare too well—the mere mention of Superman IV: The Quest for Peace may still have you shuddering. Hoping to capitalize on Jon's comedic talents, much in the same way Superman III tried to with Richard Pryor, the film was a stinker. A Grade A stinker. And that pretty much killed Cryer's cinematic career (though he did entertain in parody movie, Hot Shots!). Sitcom The Famous Teddy Z had him playing the lead role (a Duckie-esque character) but this was to be short-lived. However, the diminutive actor stormed back into prominence in 2003 alongside Charlie Sheen in the surprisingly successful sitcom, Two and a Half Men. Picking up a couple of Primetime Emmy Awards along the way, he stayed with show until its end in 2015, firmly planting himself once more in the national psyche. Currently, Mr. Cryer is starring in the latest series of NCIS.
Alexa Kenin Alexa, who played Andie's smoking school buddy Jena, was found dead in her Manhattan apartment on September 10, 1985 soon after shooting on Pretty In Pink finished. The film was dedicated in memory to her. Recently, co-star Mr. Cryer commented that he still had no idea just how she died.