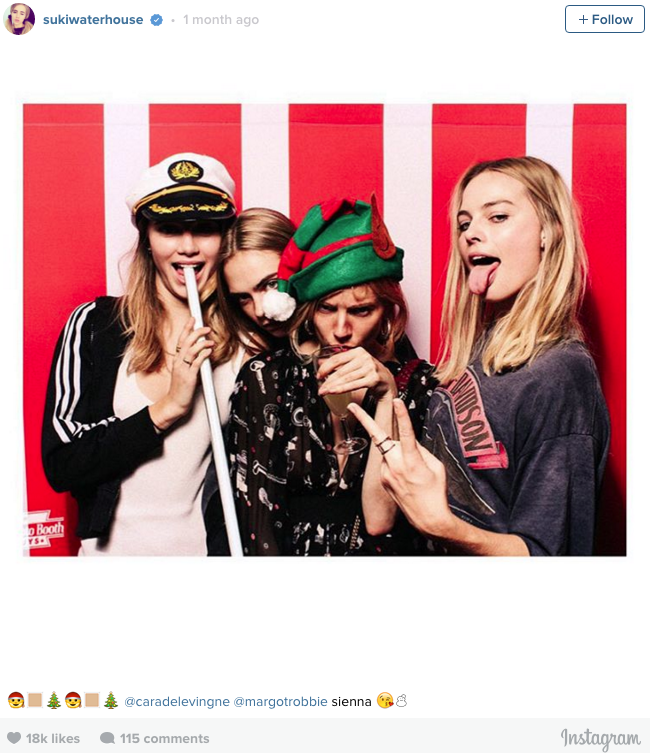 Prince Harry, the rogue redhead who doesn't seem close to settling down anytime soon, was snapped partying with A-list blondes at a party sponsored by Ciroc and hosted by Suki Waterhouse in London; he's also rumored to be dating a Los Angeles publicist. The young royal is certainly taking his party boy ways across the globe. While the photos have since been taken down, they live on in infamy, if not on Instagram.
Ms. Waterhouse, the ex-girlfriend of Bradley Cooper, originally posted the pictures about a month ago, spotlighting the prince surrounded by supermodels. Cara Delevingne (unfortunately, she didn't have her now-famous puppy by her side), Margot Robbie and Sienna Miller all flank him. It's a position most men would love to be in, whether or not they're royal.
Prince Harry wears terrible joke glasses while posing with the ladies, with his cousin Princess Eugenie by his side. (One could only hope she was chaperoning.) Princess Eugenie did introduce Prince Harry to his last girlfriend, so it's entirely possible she was playing matchmaker.
While Prince Harry can be spotted lurking in the bottom of one photograph, in others he was fully visible. TV presenter Poppy Jamie posted another photo of the Prince, but alas, even that has been taken down. Like high schoolers hoping college admissions assistants don't spot their red cups, or sorority girls hoping for a bid who take down photos surrounded by cocktails, the Prince made a major mistake by not being slightly more stealth when it comes to his party boy ways.
The photos come only days after reports Prince Harry has been dating a Los Angeles public relations assistant who's ten years younger than him. He was spotted carousing with the 22-year-old Juliette Labelle, giving young women everywhere hope their princess dreams might soon come true. Now, after being snapped with a slew of models, some might start giving up hope.