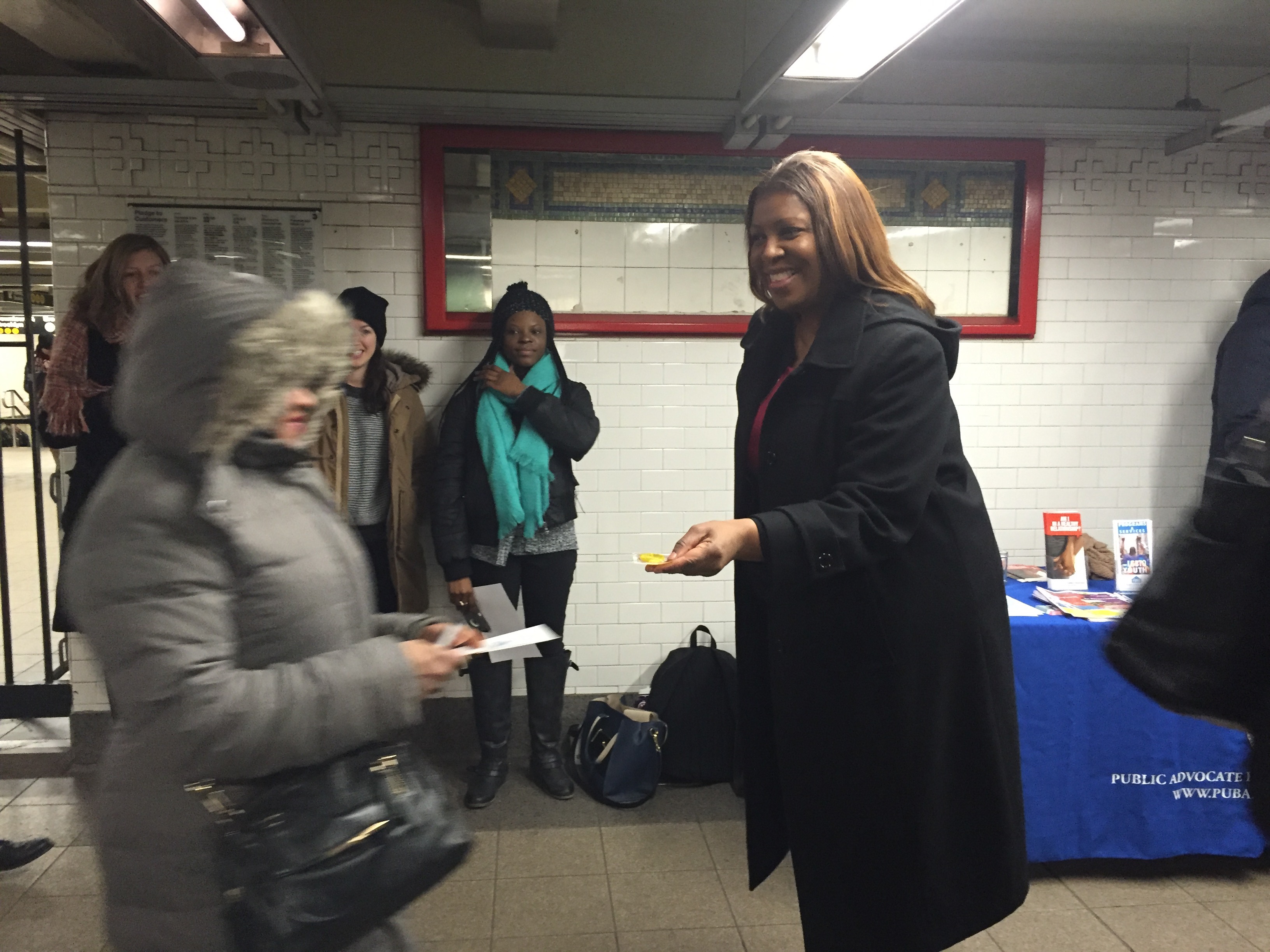 In the Union Square subway station, a busker was playing electric guitar. Bundled up New Yorkers rushed through turnstiles. And in a spot where you might typically find Jehovah's Witnesses smiling silently beside a display of religious texts, Public Advocate Letitia James was loudly and proudly handing out free condoms.
"Do you want to have sex this weekend?" Ms. James asked commuters, many of whom rushed by, but plenty of whom accepted the little foil packets she pressed into their hands.
It was, after all, the Friday before Valentine's Day—which happens to this year fall on the Sunday of a long, cold weekend.
"There you go," Ms. James, who is second in line to the mayoralty, said as she handed off another condom. "Have a good time. Have a good time. But be safe!"
It's unclear whether the commuters recognized Ms. James, or took time to read her name and office where it was emblazoned on a bright blue table cloth, atop which were placed boxes of condoms from the Health Department and literature from Planned Parenthood. But Ms. James didn't seem to mind. She was in her element: immediately handing a reporter four condoms, shouting happily about safe sex and Planned Parenthood, unafraid to make it personal.
"There you go, big boy," Ms. James told one man as he took a couple of condoms.
An older woman passed and looked at the condoms with skepticism. "You don't have to worry about me," the woman deadpanned.
But young and old, men and women, Ms. James didn't discriminate in her encouragement of safe sex. "You got a hot date?" she asked one young man, who said no. She tried again with an older man: "Sir, you look like you have a hot date!" That effort met with more success, and the man took the condom.
At times, she borrowed Oprah's famous "favorite things" intonation: "And you get a condom! And you get a condom!"
It was a bit more fun than the usual pastime of an elected official in a subway station: shaking hands and handing out political literature.
"This is obviously much more informative," Ms. James told the Observer with a smile, "and clearly much more purposeful."
Over the course of a couple hours, Ms. James and volunteers handed out 600 condoms—in a variety of colors and sizes. They also gave out 250 "safer sex" kits from Planned Parenthood, which contained male condoms, female condoms, dental dams, lubricant, and information about local health centers.
Speaking to reporters—who had no doubt been lured by e-mail subject line "PA James Encourages NYers to Engage in Safe, Healthy Sex on Valentine's Day"—the public advocate rattled off statistics about sexually transmitted diseases and unintended pregnancy. She said many young people are catching syphilis, gonorrhea, chlamydia and hepatitis.
"It's really critical important that we give out information, we state some facts and provide them with some condoms to keep them safe—not only during this holiday weekend but all throughout their adult life," she said. "And we do it, obviously, with some fun."
What she found most interesting, she said, was the number of seniors who took condoms—perhaps no coincidence since STD rates are on the rise with seniors. Asked about her favorite condom recipient, Ms. James said: "I think it was the older woman who grabbed them from hand, and she scratched me. I guess she has some big plans this weekend."
Ms. James, who is not married, said she did not have a Valentine. Nor did she have romantic plans for Valentine's Day' "I'm going to Albany for the Black and Puerto Rican Caucus Conference, and there's not much—there's nothing romantic about that."
But she did offer up advice for the would-be Romeos looking to make the weekend a special one with their Valentines.
"I'm a romantic at heart," she said. "I like, you know, holding hands and talking, and bubble baths."